Aloe vera (also known as aloe barbadensis) is a wildly beneficial plant which contains a rich inner-leaf gel with potent anti-inflammatory, antiseptic, and analgesic properties. Pure aloe vera gel is composed of 99% water and 1% vitamins, antioxidants, and minerals.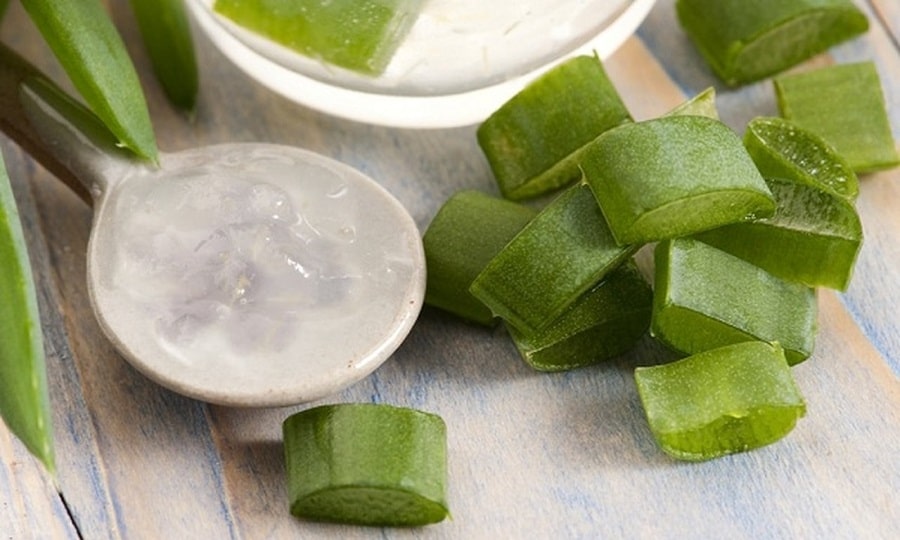 While most people only think of aloe vera gel as a sunburn treatment, the gel offers far more benefits to the skin than that. Aloe vera gel can soothe redness, tighten pores, fight acne, help with collagen production, hydrate the skin, and treat minor scrapes and burns. In fact, you'd be hard-pressed to find a skin care product that doesn't contain aloe vera in some form.
Because of its many benefits, having pure aloe vera on hand is not a bad idea. If you are adding aloe vera to your diet or skin care regimen, then stick with an organic aloe vera product. Organic aloe vera is best because it was grown without pesticides and not genetically modified. The trouble is, buying an organic aloe vera gel is not as simple as looking for an "organic" label. There are many aloe vera gels on the market that are mostly made of water and contain potentially irritating preservatives. That's why we put together this list of the top 5 things to look for when shopping for aloe vera gels.
#1: Buy Inner-Leaf Aloe Vera Gel or Juice
There are two major parts of an aloe vera plant: the inner-leaf gel and the outer-leaf shell. While the inner-leaf gel is incredibly gentle, the outer leaf contains a dark resin sap with latex. This latex is capable of irritating the skin and can even be fatal if a certain dosage is ingested. Because of this, it's best to only buy organic inner-leaf aloe vera gel or inner-leaf aloe vera juice for internal and external use.
#2: Most Liquid Aloe Vera Products Are Only 98-99% Pure
Don't be fooled by products claiming to be "pure aloe vera gel." The truth is, it is impossible for gel or liquid aloe vera products to be 100% pure. Why? Because aloe vera juice and gel are perishable and very delicate. Raw aloe vera gel has a short shelf life and requires preservatives in order to stay fresh. Additionally, many brands add thickening agents to their aloe products in order to create a thicker gel consistency. That's why most "pure" aloe vera products are actually only 98%-99.75% pure depending on the amount of preservatives and thickeners added.
#3: Look for Safe Preservatives & Thickeners
There are good preservatives and not-so-good preservatives. Good aloe vera gel preservatives are those that are natural, non-toxic, and non-irritating. When buying an organic aloe vera gel, look for good preservatives like citric acid, potassium sorbate, vitamin E, radish root ferment, and grapefruit seed extract. Some aloe vera products will aloe include a thickening agent to turn aloe vera juice into a gel. Safe thickeners commonly used as xanthan gum and guar gum.
The ingredients you should try and avoid in an organic aloe vera gel are sodium benzoate, carrageenan, parabens, propylene glycol or butylene glycol, petrochemicals, fragrances, and dyes.
#4: Avoid Fillers
High quality organic aloe vera gels should contain 98-99.75% aloe vera and a small amount of preservatives and thickeners. Ideally, the product will just have two ingredients: organic aloe vera and a preservative. Ingredients on product labels are organized from highest quantity on top to smallest quantity on the bottom. Look for an aloe vera product that has organic aloe vera as the first ingredient. If an aloe vera product has water or another filler listed as the first ingredient, then that means the product is mostly composed of water. Any other ingredients should be at the bottom of the ingredient list.
#5: For 100% Pure Aloe, Buy Freeze-Dried
If you are one of the people are sensitive to certain preservatives used aloe vera gels (like potassium sorbate and xanthum gum) and need a truly 100% pure aloe vera gel, then buy an organic freeze-dried aloe vera powder. Freeze-dried aloe doesn't need preservatives in order to maintain a long shelf-life, because all of the moisture has been removed. The best way to find freeze-dried pure aloe vera powder is to find an organic aloe vera supplement in a capsule. Simply open the capsule and pour out the aloe vera powder for use. You can add freeze-dried aloe powder to DIY facial masks or simply add a little water to create a thin gel. Since inner-leaf aloe supplements are edible, you can also add the powder to smoothies.
Consider Making Your Own
Want the purest of the pure organic aloe? Then, consider making your own aloe vera gel. Simply purchase a few organic aloe vera leaves and scrape out the inner-leaf gel. Fresh aloe vera gel can be stored in a refrigerator for up to one week. Fresh aloe vera gel has never been processed, has no preservatives, and contains all of the beneficial nutrients of the plant.