Ayurveda, also known as Ayurvedic medicine, is a 3000 to 5000-year-old system of natural healing and medicine with its roots in the Vedic culture of the Indian sub-continent. The name itself is made by combining the Sanskrit words for life (Ayur) and science/knowledge (Veda). There is historical evidence of the practices in the Hindu scriptures called the Vedas, which ancient books of wisdom that pre-date any other written works. The oldest of these, the Rig Veda, mentions over 60 preparations that could be used to treat different ailments. However, the derivation of the treatments probably pre-dates even these texts.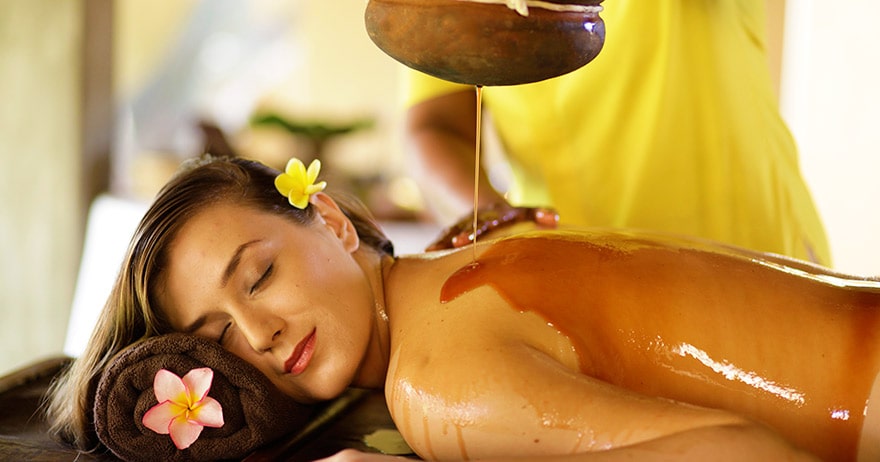 There is strong evidence for oral traditions being used to pass the information from teacher to student before it was written down. The main texts underpinning this medicine system were written in Sanskrit over 2000 years ago. Called the Caraka Samhita, Sushrata Samhita, and Astranga Hridaya, they comprise the 'Great Trilogy', which underpin all subsequent developments. Modern practices have been derived from these ancient traditions, and there is now a growing interest in Ayurveda as a complementary and alternative medicine system from both alternative therapy practitioners and for medical uses. Its therapies and practices have also been integrated into more general 'wellness applications'.
What to Expect from Courses in Ayurveda
Good Ayurveda courses stress a holistic approach to health and well-being, emphasising the importance of maintaining the delicate balance between mind, body, spirit and the environment. This idea of universal interconnectedness views not only illness but also unhappiness and disquiet as caused by imbalances in different life forces. Courses in Ayurveda stress the importance of individualised plans to promote good health through diet, exercise, lifestyle choices, and treatments, including massage, compounds of herbs, or proprietary ingredients. These plans may include treatments geared toward specific health problems, but this is not seen as the main aim of any plan.
Ayurveda course details are important in helping you both understand and select the most suitable Ayurvedic learning program for you. Some courses cover the basics, such as understanding Doshas and diet, while other courses offer a more in depth understanding of Ayurveda as a whole.
Areas of Ayurveda You Can Specialise In
When it comes to these sorts of courses, there are a number of different learning programs that cover many aspects of our lives – both from a personal and professional point of view.
One such course is Vastu Shastra, which focuses on "science of architecture," which can help improve your own living/work environment and can become a career choice also. Historians have found that the principles of Vastu Shastra can be traced back to over 5,000 years ago and despite this system of architecture's age, it is currently witnessing a global revival assisting with home, office and factory layouts. This course is suitable for interior designers, planners and architects, or individuals with a general interest in design and layout.
For those looking to understand Pregnancy & Childcare from an Ayurvedic perspective, there are many courses available in this area. This course is not just suited to those with a professional background in this field, but mothers and parents who wish to understand this approach from pre-conception to post-natal and upwards.
From an Ayurvedic perspective, a good pregnancy is dependent on both parents being in the best place they can be from a physical, mental and emotional perspective. A large part of Ayurvedic literature on this subject details that the pregnant person should take herbal decoctions to meet nutritional needs – particularly for those who have a history of miscarriages and abortions. From the six-month mark onwards, due to the foetus expressing intellect from this point on, pregnant women will want to adhere to a Satvik diet. This is food that is fresh, natural, easy-to-digest and warm, as opposed to processed or frozen foods that are high in sugars and bad fats. Once the child is born, breastfeeding is essential for bonding and nutritional purposes. As such, the best quality milk is obtained from having a well-rounded state of mind, good diet, regular sleep and breathing exercises. The Ayurvedic approach to pregnancy and childcare teaches parents a more holistic approach to bringing a new life into the world and how best to raise that child for optimum development.
Working in Healthcare and Healing, but Not in Ayurveda
This is a career that fascinates many people once they hear about Ayurveda. However, it is, of course, not the only option for someone who wants to have a career in health. You can take so many different courses online today. This includes an online FNP program to become a family practitioner nurse, as well as courses in nutrition, dental courses, and other training programs for virtually every aspect of the healthcare sector. Therefore, if you like the sound of Ayurveda but you're not sure it is the right study area for you, explore the wealth of other options you have available.
Five Basic Ayurveda Elements: Space, Air, Fire, Water, and Earth
An Ayurveda diploma includes looking at the five basic elements that are believed to be present in all the forms in the universe. These are space, air, fire, water, and earth. In all humans, these elements combine in unique combinations to create each individual. A diploma in Ayurvedic medicine will help students understand how these elements can combine in the human body to create three life forces or energies that control how your body works. This is called tridosha and comprises the Vata dosha, Pitta dosha, and Kapha dosha. Space and air combine to form the Vata dosha, linked to movement and hence functions such as circulation, nerve impulses, and respiration. Pitta dosha is formed by a combination of fire and water. It is linked to transformations. In the body, this governs metabolic processes such as digestion and metabolism in organs and cells where substances are chemically transformed by the actions of the body. Finally, water and earth combine to form the Kapha dosha. This is responsible for growth and protection. In the body, it can govern things like the fluid that protects the central nervous system or the mucus protecting the airways.
According to Ayurveda principles, in every individual the exact combination of the three doshas is different, and this accounts for the diversity within the human race. Which of the doshas predominates affects our body type and personality. Those with Vita dominant tend to be thin, energetic, enthusiastic, and changeable. Where Pitta dominates, people may be seen as intelligent, intense and goal-oriented. Those with strong Kapha are methodical, nurturing and easy-going. When the three doshas are in balance, a person will have a feeling of general well-being and contentedness. An Ayurveda diploma will also show the links between doshas and the likelihood of developing certain conditions. If Vita is your main life force, you are more predisposed to conditions such as asthma, arthritis or heart disease. Dominant Pitta makes you more likely to develop Crohn's disease and high blood pressure while strong Kapha is linked to the likely development of breathing disorders, diabetes, and obesity. These and other conditions develop when the three doshas are out of their natural balance. Ayurveda diploma courses look at using different techniques to restore balance and well-being to an individual.
Restoring balance in the tridosha is, of course, not as simple as it might appear. If we all have a unique mixture of the three doshas, then everybody has a different and unique balance point, often referred to as their individual natural state. One of the most important areas covered in Ayurveda courses is diagnosis. This covers three main areas. One is assessing which of the doshas has become 'accumulated', which means that it is present in too great a quantity, disturbing the balance and, therefore, causing the problems that the patient has reported. Another is working out where the natural balance point for any individual actually is. This can be further complicated because the natural state is also affected by environmental influences such as the surrounding air quality, season, geography, etc. Finally, there is devising a treatment plan to return the doshas to their natural balance point. This can involve giving diet and lifestyle advice, massage treatment, medical oils, administering herbal treatment and remedies, and giving other treatments and advice on a completely individual basis.
Hopefully, you now have a better understanding regarding Ayurveda, which is a form of healing. If you are interested in this area of health, it is certainly worth looking into training courses further. However, there are plenty of other areas you can move into if you would prefer.