We all know it: kids make mess. Lots and lots of mess. Sticky fingers, messy crafts and squished up cookies do not make for a clean and tidy home! When you're a busy working mom, trying to keep on top of the housework whilst juggling childcare and a conference call with Dubai can be a real challenge. And let's face it, the last thing any of us want to do when the laptop's finally switched off and the kids are in bed, is pick up a duster.
By following just a few handy cleaning hacks you can keep on top of the household chores without having to compromise on your family and 'me' time!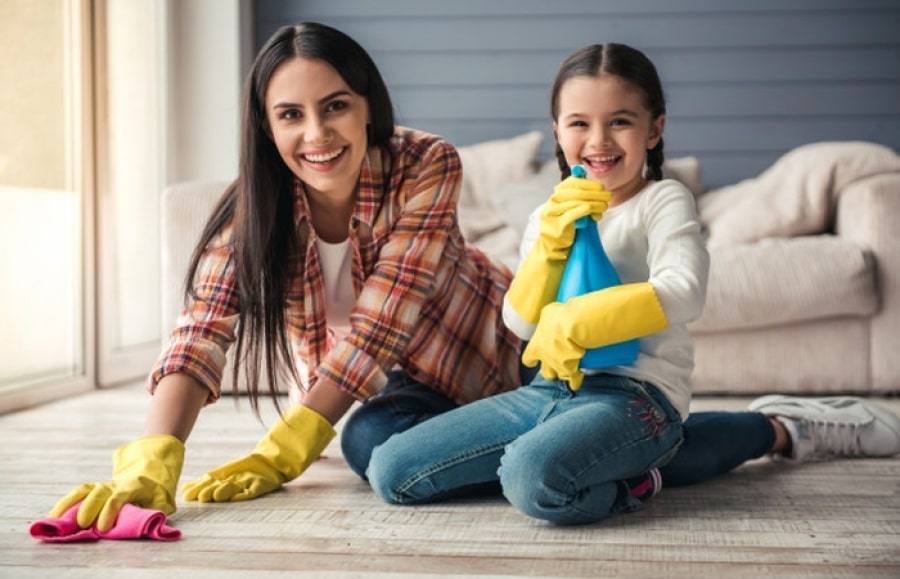 Get the Kids Working
Getting the kids to file your tax return or complete your annual accounts might be a step too far, but they can at least help out around the house by tidying up after themselves. Have them put their toys away when they've finished playing and pick up any dropped clothing or empty cups. If you can instill this tidiness from a young age you'll hopefully also save years of teenage tantrums about tidying their rooms.
Make the Beds
This is definitely one the kids can get involved in – try to make it a part of their morning routine as much as getting dressed and cleaning their teeth. It seems like such a small change but a made bed will instantly make your bedrooms feel neater and tidier. Once this is second nature for the kids you won't even have to think about it, leaving you with time to concentrate on the more important things.
Have a Quick Tidy When the Kids Are in Bed
Okay, so tidying might be the last thing you feel like doing after a busy day in the office followed by a hectic bedtime routine, but just ten minutes should do it. Once the children are in bed have a quick tidy up, put away any stray toys and straighten any throws and cushions, put the dishwasher on and make sure everything's in its place. You can then relax for the evening knowing that your ten minute blitz has saved you an hour at the weekend that you can spend on your family (or yourself!)
Set a Timer
When you're a working mom it's hard to find the time to get on top of the housework. You've got meetings to prep for, school lunches to make and an overflowing washing basket – so it's easy to put housework to the bottom of the list (you know the list, the never ending one that you may never get to the end of!)
By setting a timer you can be sure that you'll be done in 30 minutes, so you can quickly move on to the next thing. Set your timer, turn up your music and get busy, you'll be amazed at how quickly the time passes!
Clean as You Go
It's what we do at work right? Once you've finished work on a client's accounts you don't just leave them open on your desktop, you file them away in the correct place. The same applies at home. Finished your coffee? Put the cup in the dishwasher or give it a quick wash. Dog left muddy footprints all over the floor? Grab the mop and give it a wipe. Spilled orange juice on the rug? Blot with warm water and washing up liquid. Not tackling jobs like this leads to more work, and having everything to do in one go can be daunting. Things like giving the cubicle a wipe whilst you're showering after your morning run can really help. It's not always practical to clean up straight away but where it is, do it, you'll be pleased you did in the long run!
Buy Cleaning Supplies in Bulk
Buying cleaning products in bulk not only saves money but also means you're much less likely to run out with only half of your windows cleaned, making the others look even dirtier by comparison. When I've got the school run to do, three consecutive meetings and a visit to the dentist it's a struggle to fit in an impromptu trip to the store, so I always like to keep a full cleaning cupboard.
Keep on Top of the Laundry
We've established children are messy and this extends to their clothes too. At all ages they seem to accrue mountains of dirty laundry in an unfeasibly short period of time. Add to that your own work clothes, gym kit and and leisure wear and you'll soon find an overflowing laundry basket. Look for a laundry basket with dividers or simply have separate baskets for different colours (clearly marked!). As soon as you have a load of darks or whites get them into the machine and washed. Like every other household chore, keeping on top of the laundry makes it seem like a much less daunting task. Just make sure you put everything away once they're clean and dry, as piles of clean washing lying around looks messy and you've no chance of finding that unicorn t-shirt your toddler absolutely has to wear to kindergarten!
There's More to Life Than Housework
Keeping on top of the small tasks daily is the real key to keeping your home clean and tidy. Why waste your weekends doing a big clean and trying to remove stubborn stains that could have been removed fairly easily if they hadn't been left to set?
A few minutes a day adds up to a weekend that you can actually enjoy, without all that housework you've haven't done nagging away at you.