The front lawn is one of the most delicate parts of your environment that is crucial to the beauty of your building/home. Many make the mistake of keeping their front lawn unkempt when in the real sense, it is one of the most important factors that add to the beauty of a home.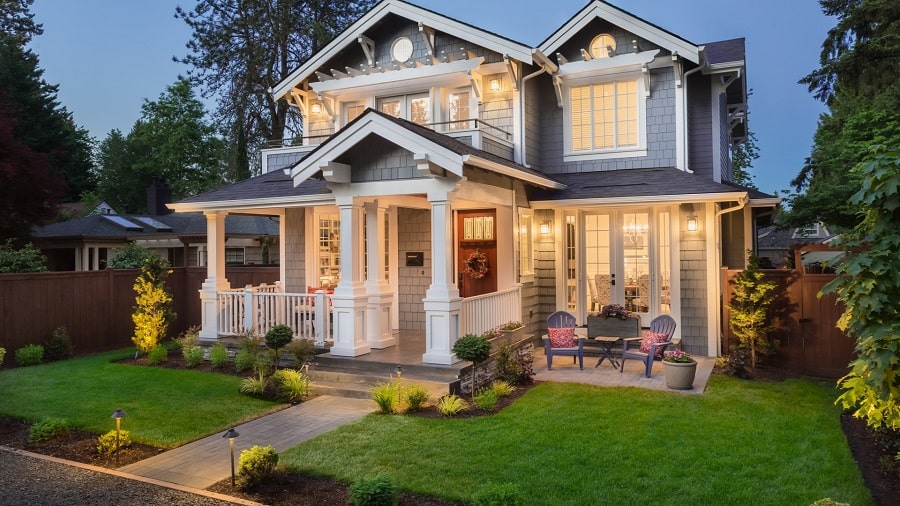 There are several ways through which your lawn can be made the most beautiful on the block amidst which about five of them would be discussed. Having a home to yourself can be a lot of work and could be costly as well (but quite affordable in terms of time, energy, consistency, and money factor), most especially when you have a considerably large property size. To beautify your environment, it is quite important to consider the following ways.
Lawn Edging
Lawn edging is a factor that gives your landscape a professional outlook or perhaps finished look. Lawn edging does more than just grant your environment with just beautifying benefits. A properly edged lawn also provides house owners with a clean and tidy landscape. There are various types of lawn edging that could give your building a beautifying outlook with the use of materials such as metal, plastic, bricks, pavers, railroad ties, landscape timbers, wire fencing, aluminium, and concrete. Thus, one of the major keys to having a beautiful landscape is the edging of the lawn.
Lawn Aeration
In the lives of many house owners, the lawn is the highest used area for landscaping, most especially when kids and pets are involved. This implies that it only takes a matter of time before the soil situated beneath the grass becomes compacted. Although the chore of mowing the lawn could hasten up the soil compaction process. Soil compaction only fosters the problems of water drainage, air circulation, and reduced nutrient absorption. Also, the organisms such as earthworms situated in the soil would not be able to establish in hard soil. Thus, if you want to green up your grass to make it healthier and more appealing to the eyes, it is quite important to regularly aerate your lawn.
To aerate your lawn simply means to punch holes all through your lawn for about 3 inches deep. When you aerate your lawn properly, it grants your grass a medium to grow; it ensures a loose soil content and effective air circulation. Other benefits include the fact that your grass will make better use of nutrients and water without any obstruction. Also, the microorganisms will be able to properly establish themselves within the soil which would help your grass to grow fast and more beautiful. It's most advisable to aerate your lawn once a year.
Water Your Lawn
Using your sprinklers a few times a week won't do your lawn much good in terms of its freshness and beauty. For a healthy lawn, it is quite important to water your grass deeply and infrequently. If you water your grass deeply and less often, the roots of the grass will further grow deeply into the soil. This factor helps your grass to stay greener and more beautiful during a period of drought or hot weather. Experts in this field recommend that you water your grass with about one inch of water, once a week. Although this amount varies depending on the grass species, soil type or weather condition. This factor gives you an edge over your neighbor's lawn irrespective of the weather condition.
How do you determine a 1 inch of water while watering your plant? This trick can be carried out with a simple test. Place some shallow containers all through your lawn and turn the sprinklers on. Keep the sprinkling going until you measure about one inch of water in most of the containers.
Cut Your Grass Correctly to a Recommended Height
knowing the best grass height is a salient factor to growing an outstanding lawn. This factor is one of the most important ways to make your grass grow healthier, stronger and beautiful. It should be noted that grass cutting height varies from grass to grass depending on nature and species of the grass. Beyond reasonable doubt, a properly cut grass to that is of appropriate height adds to the beauty that your lawn portrays compared to any other's lawn.
Eliminate Weed
Wherever you have plants, weed is bound to grow. The weeds are bound to distort the regular growth pattern of the grasses by tapping from the limited nutrient meant for the grasses. Weeds are unwanted and they are very easy to spot because they stand out from the whole lot, as such giving your lawn an awkward looking. If you truly desire to have the best lawn outlook, it is very important to regularly eliminate weed threats as at when spotted. In most cases, many get confused as regards the mechanism of elimination. Thus, it should be noted that the use of chemicals is not advisable due to the threat of accidentally spreading the chemical to other parts of the garden. As such, the most effective safest method is by pulling. If you keep this up, be assured of an outstandingly awesome lawn that is pleasurable to the sight.
Making your lawn look outstandingly beautiful from the rest of the bunch takes effort and practical application of maintenance mechanism directed towards bringing about a beautiful lawn. Beyond reasonable doubt, the ways to make your front lawn most beautiful have been carefully articulated. In addition to these ways, house owners can as well employ mechanisms such as planting other flowers and grasses alongside the existing grasses, trimming grasses, raking already trimmed grasses to avoid littering the lawn, edging, manure application to ensure proper and healthy growth, and others. It is practically impossible to own the best lawn outlook out of a whole bunch without practical effort.