The secret to evening eye makeup for women over 40 is that there is no secret. There aren't any special rules for mature women as long as your makeup fits within the requirements of the occasion. This means nothing prevents you from using neon eyeshadows if you choose to go on a rave. Yet, the classy smokey eye will be best for a formal event. The choice is yours and you only need to use some simple makeup tips to reduce the visibility of the first signs of aging.
However, even those tricks might not work for everyone equally. As you are a unique person, you'll need to develop a unique makeup application style that will work for you perfectly. This will require a lot of experimentation. Use the following tips as a guideline, but adjust them to fit your personal case.
Evening Eye Makeup for Women over 40: Top 6 Tips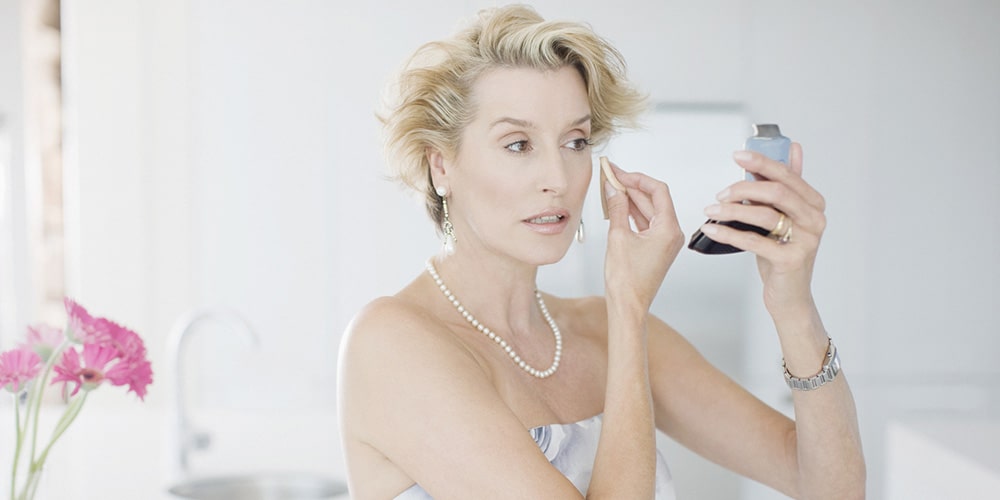 1.     Smokey eye is your best friend
To look stunning at any party, you need to perfect the smokey eye look. You can do this by studying a tutorial by Cosmopolitan. However, you'll need to practice and change color variations to match your eye color and shape best.
Smokey eye is the best type of evening makeup for women over 40 because it visually lifts the eyelid. Drooping eyelids are one of the first and most troublesome signs of aging. Therefore, this trick is invaluable for making you look younger.
Be sure to use lighter colors and use less eyeshadow at first. Only go all out on the dark look of 'femme fatale' if you are confident that you can apply this makeup style flawlessly. And avoid charcoal and other very dark shades for this look.
2.     Choose shimmer over glitter
It's very popular to use glitter in party makeup today. However, evening eye makeup for women over 40 shouldn't include any. If you want to get some shine, use a light shimmer. Apply it on the inner corner of the eye.
However, it'll be best to stop there with the shine. The more shimmer you put on your eyelids, the more pronounced tiny wrinkles will be. If crow's feet are a concern for you, skip the shimmer altogether.
3.     Best lashes are curly and pitch black
As you age, your eyelashes naturally become shorter and thinner. That's why it's doubly important to enhance them when applying evening eye makeup for women over 40.
A lash curler will be a must-have tool for you. Use it at the very roots of the lashes and at least once more down their length for maximum effect. Next, apply a layer of pitch black mascara and curl again. This time only one will suffice. Add one more layer of black mascara after this.
4.     Use a primer
To ensure a stunning look that will take a few years off your actual age, you'll need to find an eyeshadow primer that fits your skin perfectly. This product will help hide small wrinkles as well as generally boost the condition of the skin.
The primer is also much lighter compared to foundation. Therefore, there is less risk of your makeup to get ruined. There are many brands of primer, and not a single one that's the ultimate best. Therefore, you'll need to research and test a few products to find the right one for you.
Enhance the lash line with a thin line of gel eyeliner right along the roots of your lashes. It doesn't have to draw attention to itself specifically. But the line will make your eyelashes appear thicker and healthier.
5.     Go for pastels
One of the most controversial tips on the best evening eye makeup for women over 40 is using warm pastel colors. On one hand, these shades look lovely. Using them will also help you fit the mature image you 'should' present to the world.
However, if the occasion allows, you shouldn't say no to bold colors. Pastels just aren't vivid enough to enhance some party looks. You can resolve this issue by mixing colors in your smokey eye scheme.
The standard 'rules' of makeup for women over 40 advise using warm colors. However, this completely depends on your own coloring.
6.     Define those brows with extra care
Eyebrows will play a major part in creating a stunning evening eye makeup for women over 40. They can give the intensity to your look, which you can't create without accentuating tiny wrinkles.
Your eyebrows will also get thinner, so fixing them up will become a necessity. If you are satisfied with the shape of your eyebrows, you'll still need to use a pencil or other product to fill up the gaps between hairs. This will help you look younger and make your gaze more sharp and defined.
Best eyebrow product for women over 40 is shadow that makes a perfect match in color. A pencil is less efficient in making your eyebrows seem 'fluffy' and naturally thick.
Beyond Makeup Tips: How to Look Your Best with and Without Makeup over 40
Women over 40 don't have it easy today as the majority of them have stressful jobs, families, and many other commitments. The stress leads to premature aging, which results in women using makeup or even surgeries to hide the signs of approaching age.
Using some tricks when applying evening eye makeup for women over 40 might help you hide those signs. However, to achieve a truly potent effect, you'll need to rethink your lifestyle. There are reasons to why healthy habits are important. One of those is that this lifestyle helps you maintain a youthful appearance longer. However, you will need to take some specific steps to increase the beauty of your face without any surgery. Remember, the healthier and smoother your skin is, the easier it will be to apply a stunning evening makeup.
What are your personal tips on eye makeup for women over 40? Please, share below.