There's a whole lot to consider when it comes to running a factory, including health and safety processes, efficient machinery, and which stacking procedures make the most sense. Amongst all of this, it's easy to lose sight of small issues such as factory lighting, but doing so could cost you in a major way.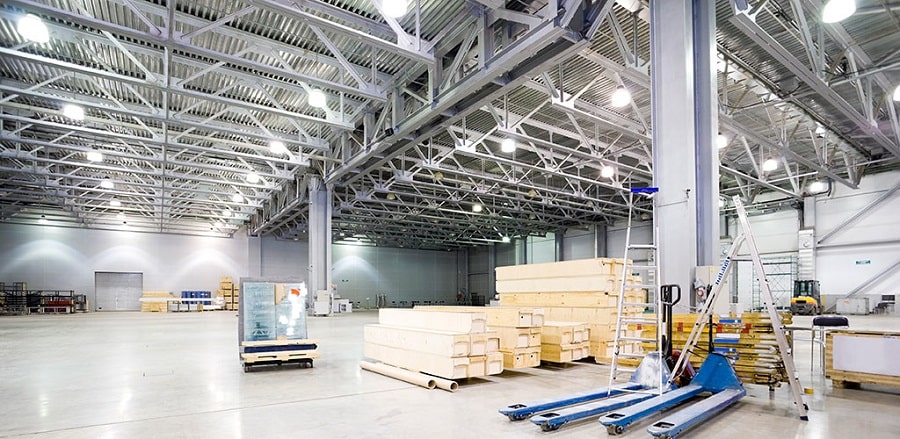 After all, lighting impacts everything from safety standards to overall energy costs and efficiency. With that in mind, it should not only be one of the first things you consider for your warehouse, but should also be a matter that you revisit regularly to ensure the best performance possible.
If you've never turned your attention here before, however, you may be at a loss as to how you can update your current systems to accommodate the best. Here, we're going to help you get started by discussing your options.
Let Natural Light Do a Lot of the Work
When we think about factories and warehouses, many of us imagine dank spaces lit by nothing but a whirring, bright bulb. In reality, however, this is no way to work, and it's certainly no way to get the best out of your factory.
Instead, the best designs are those that use as much natural light as possible. Not only does this drastically cut the cost of your energy bills, but it also improves light quality and working conditions for everyone. All without a great deal of effort on your part.
All you need to do is consider things like overhead sunlights or windows wherever you can fit them. Note that you will need to opt for solutions that don't cause a greenhouse effect in your already hot warehouse, so high windows, preferably shaded by your guttering or similar, are typically the best options here.
Consider LEDs
Metal halide has long been a go-to for factory lighting solutions and is actually what provides that stark, cold light that we often think of in these settings. Unsurprisingly, these options are fast falling out of favor due both to their stark impact and their inefficiencies overall.
By comparison, LED lights are coming up trumps for a few different reasons. These highly efficient electricity-conducting bulbs actually use around 85% less energy than their traditional counterparts. That's a difference you're guaranteed to notice when your electricity bills come around. Not to mention that LEDs have a longer lifespan meaning those bulbs are far less likely to blow and leave your warehouse in darkness. That's an unbeatable benefit considering that poor visibility due to blown bulbs is a leading cause of slip and fall injuries that, again, could set you back significantly from a financial standpoint. As if all that wasn't beneficial enough, LEDs also provide the chance to tailor color temperatures to keep your factory well-lit, but warm and appealing rather than cold and overly bright.
Consider Warehouse Use in Your Decision
Whether you use your warehouse for storage or production purposes, overall usage should also feature heavily in your lighting decisions. Admittedly, this is less important where storage is concerned, but for production needs, especially, standard glass light fittings can pose problems, many of which will once again leave you open to legal trouble if injuries occur.
In many ways, shatterproof solutions are the main priority in this instance, with warehouse emissions such as heat or gas often compromising the integrity of standard glass. Unfortunately, one shattered bulb as a result of this could spell significant safety risks, as well as plunging your warehouse into darkness. Shatterproof bulbs largely address this issue due to a coating that ensures pieces stay in place even if shattering occurs. What's more, this thick overcoat generally tends to lessen that terrible lightbulb buzz that so many warehouses fall foul to.
It's also well worth considering waterproof or vapor-resistant bulbs where you can. After all, moisture is a concern in all warehouses, whatever their purposes. In production spaces, especially, condensation can easily seep inside standard bulbs, causing electrocution risks and even shorting circuits in some instances. Neither of these are issues that you want to deal with, so always implement the safest, most resistant options you can find from the start.
Think About Positioning
It's also vital that you take the time to think about the positioning of your bulbs. In large part, the most suitable option is going to depend on your particular warehouse specifications and roof height. Still, once you start researching, you'll likely hear one term time and again – high bays.
Designed for spaces with a ceiling height of approximately 20-45 feet, these lights specifically work to illuminate the largest area possible while, in many cases, utilizing reflectors to achieve an even and high-visibility light coverage. While warehouses with lower ceilings may find these additions overpowering, then, large-ceiling setups could certainly benefit from considering this solution.
The good news is that high bay light fittings are generally compatible with a range of bulbs, from LED through to metal halide and fluorescent lights as needed. What's more, there are a few different high bay styles to choose from, including –
Round high bays
Linear high bays
Architectural high bays
Grid mount high bays
Each offers a very different finish and light quality, so researching the best choice for you is essential.
Conclusion: Let Light Into Your Factory
As you can see, factory and warehouse lighting definitely isn't a one-size-fits-all matter. In fact, there are a fair few options out there, and each serves a very different purpose for standards overall.
One thing's sure; whatever your light fixtures of choice, modern business owners need to get on top of this sooner rather than later. Not only does poor lighting leave your employees at (rather significant) risk, but it also leaves your company under fire if you're using non-sustainable solutions.
With all of this in mind, failing to get around to this issue could lead to reputational damage that leaves your business entirely in the dark. Don't let that happen by flipping the switch on factory lighting as soon as possible!