As winter closes in on our homes and gardens, light and warmth give way to the dark and the damp, where it creeps along the borders and roofs, covering as many surfaces as it can with algae, lichen and liverwort. What was once a gleaming garden and soft, gentle patio set is now slippery and unsightly. But how can we get rid of the growth in a way that doesn't cause damage to our gardens, family, or the environment?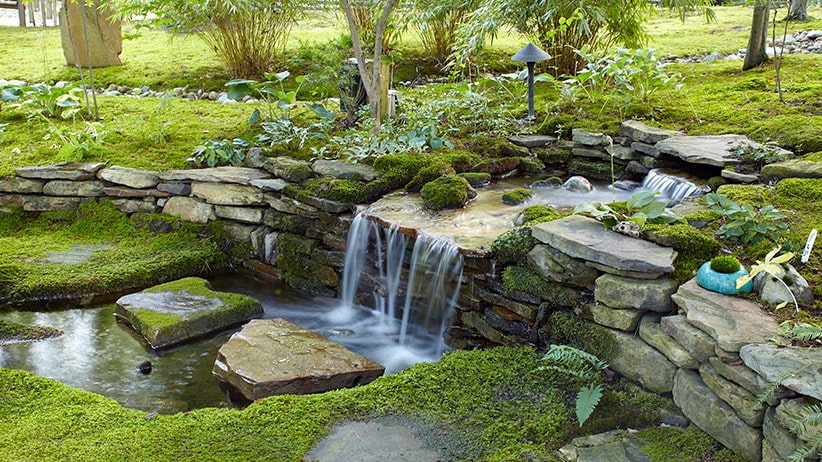 What Types of Growth Are There?
Algae, lichen, liverwort and moss are all common names for the general garden growth that can often be found in our gardens and on our driveways. It affects patios, paths, drives, paving, stone features, garden furniture, greenhouses, metal and astroturf alike. It can cause paths and steps to become slippery and can make gardens seem unsightly and unkempt. Whilst not harmful for the surfaces they grow on, they can be an issue when it comes to the safety of your family, both young and old.
Algae – a green film or powder-like substance is the typical look for algae found on stone, paving and garden furniture.
Lichen – common on garden furniture and timber such as benches and fences, they can be leaf-like, crusty or scruffy in feel.
Liverwort – as its name suggests, this growth's body resembles a lobed liver. Liverwort can be usually found growing on hard, flat surfaces, such as paving stones and pathways.
Moss – crawling, cushion-like growths are normally found on hard surfaces and wooden structures.
What Causes Algae and Moss to Grow?
The most common cause of these growths is damp, cold and dark conditions. If you have areas of your home or garden which receive very little sunlight during the winter months then this will contribute to the growth and spread of algae and other moss type plants. Areas with poor drainage will also attract the growth of algae and moss as they thrive around standing water. It's important to note that moss and algae in themselves are not hazardous, in fact, in some areas of the garden they can add a mature look, especially on timbers and sleepers that may border plants and shrubs. If allowed to grow on stonework, such as statues, it can also help offset the harsh, man-made lines, blending in with your gardens' more organic structure. However, when they start encroaching on walkways, where they could be slippery, or climb furniture and turn cushions wet, green and damp, then that is where certain issues may begin develop.
How Can Algae and Moss Be Cleaned?
There are generally two accepted methods of cleaning algae and moss and maintaining a clean garden area. These are organic solutions or by using chemical dislodgers.
Organic Cleaning
Moss removal will often involve running a sharp knife down the cracks in the brickwork. You can also use a block paving brush with a long handle, narrow head and wire bristles for effective cleaning if you have poor joints or a bad back, as this will stop you from having to bend over or kneel down. This method will generally only clear the plant, leaving the root intact and as such will have to be done numerous times during the year.
A pressure washer is a great and enjoyable way to remove moss and algae from your home and garden. However, use this method with care in areas where drainage is poor as the excess water could make the problem worse. Pressure washing is the best method for the removal of moss and algae from wooden garden features as it attacks only the top layer, so you won't be scaring or damaging the wood itself.
Brush hard surfaces with a stiff broom at least once a week during the winter months. This will not only stop growths from putting down roots but will also keep the water from settling and can help to remove the build-up of dirt, soil and leaves. Aerating loose gravel and soil will also make it more difficult for the growths to take hold.
Increase the amount of sunlight an area receives by pruning any overhanging plants and trees. This allows more air and sunlight to dry the area.
Create shallow channels along the edges of paths, patios and drives by digging small grooves which can act as a runoff for any excess water. Filing it with coarse gravel can act as a sponge and give you an extra layer of protection.
Aerating flower beds by forking them over will allow the air to circulate and promote proper draining, both of which will halt the growth of moss and algae.
Chemical Cleaning
Chemical weed killers are often referred to as herbicides or pesticides and have come under increasing scrutiny during the last few years. The rise of more environmentally aware gardeners are pushing the need for safe and friendly ways to stop unwanted growth in our gardens whilst also maintaining a healthy relationship with plant and animal life.
Whilst there are a plethora of chemical weed killers on the market, we have found the most useful and easiest to use is Hydra DeGreen. Hydra DeGreen works on both hard and soft outdoor surfaces, tackling outdoor residue and organic build-ups and can easily and safely be used on hard surfaces such as driveways, patios, decking, pathways, fencings, roofs, sheds, garden furniture, greenhouses, terracotta pots, garden statues, UPVC windows, caravans, motorhomes and boats. What is also great about Hydra DeGreen is that it can equally be used just as safely and gently on soft surfaces such as protective covers, cushions and sunshades whilst still removing any moss or algae that may be present.
Hydra De-Green contains powerful detergents and sequestrants that rapidly dissolve and solubilise outdoor contamination from all hard and soft surfaces meaning that it can quickly and safely clean and remove the many dangerous slippery hard surfaces in gardens and driveways. One of the main advantages of Hydra DeGreen is that once applied it doesn't have to be reapplied for another six months. So if you apply in the middle of autumn, as the trees begin to colour and the leaves start to tumble then you won't have to do anything else during the winter period, other than small general garden maintenance. It is also a perfect application for those gardeners who suffer from joint pain, as it requires no scrubbing or washing. Once the DeGreen solution has been added to five parts water, it is just sprayed or poured onto the surface. Once done, that's it. The rain will remove both the solution and the growths, leaving you with a clean and beautiful garden area.
Whatever you choose to remove the moss and algae from your garden and home this winter, enjoy the outdoors and have a great time pottering around your plots.