Over the years, home-schooling has become a popular and reliable medium of education for most American families. This form of education has many benefits that families attest to and enjoy, especially since the outbreak of the pandemic. However, it can be a challenge to get your kids ready to study as there are so many distractions at home.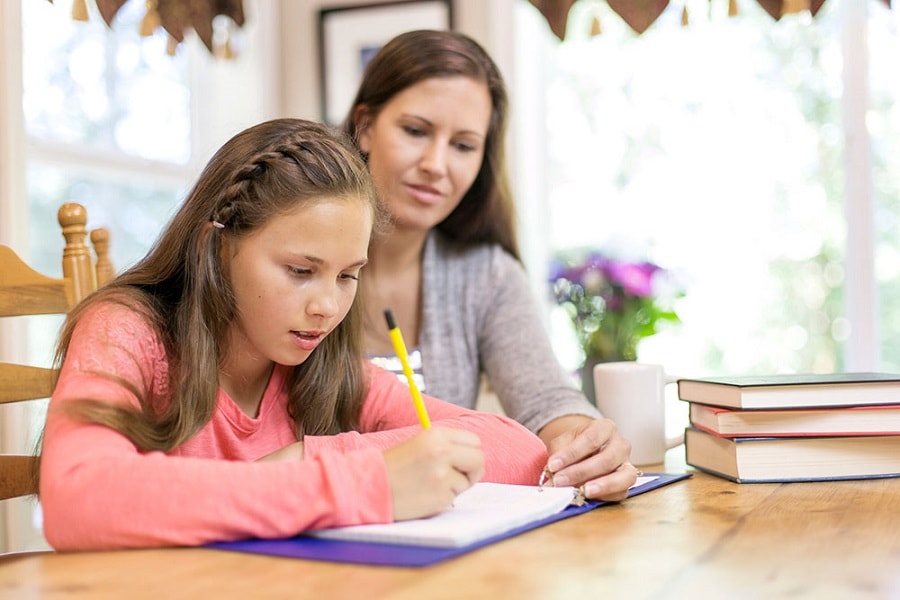 You would want to make time for various activities so your kids can get the most out of learning at home like they would if they were in school. So, how can you create a home-school schedule for your children? Here are some tips you should adopt when creating the schedule.
Look at It as a Routine – Not a Schedule
Creating a schedule would mean creating exact times various subjects need to be studied- like a school timetable. Math at 7:30, History at 9:30, Snack break at 11:30, etc. Truthfully, sticking to this at home can be quite tricky. The best way to go about it is to let it be a routine; you can create a time a day must start, and when the "school" day should end. In between, you can fix durations on how much time should be spent on a subject. You can also create time slots for the other activities during the day beyond their home-school time. This makes the approach to home-schooling more feasible.
Consider the Times
How many days in the week are you willing to dedicate to your child's home-schooling? How many hours are you going to take a subject for? Considering these questions will help you identify how to make the most of your day. Think about the time your family naturally wakes up and set the start of the home-school day at the time you know the family is up and busy. Setting it for an earlier time would make a lazy and unproductive start to the learning day. Remember that you are looking at your children and not yourself. So, if you are an early riser, try to use your children's natural rising time – not yours. Also, consider how many days in a week you would dedicate to your child's home-schooling.  Be sure the selected days suit your family life, so you do not have to make any compromises.
It's Not All Academics
One of the things that makes home-schooling a peculiar form of educating your children is that it goes beyond academics. Although they need to be knowledgeable about various subjects, home-schooling gives your child the chance to learn skills not taught in school. In creating your schedule, include tasks that teach your children how to be responsible and independent. You can delegate some chores to them for them to complete during the day. You can teach them independence by putting them in charge of their study space and bedroom. You also teach independence by being a little lenient in helping them settle for their lessons; instead, let them get prepared independently. This strategy applies to younger children, as well – it's never too early to learn essential life skills. You can also introduce them to other creative activities such as DIY projects or learn how to play a musical instrument.
Make It Flexible
Home-schooling offers flexibility, so the schedule you create must do the same. Although you may want your children to complete a lot during the day, you should understand that that may be difficult to do. You may have so much to juggle in addition to life's situations, making it difficult to stick to a strict schedule. For example, attending to medical emergencies, fixing a leaky roof, monitoring your toddler, or needing to attend to something urgently. Creating flexibility in your schedule would mean that you do not have to stress about strictly following the program. If you are stressed, it takes a toll on your children and their learning.
Create a Schedule Around Your Goals
To create an effective schedule, create one that addresses the goals you want to achieve. Doing this helps you prioritize effectively and keeps the home-schooling process well-organized. You may have realized that your child is quicker in one subject than they are in others. If your goal is to help them get better, ensure that the schedule you create reflects just that. You can also set yearly, monthly, or daily goals. Apart from addressing your child's weak spots, these goals could be to finish particular modules, for your child to gain a better understanding of a subject matter, or to make them more knowledgeable. However, you might be carried away in creating a schedule that meets your goals, that you may create a rather monotonous one. To prevent this from happening, you may have to change up the plan once in a while. Find innovative ways for your kids to learn while obtaining the goal you have set out.
Create More Than One Schedule
If you have more than one child, you would need to create more than one schedule. The needs of each child and the goals for each child may differ. To effectively satisfy each child's needs, you would have to create a separate program for each of them. You may also have to consider their ages as well. Their ages play a role in the subjects they are meant to be knowledgeable in or have to learn and the number of hours they would spend studying in a day. While older kids may sit still to study for an extended period, younger children are easily distracted- meaning the schedule should consider these to make it useful.
Ask Your Children for Feedback
The schedule is more for your children than for you. To know if your plan needs a few changes or add-ons, you should ask your children. Over a period, the schedule becomes predictable and monotonous, and this can make home-schooling quite boring for your child. By receiving feedback, you can create new schedules to factor in your child's request based on what you deem necessary to add. They may offer innovative ideas on what to incorporate into their home-schooling experience. You can also ask them to pick out educational activities they would like to do during the week.
Keep Things Simple
Every parent would love for their child to achieve many things during the year. However, giving out piles of work or too much time doing complicated tasks would not help your goals be realized. Instead, divide tasks into little doable blocks. Let your expectations be based on how these small tasks have been achieved to prevent you from pressurizing your children with the burden of your high expectations. Do not try to complete every subject every single day. This is because some subjects like Maths and Languages take more time for your child to grasp as they are quite complicated and involve several components. Taking them all at once every day can make home-schooling unbearable for them. Keep your schedule simple to make it easier for your children to learn and for you to have peace of mind.
Compare Schedules
Luckily, you are not the only parent home-schooling your children; many parents are doing the same for their kids! It would be great to establish a network with other home-schooling families, so you can compare schedules to find out more about what to add, how to resolve some challenges, and what items to take out. Although your schedules may differ, comparing them gives you more ideas on innovating this form of education.
Be Well-Organized
What makes home-schooling effective is a plan that is organized and easy to read. Organizing the year ahead makes it easy to complete tasks, outline goals, create flexibility, and all the other points that have been mentioned. You can get a printable home-school planner to draft the various schedules of the year and a blackboard or whiteboard to set out the daily schedules for your children. Ensure that these planners are detailed and preferably color-coded with a key to guide you on what you are aiming to achieve. The planner helps you keep track of your child's home-schooling progress. It also provides good time management and is crucial to both you and your children's physical and mental well-being.
Use Technology to Save Time on Your Schedule
To ensure flexibility in your schedule, particular when dealing with time constraints, you can take advantage of the benefits of technology. There are several apps available for home-schooling parents to take advantage of. Apps such as iBooks and Kindle help keep and manage their study material in one place and make it easy for your children to study on their own as well as on the go. Evernote and Homeschool Helper are apps that help you track your child's progress, organize their lessons, and calculate their grades. Many of these apps require an internet connection; therefore, ensure that you have a robust data allowance and signal. If you don't have broadband at home, you can use your phone as a tethering hotspot connection. If your cell phone connection is weak,  then consider using cell phone signal boosters from reliable electronics suppliers. For example, you can use a home cell phone booster from weBoost to fix any poor signal problems you may encounter. They have a range of products and accessories for boosting cell phone signals both at home and in the car.
An effective schedule will not be realized if your children don't have the right learning tools in the appropriate learning environment. Ensure that they have the right books and stationery to complete various tasks. Create a conducive study space for them, with suitable furniture to keep them comfortable while they learn. Although the Coronavirus pandemic has caused many parents to home-school their kids, there is no need to worry. Many parents have great experience of home-schooling their children, so don't hesitate to join forums or social media groups. You can ask for help and advice from other parents and learn some useful homeschooling techniques.