Moving from a traditional office-based role to working remotely is most people's dream. There countless benefits to working from home, especially for parents. As a remote worker, you don't have to spend a small fortune on childcare or lose money due to sickness and school breaks. What's more, you have flexible hours and no commuting costs. Sadly, many people fall into bad habits when working remotely.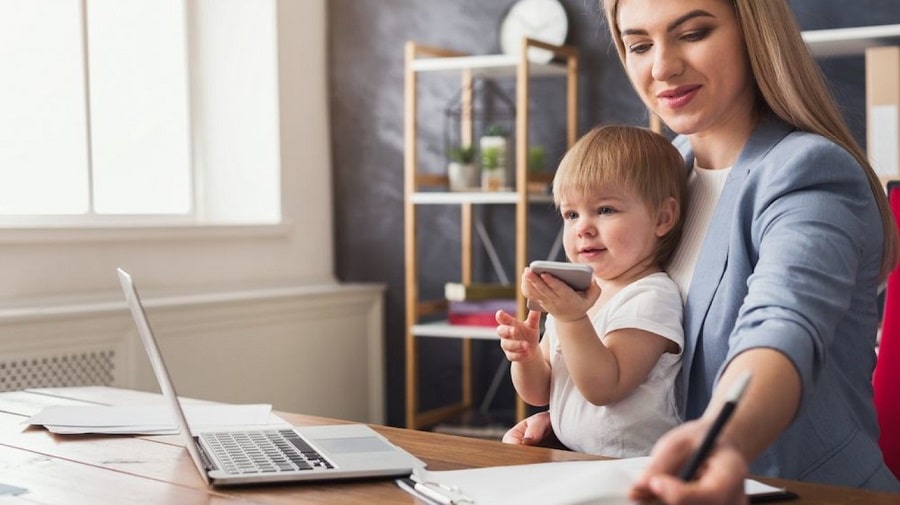 Here are six healthy tips all work-at-home moms should know.
Make an Office Space
For productive working, the space around you must contribute to a professional mindset. If you're always surrounded by children's toys, family pets, and laundry, you'll struggle to focus. This might cause stress, which can lead to serious health issues. Making a home office space would allow you to work efficiently. Quiet and clean areas are ideal, especially with good lighting.
Dress for Your Job
When working from home, you can usually wear whatever. After all, remote workers don't often need to leave the house. However, that doesn't mean you can work in pajamas all day. Instead, you must shower and put on clothes, like you would with any job. Unless you wear presentable clothing, you won't feel professional, which will cause a lack of productivity and, therefore, stress.
Speak to an Expert
All remote workers deal with stress. Unfortunately, if you allow stress to build, you might resort to unhealthy coping mechanisms. Taking drugs is a serious example. Thankfully, there is support available to you. Attending an outpatient drug rehab center would allow you to stay at home and continue working. Even so, you would be given plenty of help and counseling from experts.
Have a Healthy Kitchen
Being at home means you have access to a kitchen. Theoretically, this would allow you to prepare healthy meals every day. Sadly, many remote workers don't do that. If your cupboards are filled with junk food, you'll usually grab an unhealthy snack to eat instead. To remove the temptation, you should remove any junk food from your home and replace it with healthy options.
Leave the House Daily
Sitting inside all day isn't healthy. Although you don't need to work elsewhere, you should leave the house occasionally. After all, the body needs fresh air and natural sunlight to thrive. Some people enjoy working at coffee shops or cafes. If this sounds enjoyable, you could hire a sitter to watch the children. Even if you want to work at home, you should find excuses to go outside.
Work out at Home
Exercise is necessary to maintain good health. Remote workers can be less active than others because they don't travel to work. Regardless, you must ensure that you work out regularly. If you can't get to a gym, you should exercise at home instead. Making exercise a part of your daily schedule will mean that you're less likely to skip your daily workouts.
Many remote workers pick up bad habits, but with the tips above, you can keep yourself healthy.