Over the past several years, families have experienced a global health pandemic, interruptions to education, massive changes in work and career, and a sudden rise in living and housing costs.  Many families were forced or chose to revisit multi-generational living as a way to ensure health, safety, and financial success.  But with the rise in several generations living under one roof, many realized they needed more space.  Rather than purchase a new, larger, and more expensive home, some families opted for the next best thing: an accessory dwelling unit.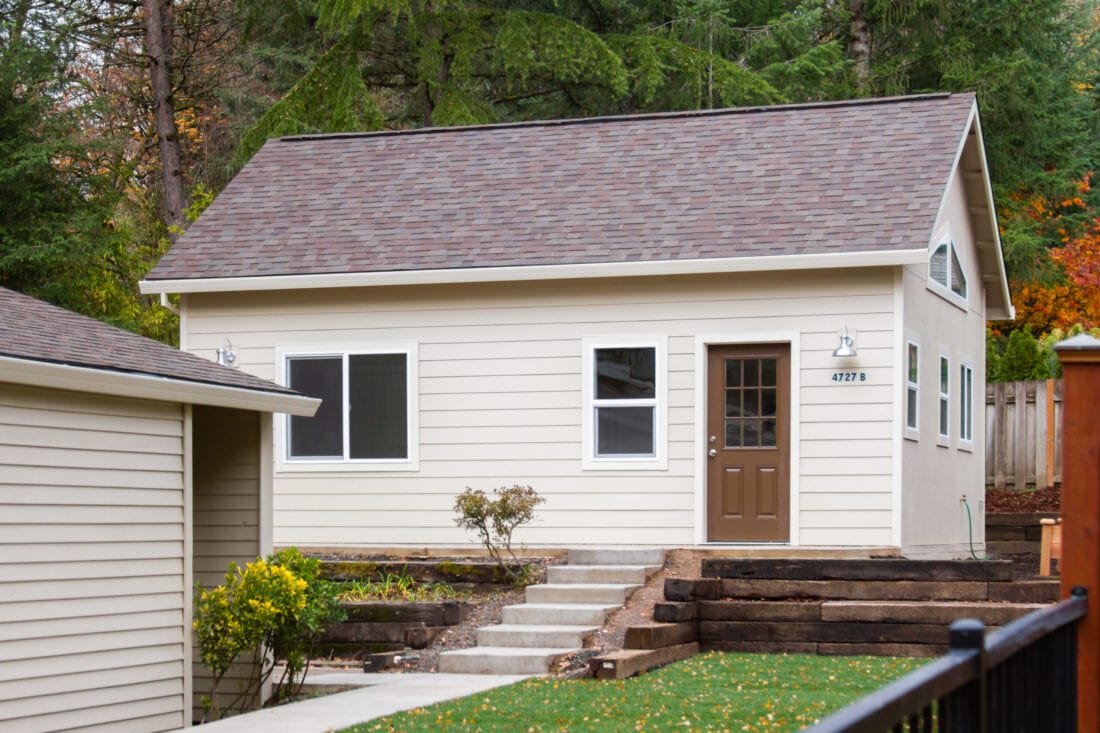 Often called a mother-in-laws suite or a guest house, an attached dwelling unit is an addition to the main dwelling unit.  It must have the same address as the main unit and also needs to have a separate entrance, kitchen, and bathroom. An ADU can be attached to the main dwelling such as a basement or attic conversion, a home addition, or a detached structure that is still on the property.  Accessory dwelling unit popularity isn't just for those looking to assist aging parents.  Some homeowners are using ADUs as short term rentals, especially if they live in a popular tourist area.  But does the functionality of an ADU and peace of mind of having aging family members close by translate into extra value for your home?
Three Types of ADUs
There are three types of ADUs: a converted existing space, addition to the main house, and a detached structure.  The most common ADU is a detached structure, but that doesn't mean you can't convert your unused basement into an ADU or build an apartment above your garage.
Converted ADU
An ADU can be converted from an unused room, a basement, attic, or garage.  These types of ADUs are the easiest to construct with the least expensive being a basement remodel.  A converted ADU costs anywhere from $10,000 to upwards of $100,000.  The most expensive converted ADU is an attic because it requires you to reinforce floor joists, insulate, ventilate, add plumbing, and add electrical wiring.
Add On ADU
If you don't have a room or garage to convert you can add on to your home, however this is more expensive than a conversion.  A small 400-square-foot-unit will start at around $40,000 and increases with every square foot added.  While the cost may be high, this option could work for you if you are going to have family living with you for a long term or you plan to rent out your ADU.
Detached Structure
he final type of ADU is a detached structure.  These offer the most privacy and personal space and are perfect for homeowners with adult children moving home or for those that want to use the ADU as a short term rental.  Detached ADUs have to meet zoning regulations and are essentially building a smaller secondary house so the cost is much higher and closer to $200,000 or more to build.  If you are going to use your ADU as a short term vacation rental this option is the most popular and will offer the chance to charge the highest amount for rent.
Design Elements to Boost the Value of your ADU
Just like design elements in your main home will affect its value, so will design elements in your ADU.  If you are building or converting an extra area into an ADU you should first ensure that it is handicap accessible, especially if it is for aging parents.  No steep stairways, an entrance with handrails and possibly a ramp, as well as easy to reach cabinets in the kitchen and bathroom.  In addition, choose durable flooring that is waterproof and slip resistant.  Laminate and vinyl are durable flooring materials that are also budget friendly.  They come in a wide variety of designs and colors so there are many options to choose from.
The kitchen of your ADU should give enough space for your loved ones to move freely.  Choose granite countertops since they are very popular among home buyers and opt for name-brand appliances, preferably stainless steel.  Finally, if you are going to sell your home in the future be sure to install energy efficient windows.  These types of window upgrades are the most sought after energy efficient upgrade by home buyers.
Will an ADU Increase Your Home's Value?
An ADU will add to the livable square footage of your home, but that doesn't mean you will recoup all of the building costs when you sell.  The national average cost to build an ADU is over $77,000, however the value that the ADU adds to the property is only around $66,000.  The value of an ADU varies by region and so do the building costs.  In most regions of the country, you will not recoup the total cost of the ADU, except in the Pacific region where the average ROI is 2%.  With that said, accessory dwelling units can appraise for more than the cost to construct them.  Their appraisal depends upon the location, square footage, number of bedrooms and bathrooms, HVAC, age of the property, quality of the build, state of the local market, and comps.  To ensure the most accurate appraisal of an ADU you should have an appraisal done by a professional that is experienced with ADUs.
While your return on investment to add an ADU is low, the popularity of ADUs is growing across the country.  As multi-generation housing benefits families trying to cut costs, the value of a functional ADU has increased by 38% nationally since pre-COVID times.  While the Pacific region has the highest return on investment, the Midwest has shown the largest increase (54%)  in resale value of ADUs from pre-COVID to current times.  In large cities, homes with an ADU are priced 35% higher on average than those without.  Demand for ADUs is different from region to region so it is best to speak to a real estate agent about popularity in your area.
If you are considering building an ADU remember that you are not going to see a massive return on investment.  But, with the ADU popularity continuing to grow you will create more marketability around your home and make it easier to obtain a higher sales price in the end.