To reduce redness on cheeks you have to first determine its cause and then apply proper treatments. The majority of facial redness cases are caused by rosacea, acne, sunburn, or extremely thin and sensitive skin. However, the cause might be more complex like broken capillaries, and dangerous, like lupus. In most cases, natural remedies will help either cure or manage your redness of face. But be sure to consult a doctor if the problem persists or gets more severe.
Look out for additional symptoms, like fever, rash, pimples, nausea, blood pressure fluctuations, etc. You can also check out this extensive list of possible causes for skin flushing, blushing, or developing red patches.
Reduce Redness on Cheeks: Common Causes and Treatments
Rosacea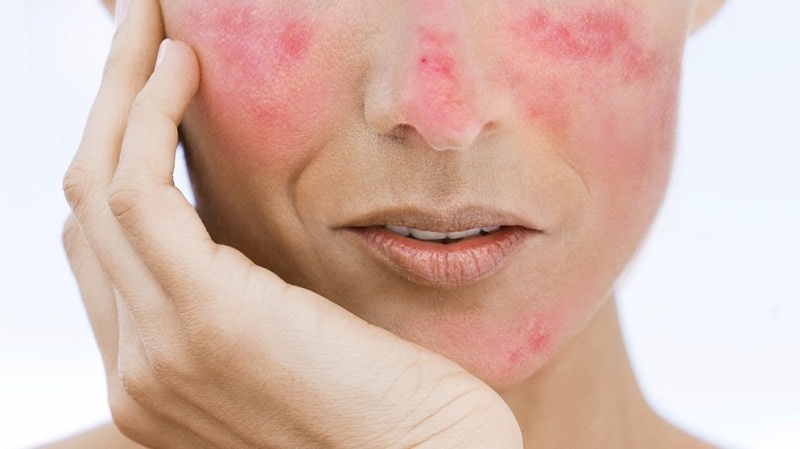 Rosacea is a common chronic skin condition of unknown origin. The prevalence of rosacea varies greatly with 1 in 20 Americans having the condition, about 12.4% of the German population, around 5% of the Russian population, etc. The condition often goes undiagnosed, so making any calculations as to its actual prevalence is nearly impossible.
Rosacea is characterized by facial redness, especially on the cheeks and around the nose. It can also cause small pimples in the affected areas and in severe cases result in swollen eyelids and nose as well as eye problems (conjunctivitis and other forms of inflammation).
There isn't an effective rosacea cure, but there are topical treatments for this condition. Natural methods to reduce redness on cheeks caused by rosacea include:
Avoiding foods and situations that trigger outbreaks.
Cleansing your face with mild solutions twice a day.
Be very gentle as rubbing will make facial redness worse.
Using soothing natural remedies, like cucumber or aloe vera paste to reduce the symptoms.
If you have rosacea, you'll need to use sunscreen with SPF of at least 30 at all times. Note that UV rays are dangerous not only outdoors. Unless your windows are protected with specialized film, sun radiation can get through glass and damage your skin.
Acne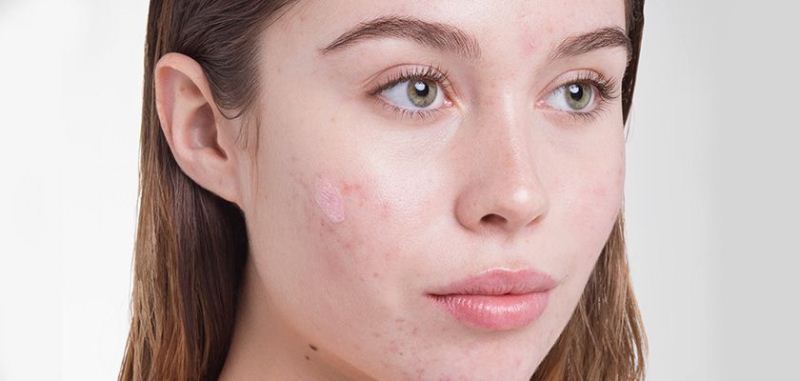 Much like with rosacea, there isn't any effective acne cure. The reason is that this condition is caused by a great number of factors. Many of those are impossible to control effectively. However, you can use many natural acne remedies to reduce redness on cheeks caused by pimples.
The best remedy for acne will vary for every person as the efficiency of different solutions depends on your exact blend of causes. Remedies that work fairly well include:
Apple cider vinegar: use as a toner or as compress for severely affected areas.
Honey: use in facial masks and scrubs by combining with oils, apple cider vinegar, or dairy products. Honey has potent anti-inflammatory properties that help reduce facial redness in the majority of cases.
Yogurt: rich in probiotics, yogurt is a good treatment for red spots on skin due to its soothing effect. However, you'll need to combine it with something anti-inflammatory (honey or coconut oil are best) to make it more effective against acne.
Cinnamon: a fantastic anti-inflammatory agent and herb that reduces irritation. It's rich in antioxidants and can be added to any natural face mask to reduce redness on cheeks and nose. Be careful when using cinnamon around the eyes.
Ground oatmeal: makes for the best anti-acne scrub for sensitive and inflamed skin. Apply oatmeal mixed with coconut oil or honey onto the face and leave for 10-15 minutes before gently massaging the face with wet hands and washing off the remedy. This gentle exfoliation will help get rid of facial redness caused by many factors, not only acne.
Tea tree oil: an extremely effective natural antiseptic that works best as topical treatment on red patches and pimples. This product can effectively fight fungi, bacteria, and inflammation. Therefore it helps get rid of facial redness caused by any of them.
Remember that even the best acne treatment won't help you if you don't maintain proper hygiene norms. Wash and treat your skin with suitable solutions twice a day. Do not touch or scratch your face and never use harsh cleansers and exfoliants on the affected areas. You should also avoid using makeup, at least while healing an outbreak.
Hot flash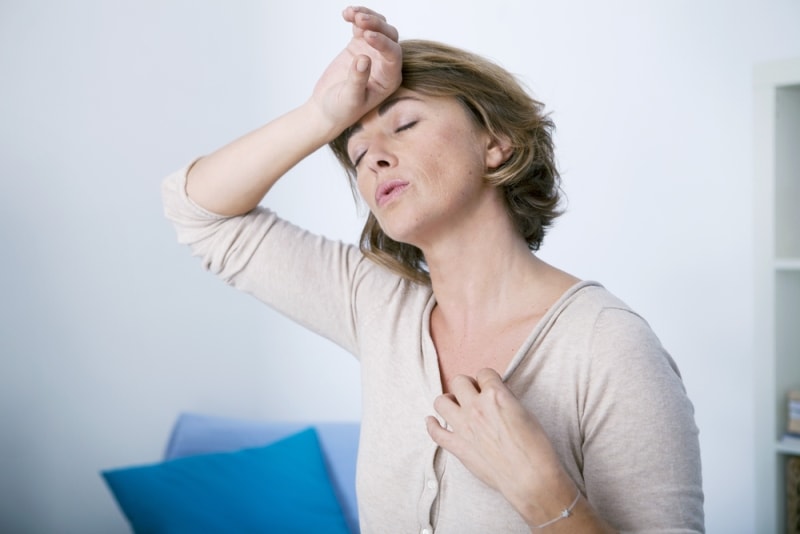 Hot flashes are unpredictable and uncontrollable bouts of feeling hot and going red in the face that occur in postmenopausal women. Over 80% of them get an occasional hot flash and no treatment exists for this issue. Granted, it's not an actual health condition and usually to reduce redness of cheeks you only have to wait for it to pass. You can also use some ice to momentarily change the temperature and your skin should return to normal within minutes.
In some women, hot flashes can be long and torturous. In these cases you'll need to consult your doctor and try finding the cause. Usually, these episodes are triggered by hot weather, physical exertion, alcohol. Hot food, or hot baths. Avoiding the triggers is the best solution that currently exists.
Sensitive skin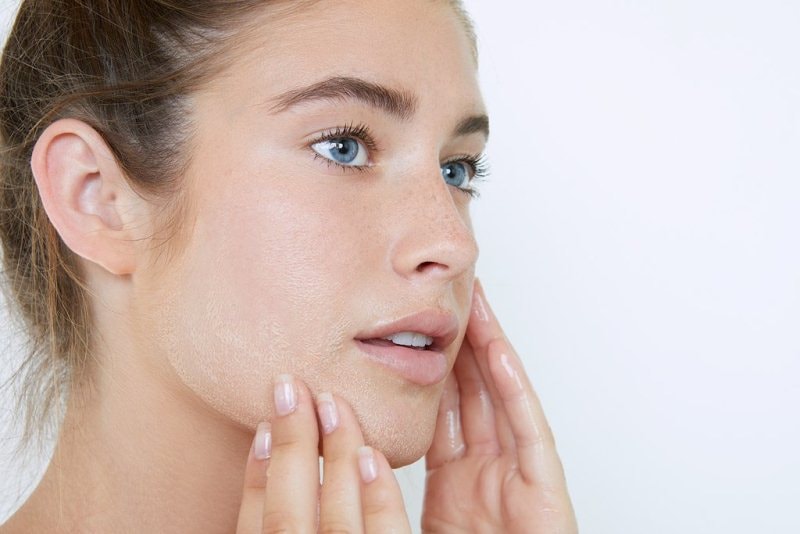 Sometimes your skin is so sensitive. It will flush at the slightest irritation, a 2-degrees change in temperature included. These cases are very common and should be able to reduce redness on cheeks that are sensitive by using a variety of soothing natural remedies.
Apart from the options mentioned in the Acne paragraph, consider using:
Aloe Vera gel
Cucumber paste
Coconut oil
Manuka honey
If the issue is triggered by experiencing some strong emotion, a regular cold compress will get rid of facial redness fast. You can also try using makeup to cover red blotches, but this isn't recommended. Not only will they remain partially visible but applying heavy makeup on sensitive skin might cause additional irritation and acne.
When to Consult a Doctor?
It's ok to try reduce redness on cheeks using natural remedies at first. If you understand the reason for the issue and have means to solve it, you're safe. However, if the problem remains and gets more severe or if you have any other not skin-related symptoms, consult a doctor right away. Facial redness might be a symptom of many dangerous conditions, including several types of cancer.
Back over to you, what are your preferred remedies that help reduce redness on cheeks? What do you believe to be the main cause of the redness? Do you think our scientists will ever find effective means to diagnose these subtle skin conditions?
Please, share your thoughts in the comments!