To stop oily skin from running makeup nowadays you need to prep your face using specialized products. You will also need to stock up on blotting papers and use them throughout the day. You even have a chance to deal with the problem permanently. But that will require a specific face care routine and, perhaps, medical treatment.
6 Tricks That Will Stop Oily Skin from Ruining Makeup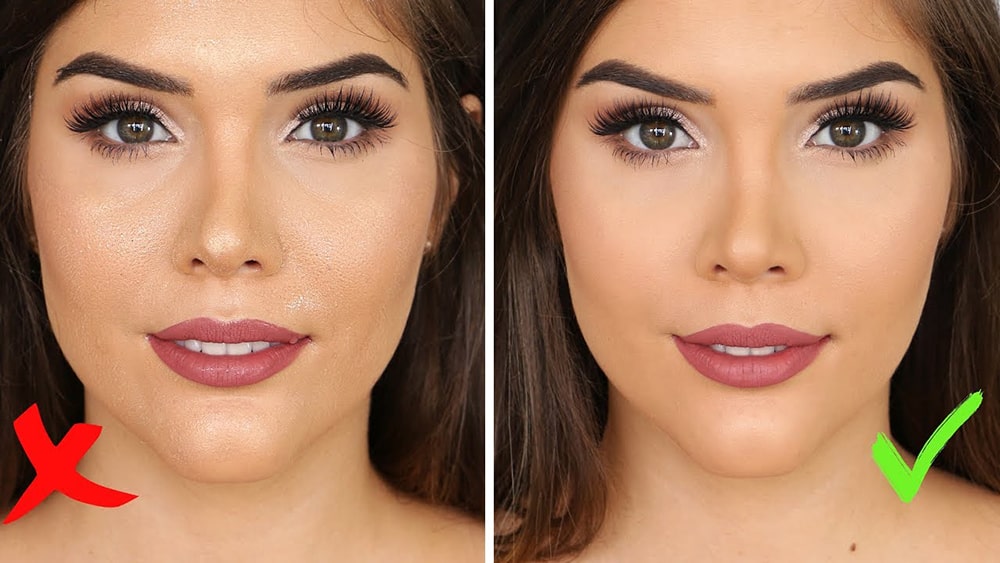 1.     Prep your face with a primer
A primer is a cosmetic product specifically designed to make your makeup last. Choose one formulated for oily skin to achieve the best results. This product, like any cosmetics for oily and acne-prone skin, must not be oil-based. It also mustn't contain any alcohol and fragrance.
You should also look into 'non-comedogenic' products. However, it's not essential for that term to be on the label. 'Oil-free' and 'anti-shine' are far more important qualities for a primer.
Depending on your condition, you might only need to prime the T-zone to stop oily skin from ruining makeup. However, you should always prime the eyelids separately. If you have oily skin, it's a sure thing that your eyelids will become outright greasy during the day. This might make your eyeliner run and will definitely make eyeshadows collect in the creases. Any wrinkles will also be highlighted because they will be filled with makeup.
It's essential to use a specialized primer for the area around the eyes. Note that using a concealer here is a bad idea. If you can't avoid it, you'll need to shop around until you find a product that works for you personally.
2.     Go easy on powder
It's tempting to layer more powder on your face to stop oily skin from running makeup. Many people use this method to both sweat-proof the makeup on application or cover the shine during the day. And it will work in the sense that this will give your face a matte look. However, such multi-layered or 'cakey' makeup is extremely bad for you in the long run.
Did you know that clogged pores are one of the common causes of breakouts on oily skin? In fact, this particular issue makes your skin oilier as it prevents the sebum glands from functioning properly.
Covering your face with powder clogs your pores and thus, causes all the issues mentioned above. Even if you use a high-quality product designed for oily skin, using too much of it will cause problems.
3.     Use blotting papers all the time
The right way to remove the greasy shine from your skin is to use specialized blotting papers. They are your most effective tool when you try to stop oily skin from running makeup. That's why you should always have them on hand.
Note that it's very important to learn how to use these papers right. The method is simple as you only need to remember to never ever rub your face with them. As you use a blotting paper after the makeup is applied, rubbing will smear and smudge it. It might also remove important cover from any blemishes.
Instead, you should press the paper firmly to the shining area and then carefully roll the paper off. Your movements should be firm and fast, so practice at home first. And choose blotting papers that suit your skin best.
4.     Switch to 'waterproof' and 'long wear' makeup products
One of the most important things to do if you want to stop oily skin from ruining makeup is to buy the right products. The cosmetics of today vary greatly. Picking the ones that suit you personally will ensure you look fabulous at all times.
As oil is a liquid, it will make your makeup run no matter what you try. The best you can do is to slow down this process enough to keep your stunning look during the day. Using 'long wear' and 'waterproof' cosmetic products will help with that. They are formulated to last and resist 'damage' from liquids. If you have an extremely oily skin, this particular tip is a must.
5.     Ditch the foundation
Foundation is the basis of any makeup, but if you have oily skin it's also the worst product to use. A heavy-textured full-cover foundation is especially bad. Therefore, avoiding it should be a priority.
Switching to a light-textured product with s one of the best ways to stop oily skin from running makeup. Consider using BB and CC creams popular today. Their moisturizing effects will help reduce oiliness of the skin.
If you have acne or some other blemishes that you want to hide with a heavy foundation, use concealers instead. Choose water-based ones and apply them topically.
6.     Choose sponges and puffs
Choosing cosmetics for oily skin isn't the only thing you need to do in order to sweat-proof your makeup. Applying those products with the right tools is equally important. Brushes are a bad choice for this skin type because the layer of the product they leave on your face is far too thin to 'fix' oily skin.
Use puffs and sponges instead as they can distribute the product evenly. They can also get those tiny powder particles deep into your pores. Note that because of this, it's twice as important to not overdo it with the powder layer.
How to Stop Worrying about Oily Skin Ruining Makeup
If you want to stop oily skin from ruining makeup, you only need to apply proper makeup the right way. However, there is a much more effective way to deal with this problem. And that entails making your skin less oily.
You see, extreme oiliness (read the kind of oiliness that can ruin makeup) isn't a natural state for your skin. It's a dermatologic disorder usually caused by hormonal issues. It can be treated in many ways, including medications that are used in extreme cases (The Journal of Clinical and Aesthetic Dermatology).
This means that you can cure the affliction, or at least make it easy to manage. All you need to do this is to find skin care products that are effective for you personally. However, oily skin care routine has to be more complex than cleansing, toning, and moisturizing every day.
To manage this skin type you should apply specialized face masks about twice a week. You should also exfoliate your skin once a week. If you prefer to use natural products, check out these homemade recipes for oily skin. You should also learn how to increase the beauty of your face naturally.  Diet and exercising are very important components of that program. And changing your diet, in particular, can do more good for reducing oiliness than any oral medication. It's also perfectly safe and offers many health benefits.
As you can see, it's easy to stop oily skin from ruining makeup. Although, it's not as easy to stop the oily skin. However, both are possible.
Do you have this skin type or know someone who struggles with it? What are the treatments, tips, and tricks you can recommend?
Please, share in the comments!