As the pandemic now enters into yet another month, when we all thought it would be over, our finances are going to be stretched to the limit. If you thought the limit was something that you had reached already, think again! You have to dig even deeper, try to figure out how to survive and put in place some measures that will keep you out of financial hell.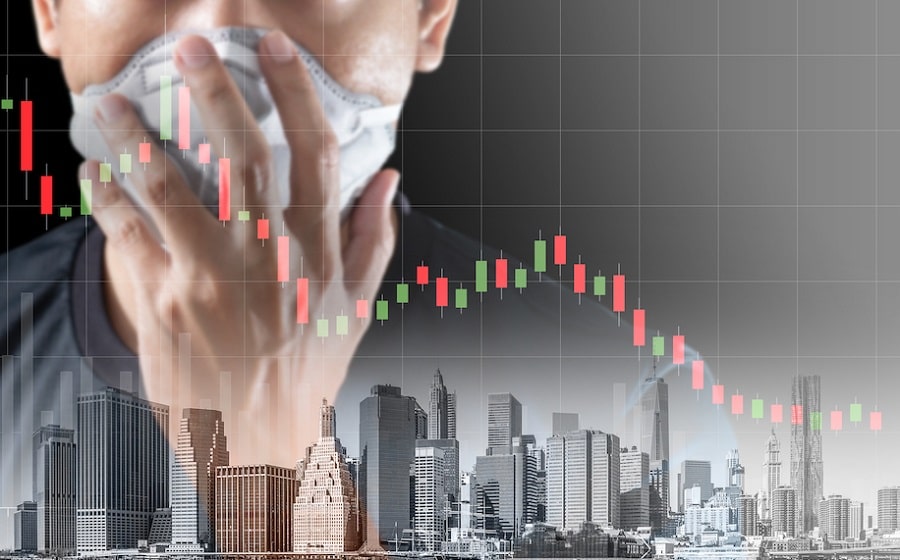 But, what are those measures and how do you implement them? We have looked around the internet to see what financial gurus have been advising, as well as what the market is saying, to see how you can take the most prudent decisions. Long-term safe haven financial options are your best bet to get out of this horrendous situation and come out relatively unscathed, from this pandemic.
BTC to the Moon
Can you believe that Bitcoin has gone over $40,000!! How on earth did this happen? Well, we have scoured around for the reason and it's quite simple actually. Due to the pandemic and due to the endless quantitative easing, investors are seeking safe-havens. BTC is a lot like gold, it is few in number. It's quite clearly limited in quantity and due to the nature of it being a cloud-based or rather, blockchain system, it offers increased security. BTC is something that you should seek to invest in if you would like to hold value in some of your smaller assets like cars and small properties. We believe that the reason why BTC is still so popular after such a disruptive year, is because it is the premier cryptocurrency. Many people believe that crypto is the future, as China releases its own, Facebook too, and even central banks are making their own cryptos. Some are saying that bitcoin could go as high as $50,000 in the next few months as the Fed is still intent on printing more money. Some say even more than $2,000 per person in the US.
Gold Is Still Strong
Never before in human history has gold been this strong. The reason for it is very similar to the story with BTC. investors are just in full blown panic mode. They have seen that stocks are strong and weak, not really showing signs of going one way or the other. This level of insecurity and imbalance is not going to be tolerated. So we have found a few key reasons why gold is a good bet.
The bottom of gold seems to be hovering around $1,900 per troy ounce. This is important because gold has historically, never had a high bottom as it does now. What this says is, gold is yet to reach a peak.
Gold has historically been proven to preserve wealth. It's not always about making money from gold, just preserving how much purchasing power you have.
If you own gold, you're more likely to get better options from lenders and investors. If your business can be backed by gold bars as well as profits, investors and lenders will look kindly upon you. In this lockdown and pandemic scenario, this is just what every small and large business needs.
Into High-Rise
The shocking and sad thing about the economy is, high-rise buildings are on the out. Many businesses, if not all, are working from home. Remote working is going to become the norm and so, how can we expect high rise commercial offices to be a lucrative business model anymore? The price of square-feet of office is something that is right on the radar of every single property investor. The reason for this is, when the lease runs out for most businesses, they will not be renewing. They will not be going elsewhere either.
For the time being, businesses will not wish to invest in high-rise office space. They will wait to see if their employees would like to carry on working as they are! So, the square-feet of offices in New York has gone down from $25-35 to around $20-25. This is a huge shift, as normally, it would take the price of a square feet of office space to decrease by $1-2 in 12 months. A $10-15 decrease in half a year is astounding! So look for cheap high-rise real estate and invest!
Invest in Tesla
Tesla and BTC are having a war. Their prices have been shadow boxing for so long, pretty much for the better part of 2-3 years. But the pandemic has really shifted the fight into override. We believe that Tesla is going to outshine BTC in the long run. In September the stock price for Tesla was $330. But now, just a few months on we are now looking at Tesla stock weighing in at $880! That is a 200%+ rise. We believe that Tesla will push over $1,000 in the following months. The case for investing in Tesla is stronger than BTC. for one thing, there is much less volatility to contend with. BTC is unstable but it relies on trends and so far, everyone is bullish on safe havens. This is what makes Tesla a good opponent to BTC because Tesla is seen as a safe haven stock option. Tesla is the number one electric car company and just in the last 12 months, it has made 500,000 cars. That is more than many European manufacturers! It can only man that soon, Tesla will be producing close to 1 million cars a year. It may take 1 or 2 years but it's going to happen. So buy stock now.
Amazon Stock
Amazon is perhaps the shock story of the pandemic. Rather than skyrocket, it has largely kept stable. The price of amazon stock in July was $3,182. And now, it is the exact same price! Is this a bad thing? No! In January it was $1,901. So just like gold, Amazon stock is actually hitting $1,900 as the bottom. It's actually holding on a massive bull run! This has not been seen in the history of stocks. Amazon has remained at $3,000-ish for more than 12 months. This bull run is going to continue as long as the pandemic continues. And it might also get better if Amazon continues to expand into countries like Brazil, India and African nations.
Amazon stock is on a high, but if you believe that investing in a wholesaler is nothing but upside risk, then we believe that you should go for it. Amazon is going to eclipse many retailers and take over the market in areas where those franchises fail. Walmart and Kroger are working with Amazon to pick up points and this shows that the retail store has bowed to Amazon and is no longer fighting it with the intent of winning. Amazon is a global force that will not be beaten for some time yet.
Your Own Home
Home prices are still increasing, even in lockdown. Why? Well, many people are being allowed to keep their home because of the government's stimulus checks. They are allowed to freeze rents and lenders are just seeking to release their built-up capital. Both of these in combination, make refinancing a house so much more enticing. You can use that calculator to see how much you could combine, what your new amount would be, what the new rate might look like, and also what your new term would be too. Times like these are ripe for the picking. Lenders want you to remain in your home and not just for your own safety. They want to have people who own homes because they want mortgage payments to come in after the pandemic. They are in the same situation, if not more vulnerable. So refinance your home to use the money to invest or add value to your own home by extending your property.
Zooming Above
With remote wiring becoming the norm, Zoom has become one of the best conference calls software in the world. We believe that Zoom will be releasing new features that will make it the number one service in the world. They have already implemented 'locked rooms' which allow private meetings to occur without being hacked or forced entry being permitted. They are also allowing for much better integration of their st4wate into cloud systems, busses can rely on Zoom to be integrated into their own email and project management software soon. This allows managers to ring employees and speak face to face, while recording meetings and sending files while in the chat.
Long-term safe haven investments are the best way to get out of this horrible situation. The pandemic is being prolonged as more people are getting it every week. We can hope the situation resolves quickly but start investing in these areas to preserve your wealth in the meantime. Diversity of your options, have stocks, precious metals, crypto, property and services.