The global pandemic triggered a mass exodus from offices, with millions of employees currently working from home. As virtual conferences and video calls become the norm, it's important to feel confident on camera. In this guide, we'll explore some simple ways to spruce up your working from home look.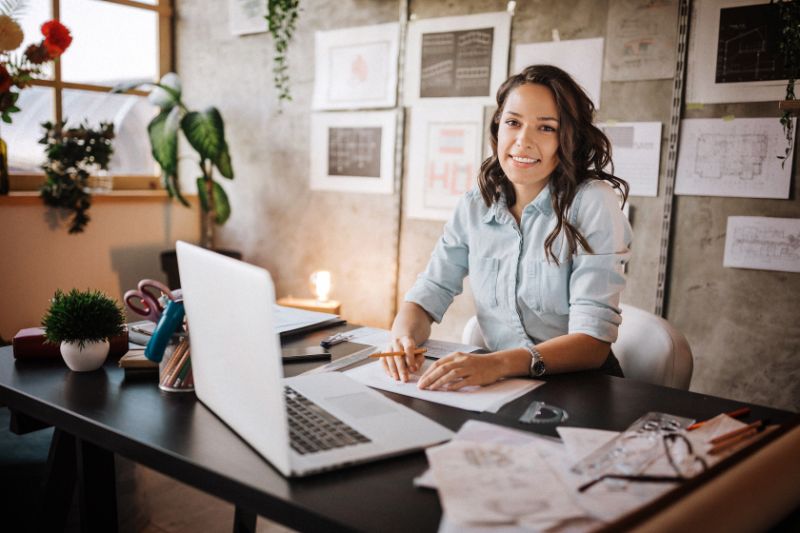 Update Your Home Office Wardrobe
Working from home may not require you to leave the house, but it's beneficial to get into the habit of getting up, getting dressed and preparing for business. Changing out of lounging attire into smarter clothes can help you be more productive and facilitate a seamless switch from relaxation to work. If you're bored of wearing the same tops over and over again for meetings and video calls, now is the time to explore new trends and update your workwear wardrobe. You can freshen up existing pieces or invest in new items to add to your closet. Simple, affordable options include using necklaces, brooches and badges to jazz up plain tops or blouses or throwing a blazer or a smart cardigan on top of a basic cami or shirt. The clothes you wear can impact how you feel, even if nobody is going to see you in the flesh to appreciate your sartorial style. Many of us are more productive and focused when we're in work mode, and the outfits we choose can help to make us feel like we're at the office even if we're sitting at the dining room table or taking part in a meeting from a makeshift study.
Embrace New Makeup Trends
Studies show that the pandemic has triggered a boom in sales of eye makeup and skincare products. As many of us adjust to virtual meetings and walking around wearing masks when we do venture out of the house, we have started to focus on the parts that are visible to others. If you want to feel more confident when you see yourself on the screen, or you simply want to try something new and get out of a working from home rut, why not treat yourself to pigmented eyeshadow palettes, try a new mascara or add a blusher or bronzer to your basket to give your cheeks some color? You can be subtle for formal meetings or embrace bolder looks if you're hanging out with friends on a virtual call after work.
Experiment With Hairstyles
Video conferences and online chats have made many of us more aware of our appearance than ever before. When you've been working from home for months on end, it's natural to get bored of wearing the same old clothes, styling your hair the same way every day and trying to perfect the barely-there makeup look. Changing the way you wear your hair is a simple but effective way to alter the way you look. You could try wearing your hair up in a bun or ponytail if you usually have it down, you could experiment with half-up, half-down styles or you could use accessories, such as headbands or clips to inject interest. You don't need to be a stylist to master basic tutorials. If you're not experienced when it comes to doing different things with your hair, watch videos and look for inspiration on social sites and beauty blogs and magazines.
Are you bored of your working from home wardrobe, or do you long to be one of those people that always looks incredible when they join a virtual meeting? If you're stuck in a style rut, take these tips on board to ensure you look the business.