Cleaning is a never-ending process. It takes a lot of time and effort especially when you're planning to clean everything in your house. For some, they find it satisfying when they finish the task by themselves but everybody knows that it is more fun when you clean together!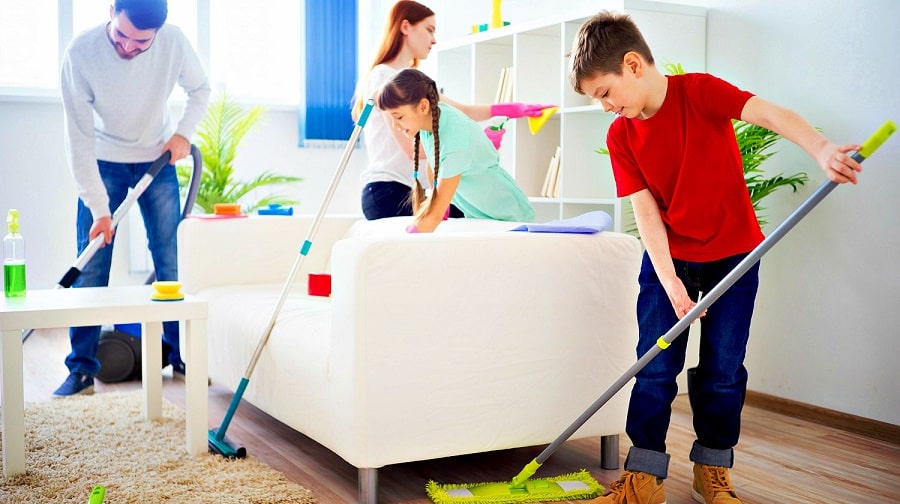 Cleaning as a team will always be a great idea no matter in what age you are or you're kids. When you do it as a whole you get to save time and take moments that you can cherish. Read more about it here.
While there's nothing wrong with hiring a good cleaning service. It is still enjoyable and a good alternative for an exercise, in this way you get to clean your house and burn some fats in your body.
Tips to Make Cleaning Fun for the Family
Set a Fun Family Schedule
Before you start assigning them their task or mention house cleaning, you must ask if they have extra things on their plate. You might find your kids complaining if you forced them to help you clean the house because you want to collect memories. They too have other things to finish especially when they are still in school, better yet talk to them about your planned schedule so that they can make an extra day to help you. After that, you're assured that it would be fun because they are not thinking about the extra baggage in their schedule.
Assign Task or Use Another Method
Assigning them to their specific task means you know what they can handle and finish at the same time. Of course, you will still be there to guide them if ever they get confused about certain things. But if you want to level up your assigning method you can try using a fishbowl and let them pick their task, in this way, there are no biases and eventually, no fights while cleaning. If things get too heavy, you can always call the professionals over. Check out companies like https://www.cleaningworldinc.com/office-cleaning/ for instance.
Treats as Motivation
Kids always love treats and maybe this will be considered as bait, but still, it is a good way to keep them interested in cleaning. Once you feel they don't have enough energy to activate alertness and mindfulness, a treat will be a good booster. If ever you want to have a friendly competition as part of the game motivating rewards can be a good start too.
Games Along the Process
Cleaning your kid's toys might be the most frustrating as they have different purposes and sorting them one by one will take a lot of time. A tip for the moms out there is to let their kids sort their toys by themselves, yes you have to trust their skills. Games, like throwing their unsorted things in a basket, and letting them sort it out.  In this way, they know where a specific toy should be and as well as find them easily if they need it.
Invent and DIY
If you have some spare time after all the cleaning, you can still add another bonding moment. Lack of storage will not be a problem if you try to recycle things that you have at home. Also, you get to know your kid's skills and enjoy them at the same time.
Considerations in Cleaning Your Home as a Family
A quick reminder before you start setting your fun family schedule, you have to keep in mind any of your family members' health. Even if you want to have a quality fun time you still have to make sure that they can handle it. As you know cleaning has a lot of dirt exposure and there might be circumstances that they are not suited for it. So have an alternative idea so that no one will be left behind in your fun cleaning.
If ever that you have a kid that wished to do a task that you know there might not be ready for, explain to them why they can't do those things for now so that they still get to enjoy. Lastly, aside for treats and rewards set break time. Your kid's energy might not be the same level as you, so have a break and relax for the meantime so that none of you will be worn out.