You're the proud owner of beachfront property. You get the luxury of hearing waves lap the shore in the morning and a picture-perfect view out your window, but your kitchen could use a bit of updating. If you're ready to remodel and make your dream house finally include your dream kitchen, here is everything you need to know to make the right countertop choice for your beachfront property.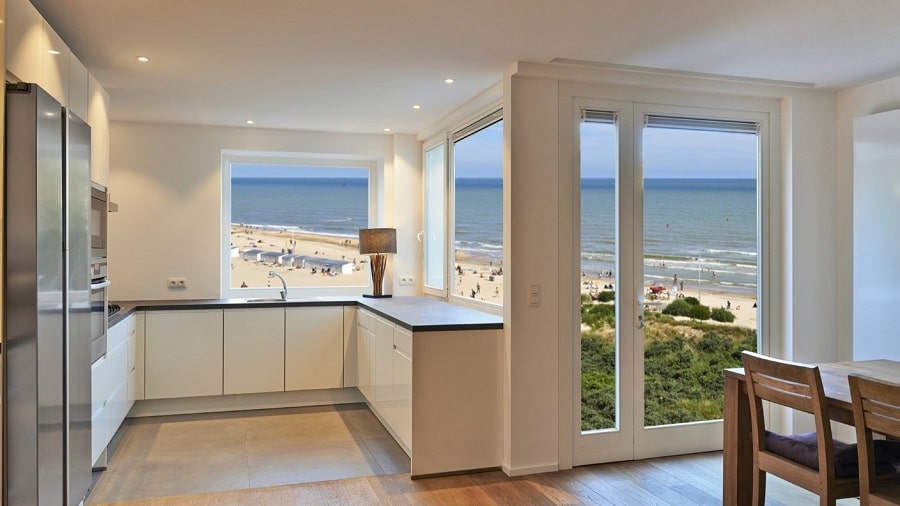 Practicality
When it comes to picking out a countertop you must consider several things. First, you must consider the look that you are going for and what material will help you achieve this. Secondly, you must think about how you use your space and which material is going to withstand your kitchen usage. The third thing you need to think about is specific for beachfront property, you need to think about the type of environment and elements your countertops will face. This is important for a beachfront property as the proximity to the water translates into relatively high humidity. This problem is often compounded if you are in the south in a hot, tropical climate.
Coastal design, which is common in beachfront homes, makes the most of mother nature–panoramic windows, slatted shutters for fresh air, and the heavy use of natural materials throughout the home. This can often include countertops as well.
Natural Stone Countertops
Natural stone countertops are a favorite everywhere, including at the beach. One of the things to remember when selecting natural stone countertops is that stone is naturally porous, with some having greater porosity than others. To avoid any damage from moisture and humidity, you'll want to make sure that you have high-quality professional sealant on your countertops and that you keep up with the maintenance required for whichever stone you select whether it is granite or marble. For more information, visit www.slabmarket.com.
Man-Made Countertops
Man-made countertops like quartz and recycled glass countertops avoid the issue of porosity. Both types of countertops are made from recycled materials. Quartz is made from recycled stone chips and resin while glass countertops are made from shards of recycled glass and resin.  The process of making these countertops ensures they are not porous and never need to be sealed. This means that they are resistant to damage from moisture and humidity prevalent in beachfront properties. Each creates their own look in the kitchen, but neither gives quite the same look as the natural stone countertops.
Avoid Butcher Block Countertops
Butcher block countertops are unique in that they provide that soft, warm look that is only possible with wood. While these countertops certainly provide a natural look in the kitchen they are not suited for a beachfront property. This is because of the general nature of wood. It is extremely porous and absorbs water easily. As the wood begins to absorb water it makes the countertop susceptible to warping, rotting, and the growth of mold and other bacteria. With the humidity and moisture that naturally comes from the beach environment, it is best to select a different countertop material like granite, marble, quartz, or glass.
Appearance
Mother nature is the muse behind all coastal design. The kitchen is often filled with light, neutral colors, pulling inspiration from the sand and the water outside the window. This is true from floor to ceiling and everything in-between.
Color
Most of the decor in beachfront property is kept natural, pulling in elements that are beige or white. White Carrara marble countertops can help you achieve that all-white look to keep the kitchen looking bright and airy. Allowing you to pull in other natural elements like glass, green plants, and beige crockery.
There are ways, however, to achieve that natural coastal look without going the all-white route. Simply pull inspiration from the sand and the sea. Countertop materials can come in a wide variety of colors depending upon the specific material. Man-made countertops come in a seemingly endless array of colors, although the most common quartz colors are in the white, black, gray, and brown families.
If you had your heart set on natural stone for your countertop, have no fear! Many different types of granite pull in elements of tans, dark blues, and even turquoises. Granites like Uluru Australian, Luise Blue, Azul Bahia, Ocean Wave, and Azul Macauba pull in the blues of the water, taking your coastal look to the next level.
Finish
Calling upon mother nature isn't just in terms of a color scheme. Coastal design also depends on natural light and airiness as well. When you are selecting your kitchen countertops, opt for a high-gloss finish. The reflectiveness of this finish will help natural light bounce off the countertop, making the room feel both brighter and airier. This is especially helpful in beachfront properties that have relatively small kitchens.
Budget
The right countertop choice for your beachfront property is one that fits in your budget. Countertop materials range greatly in price. Prices even vary depending upon where it is sourced from (i.e. sourced locally versus imported), size, thickness, edging, etc. While your countertop is likely to be one of the biggest expenses of your kitchen remodel and you'll want something affordable for you, you want to make sure you get something suitable for your property and your usage.
Pick Something You Love
Kitchen remodels are expensive, which means it isn't something you are going to do time and again. Take your time selecting the right countertop for your space and make sure you find something that 1) fits in your budget and 2) is something that you love. If you decide to go with natural stone, you want to make sure you see the slab in whole before making a final decision. The small samples in a store cannot capture the full characteristic and veining of the stone. Seeing the entire slab can help you get a better idea of what it will look like in your kitchen.