When you set up a business, the priority is to get the message out as quickly as possible to drum up revenue. Therefore, it is tempting to thrash out a website as quickly as possible so you at least have something you can use to bring in the punters. But approaches like this rarely yield the rewards you need or expect.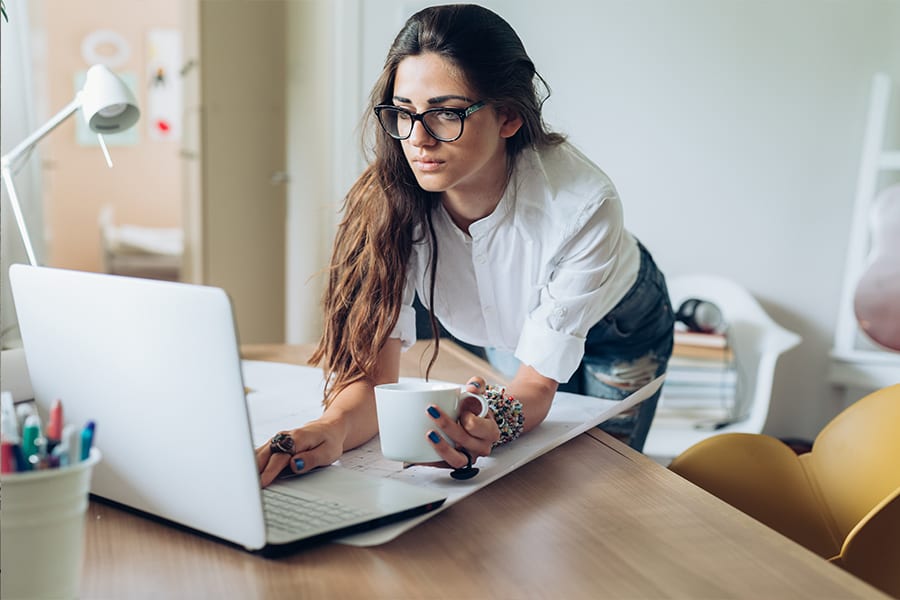 Often, you wind up making critical mistakes that undermine your enterprise and prevent it from ever getting off the ground.
Business websites and digital marketing are at the forefront of 21st-century entrepreneurship. Get them right, and you'll shoot for the stars. Get it wrong, and your company will fizzle out of existence, without anyone knowing it was ever there.
In this post, we're going to look at some mistakes founders often make when setting up their websites and what you can do to avoid them.
Mistake #1: Using an Out of Date Design
Customers want your website to look professional, modern, and in-line with other sites across the internet. For that reason, you need to pay special attention to design that keeps your brand relevant.
Go and look at what some of the world's biggest websites like Google and Amazon looked like when they first appeared online. They look old. It's hard to define precisely why, but they just do. They haven't aged well at all.
If you choose an outdated design, that's precisely what your customers see – a relic from the past. Even if you have an excellent service, they're likely to pass over you for a better site that actually offers the look that they want.
Using out of date information is another big no-no you need to avoid. If you're setting up a site in 2020, make sure that you include data from either 2020 or 2019, whichever is the most recent. Don't rely on blog posts from 2008. Google won't like it, and neither will your customers.
Mistake #2: Poor Navigation
Poor website navigation is another major problem that dogs new websites. Companies throw something together in an afternoon and expect it to function just as well as the slick, popular sites they use every day.
Website development, however, rarely works like that. Navigation is something that takes time, testing, and user feedback.
The best way to create intuitive navigation is to pick a theme and run with it. Site builders will often do this for you automatically, or you can make it happen in the underlying code. Website developers will also do it on your behalf to provide you with the best chance of keeping prospects on your site.
The space of possible navigation options is infinite, but you should avoid exploring it. Most people just want a standard experience when they visit your site. They don't want a weird navigation system that is different from every other place they visit on the web. They need something that feels at least vaguely familiar. Most sites run the menu across the top of the screen and use the three bars for an expandable menu on a mobile site.
Mistake #3: Poor Quality Hosting
Users want your site to serve up information as rapidly as possible. Most won't wait for more than a couple of seconds for a page to load before clicking back to search results.
More often than not, the problem is poor website hosting. The company that provides the raw hardware for your website doesn't always provide you with the best systems for your needs. Text-based sites are usually okay. But if you have high-definition images, you can soon run into trouble.
There are several approaches you can take in a situation like this. The first is to simply switch your provider to somebody else or upgrade the service you receive. The second is to engage in some technical shenanigans in the background. Things like content delivery networks and minification can help enormously here. You'll need some technical expertise to pull these off yourself, or you can go to a professional and get them to do it for you. Finally, you can remove data-heavy elements from your pages so that users get the content they want faster. This approach has the benefit of being relatively easy to implement. However, it can lower the quality of your website experience.
Mistake #4: Failing to Create a Site That Fits Your Industry
Businesses are not generic entities. They vary tremendously, just like people, even though they all must obey the same fundamental rules.
Thus, pest control website design is very different from accounting site development, and vice versa. The two businesses are different in fundamental ways. And website design needs to reflect that.
Mistake #5: Adding Pop-UPS Everywhere
Pop-ups are an essential aspect of digital marketing, but adding them all over the place is a big no-no. Most users really don't like intrusive visuals that get in the way of the information they want to consume. It makes your site appear less trustworthy, even if it wins some email addresses.
Google is also moving against pop-ups and interstitials solidly. The search giant wants to improve what it calls "user delight" by downranking pages that use intrusive visuals of any kind. Thus, there's now a clear trade-off from using them. Nobody says that you can't, it's just your ranking might suffer, which could affect the daily traffic reaching your site.
Think carefully before you add any pop-ups to your site, particularly the homepage. If you do use them, you need to have good evidence that the benefits outweigh the costs.
Mistake #6: Believing SEO Myths
The world of SEO is shrouded in mystery. To outsiders, it seems like a bit of a dark art. Nobody has it all worked out.
With that said, there are some myths you need to ignore. Stuffing your pages with every relevant keyword, for instance, is no longer necessary for positioning your site higher. In fact, it makes your pages more challenging to read, putting off prospective customers. Everything feels a little forced, which can ultimately hurt your ranking.
Today, writing for the needs of your audience is a much better strategy. Google's algorithm is now so sophisticated that it can accurately distinguish between pages that offer real value and those that are faking it.
When you think about it, there's no good reason to include low quality content on your site anyway. If you churn out a load of garbage, it'll reflect poorly on your brand, and it will bewilder people visiting your website. Most SEOs, therefore, recommend that companies simply aim to write long-form, comprehensive content that provides customers with all the information they need.
When writing your content, structure it in small paragraphs, and use clear headings. Help guide the reader's eye down the page, making use of friendly typefaces and plenty of white space. Avoid using long sentences or words, unless absolutely necessary.
Mistake #7: Failing to Make Content Readable
People visiting your website will rarely read whole paragraphs or even sentences. Usually, they will just skim the content, looking for the data they need to make a decision. Mostly, it is automatic.
Readability, therefore, is essential, but not for the usual reasons. You're not trying to write an elegant, flowing novella. Instead, your aim is to use language to present relevant information as concisely as you can, unless you're writing a blog.
Think carefully about your fonts, and then keep them consistent. Most brands choose a titling typeface, and then another for the body text. Where possible, use contrasting colors to make your point and highlight specific segments of your site.
Mistake #8: Adding Unnecessary Jargon
You might be very familiar with your products and services, but your leads might not be. Bombarding them with unnecessary jargon, therefore, is a recipe for disaster. If people can't understand the fundamental value proposition, they'll go elsewhere.
Attention spans are incredibly short these days, so don't expect people to do their own research when using your site. Unless you give them intuition upfront, they'll click back to search. All the money you spent on SEO getting them there is wasted.
Companies in the tech sector have the most significant challenge here. Describing your product in layman's terms might be a challenge. Even so, you should attempt to distill it into its essential elements, and then use straightforward language to describe the benefits. Dropbox Business, for instance, doesn't talk about the underlying cloud service model. Instead, it just offers customers the opportunity to "securely share, sync, and collaborate." It's easy to understand, and you know where you are with it immediately.
Heading should be the most straightforward element of the page, describing the pain point your business's products and services address. Following that, there should be a subheading that provides a little more information on what you do. After that, you need a call-to-action, a button that encourages them to take the next steps. If you get stuck, take a look at some of the world's most successful companies. They tend to get site copyright.