As we say good riddance to the year 2020, we step into 2021 with high hopes for a more healthy and covid free year. To get us started on a positive note we think it's a great idea to create some new year resolutions to keep us busy throughout the year. Take a look at our suggestions below and see if you can become inspired.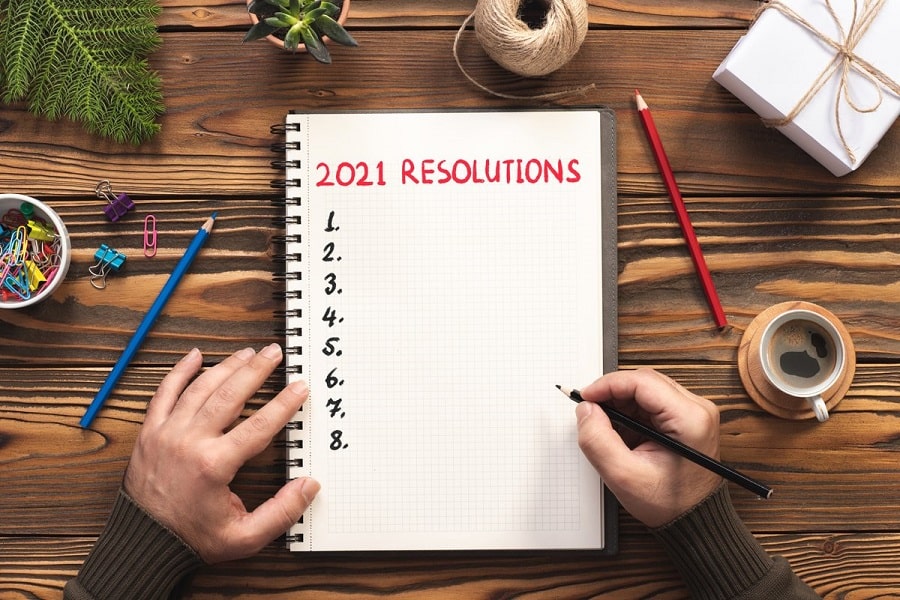 #1: Get Active
A common new year resolution among many is to start being more active. Whether you want to shed a few extra pounds or to feel better within yourself then we think it's a great new year's resolution to have. If you are a novice when it comes to exercise, start off small with a 10 minutes brisk walk around the park once a day. Once you become comfortable up the speed, distance or time, if walking and running doesn't interest you then consider investing in a bike instead. It's a good idea to set yourself some realistic goals to aim for, maybe book in a racing event or complete the couch to 5k challenge. Make sure your goals are healthy and achievable.
#2: Spend More Time With Loved Ones
Over the last year we have become aware of how precious life is and to take any opportunity to connect with loved ones as much as we can do so. Now the end is looking near dont fall back into bad habits, stay in touch with your loved ones. Make a note in your diary to call or see at least one loved a week. Although it might be a while until we can physically meet with our friends or family, be grateful we live in a world full of advanced technology. Calling, texting, emailing, messaging and video calling has saved many relationships and lives over the last year. So take full advantage of it whilst we stick to restrictions.
#3: Explore the World
This might be a tricky one, but we believe the second half of 2021 is going to be the time for this. We have been cooped up in our homes for roughly a year now and there is a world out there waiting for us to explore it. Take the opportunity by the reins and start planning possible trips, these can be abroad or in your home country. There are so many beautiful places in the countries we live in that we forget appreciate all it has to offer. Be sure to check travel restrictions and vacation insurances before booking, to not be disappointed.
#4: Quit Bad Habits
Another common new year's resolution is to quit bad habits. The most popular ones being smoking and drinking. Take one day at a time when trying to break these habits as going cold turkey from day one can often lead to more people giving up before the first month is even over. They say it takes 21 days to break a habit but the real challenge comes in the following months to see if you stick to your goal or slowly drop back into it. If you are struggling with addiction there are many support groups you can attend, you can find your local groups online.
#5: Look After Yourself
We know how important it is to have good health, so we recommend getting a full body check up with your doctor.  Make it a goal to go and see your dentist, doctor, optician or audiologist to check out those pains and aches you have been ignoring. Treat yourself to some new glasses to make yourself feel more confident or if you're hard of hearing upgrade your hearing aid, you will be amazed by the effectiveness of hearing aids can give to your quality of life. This year is about you, so make it a new year's resolution to be the best, healthiest version of yourself you can be.
#6: Save, Save, Save
The year 2020 hit us all pretty bad financially, so we think a new year's resolution for everyone would be to save. Open up a savings account and put a little aside each month. You never know when you might need it for a rainy day.
We hope these 6 new year resolution ideas have helped you get inspired to create your own list. Other great resolutions might be to read a book, take up a new hobby, eat healthier or to improve your mental health. Whatever it is we hope you achieve it and have a great year ahead. While you're here check out 5 Reasons to Introduce Meditation Into Your Routine.