Whether you've adopted a minimalist mindset in your daily wardrobe or not, you'll surely benefit from simplicity when it comes to traveling. Savvy packing can save you a ton of headaches and storage space in your suitcase. The key is utilizing basic patterns, solid colors, and timeless pieces that offer versatile clothing options – especially when they can be mixed and matched and used in a variety of occasions while you're away.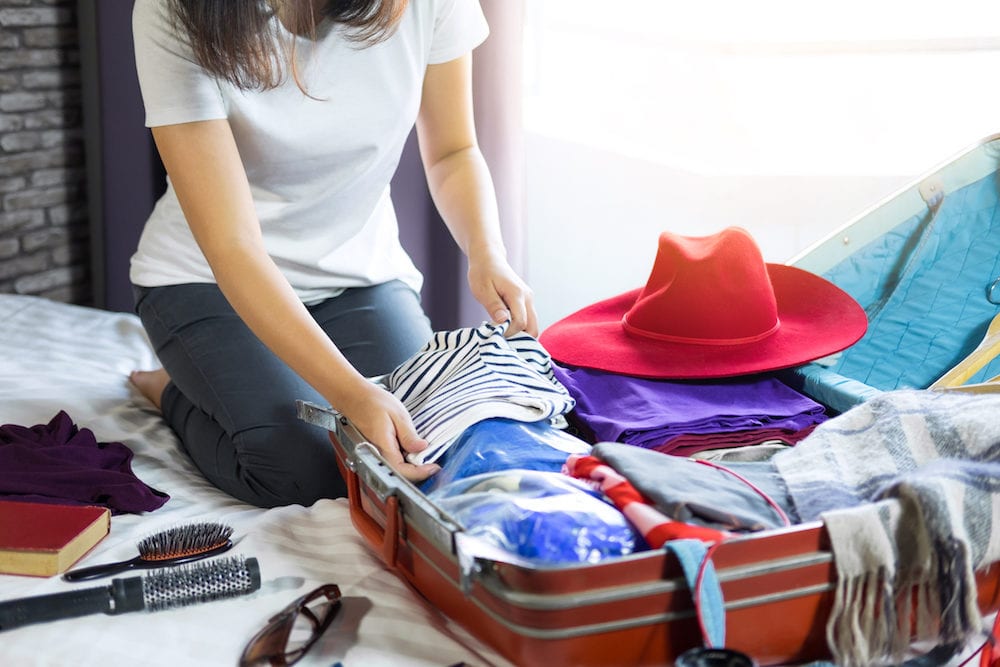 Let's take a look at the optimal wardrobe choices that will cover casual, comfy, classy, and simple business situations, all while fitting perfectly into your minimalist capsule travel bag.
#1: Pick Three Solid Colors That Go Together

Lime green and fuchsia may not be the most versatile color choices when you're only going to have a handful of items in your wardrobe, but that doesn't mean you have to pack excess items to ensure you have enough clothing to last the duration of your trip. Instead of vibrant, wild hues, opt for subdued colors that can easily pair with other colors, textures, and shapes. Black, of course, is always at the top of the list because it can easily accompany anything else you put in your suitcase. For your other two colors, consider choosing from the following: white, navy, charcoal, eggshell, or khaki. These colors can all be paired with each other. Plus, because they're solids, you can use them as a top or bottom while imparting fun fabric on the opposing end.
#2: Take a Pair of Jeans or Two

Your favorite jeans will allow you to feel comfortable while you're on your excursion. Even if you're going out of town for work, you'll want to unwind in clothes that feel comfortable after your meetings are over. If your getaway is for vacation purposes only, it's nice to be able to relax in jeans and a simple t-shirt when you're heading to a casual brunch or midday lunch.
#3: Don't Forget Layering Tees That Offer Simple Sophistication

Bring along your favorite cotton tees in the same neutral tones we mentioned above. This will make it simple to pair them with any bottoms you might pack. Plain tees go great with jeans, but they're also perfect for after-swim coverups or the final touch over your favorite skirt. When paired with the right bottoms, the subtle and subdued style of a t-shirt can elevate your outfit's appearance. For more professional occasions, simply slip a blazer on over your tee for a no-frills look that's fit for the office. Bear in mind that even simple t-shirts don't have to be boring. Classic colors can come in impeccable styles that dress up (or down) any situation. Get creative with one or two different styles, such as faux wraps or casual tanks with subtle embellishments.
#4: Do a Shoe Triage Before You Pack

Ideally when traveling, you shouldn't need more than three pairs of shoes. Lay your clothes on the bed before you begin packing so you can find the most suitable shoes for your getaway. What will you need for evening apparel? Can a nice pair of sandals do the trick for both daytime and evening outings? If not, you might need to throw in a pair of heels in addition to your more comfortable footwear. When it comes to casual wear, be mindful of what you might be doing while on your trip. Wearing your comfortable casual shoes on the plane or in the car will keep you from having to squeeze them in your suitcase.
#5: Don't Forget to Factor in What You'll Be Wearing When You Fly
Whether you're taking the redeye and plan to travel in your pajamas, or you're heading to the airport straight from the office, don't forget that the clothes you're wearing are saving you space in your suitcase—and there's no need to double-up on those items. If you're wearing compression pants and a comfy tee, you've already accounted for one daytime and one nighttime essential. If you're heading out straight from work, try to layer up before you head to the office. Then, you'll already have some of the necessities, such as a blazer, jeans, and a versatile tank top.
A lot of people forget about the clothes they'll be wearing while they're traveling to their destination. By keeping this initial outfit in mind, you'll eliminate unnecessary use of space in your suitcase.
#6: Sprinkle in Some Fun Jewelry
A few accessories can completely change the look of an outfit. Let's say you brought your favorite short-sleeved jersey dress (which we highly recommend) on your excursion. Without any accessories, it's a fun, playful, daytime outfit that doesn't need much of your attention. You can simply slip it on and go about your day, touring local shops and stopping in tiny eateries to imbibe in local flavors. At night, that same dress can be transformed entirely with the right necklace, bracelets, and even a belt. Accessories don't take up that much space in your luggage. But the additional few pieces will give you an entirely different look that will keep you ready for evening adventures.
#7: Pack Your Makeup in Your Favorite Handbag
By packing your makeup in a handbag, you can protect it from getting all over your suitcase and keep it organized. Then, once you're in your hotel, you can unpack your makeup and fill your bag with your wallet and the essentials you'll need to embark on the journeys that lay ahead of you.
#8: Bring Your Little Black Dress
If you have a simple dress (black or not) that tends to be your go-to piece for easy and comfortable clothing, it belongs in your bag. Lightweight linen dresses in neutral tones tend to work well for leisurely vacations and business trips alike. If you do opt for a little black dress, go for a jersey knit or linen to ensure you maximize comfort and versatility while you're away. The fancier the dress, the less mileage it will have when you're playing with the clothing pieces you brought along. Remember, the goal is to bring clothes that have multiple personalities so you can alter their identities without bringing unnecessary items on board.
#9: Indulge in One Bold Item
Whether it's stripes or lacy detail, bring one item that will make you feel ultra-pretty and feminine while you're away. When paired with jeans, a skirt, or a pair of khakis, one shirt can completely change the way you feel about yourself.
#10: Be Mindful of Bottoms
One flowy skirt and a pair of linen pants can give you an entire week's worth of mileage from your outfits. Try to picture the different ways you can use these pieces before you pile more items into your luggage. You'll probably be surprised at how many outfits you can make from just a few different bottoms.
When you pack properly, you should aim to wear each item in your bag at least two or three times. Anything that gets worn less than that will be a waste of space. The key is looking for combinations that can be mixed and matched throughout your trip to give you different looks, no matter the occasion. Be sure to set your clothes on your bed before you begin packing so you can see the full layout of your options. Don't be afraid to ask your friends for advice; they may see combinations you didn't even think of!