One in nine women experiences postpartum depression, according to CDC. And I'm not ashamed to admit I've been one of those women. The pain of it is indescribable, but heed me well. It is possible to get through it!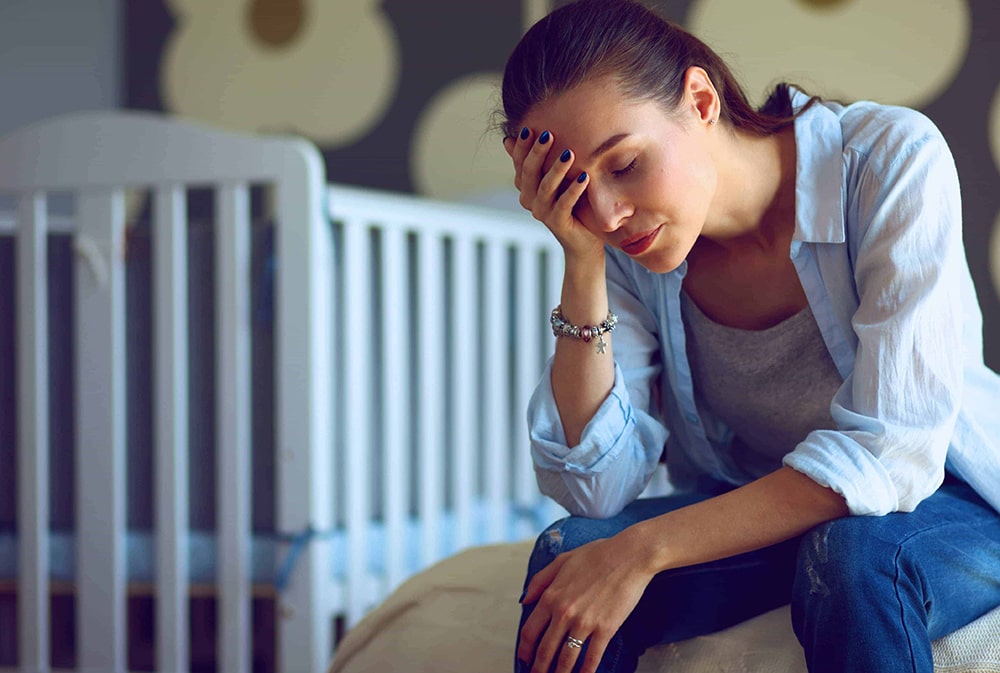 It might not seem like a possibility at the time, but I assure you that you can get better. This is a story of how I did it.
First of all, let's talk about how supposed experts say that postpartum depression usually goes away on its own. I don't believe it and I've never seen a mental illness pass without leaving a trace. So, the most important thing is to NOT IGNORE THE ISSUE!
It's a problem and you need to deal with it. And while it might not require actual therapy, it sure does require getting control of your life and making some changes.
I strongly suggest that you start by assessing the severity of your condition. To do this, use the Edinburgh Postnatal Depression Scale screening tool. If your case of 'baby blues' is a full-blown depression, you should consider counseling as a part of your treatment. This is essential if you are having suicidal thoughts.
My Own Guide to Beating Postpartum Depression
Go on a 'Happy' Diet
Did you know that your gut is majorly responsible for the production of serotonin, the literal 'happiness hormone'? That's why diet is so important for any depression treatment. As a breastfeeding mother, you'll have some restrictions in your diet as you have to eat healthy to provide your baby with the best nutrition. However, the good news is that nothing prevents you from going on a 'happy diet'.
The basic rule of a this diet is rather simple, you need to eat healthy. In particular, you need to ensure your daily "happy meal" plan includes healthy fats (fish, poultry, cheese, nuts, and avocados) and complex carbs (rice, sweet potatoes, etc.).
The most important thing on this diet is to exclude processed and unhealthy foods that lack nutritional value and have lots of saturated and trans fats. Simply put, avoid putting junk into your body, because it doesn't make it happy.
I'd also like to point out that there is another major benefit of a healthy diet for moms. Actuallym there are a few of those. The first is that it helps strengthen the health of your baby. This alone immediately removes a major potential stressor that might contribute to your depression.
Another happy diet perk is that it will have you losing that baby weight, which also is a contributor to your current depressive state.
I suggest that you start that diet right after giving birth. You don't need to actually have postpartum depression to enjoy its benefits. And eating healthy happy foods can help prevent this problem from escalating in the first place.
To get some ideas on 'happy' recipes, check out suggestions from nutrition experts in The Express.
Kick Depression in the Guts with Exercising
Like diet, exercising will also help you start on losing baby weight, which can be a great help for postpartum depression treatment. However, the more important benefit of workouts is that physical exertion stimulates endorphins. Therefore, it literally makes you feel happier. Here's a win-win situation if I've ever seen one.
In my experience, going to the gym isn't an option at this time. So, to enjoy all those cool weight loss workouts I set up a training area in the living room. Now, no need to get even more depressed if you can't equip your mini-gym with fancy equipment yet. Here's how to make cheap DIY tools that will help you burn off pounds and fire up your blood with endorphins.
I warn you now, exercising won't be easy because depression tends to eat up your desire and will to do anything. Therefore, check out these workout motivation tips that can help you start your routine. The most effective one for moms is to start exercising with your baby. For me it worked brilliantly.
Get Help from Those Around You
The worst thing you can do when suffering from a depression is to close off and avoid people around you. Instead, you should lean on them and have at least one person whom you trust to talk about your feelings and troubles. This can be your spouse, a friend, or even a therapist. The point is to have a support network of people who will help maintain your mental health.
One of the major reasons for postpartum depression is extreme stress that mothers struggle with. You should prevent this kind of issue by sharing duties from the very start. Develop a schedule with your partner or invite some friends or relatives to live with you at least for a few months (or do both!). They can help you around the house and with the baby so you get some time to relax and take care of yourself.
Never Skip Your "Me Time"
No matter how busy you are, you have to fit a short 'self-care' break into your daily schedule. It's vitally important to you give yourself permission to relax and make yourself a priority during this break. So, go now and let yourself relax for an hour in a bubble bath!
It doesn't matter if you indulge in some spa procedures, meditate, write in your journal, or watch an episode of your favorite drama. Just do something that makes you genuinely happy.
For more tips on finding your happy self, read this post. And don't forget that battling depression is hard and you might slip sometimes. But don't let this bring you down. Build a healthy routine and stick to it.