Hydra is the best Greek island for young couples, there can be no doubt about this. It's true that Santorini and Crete are the first things that come to mind when you think of holiday destinations in Greece. However, it's the exotic beauty and romantic atmosphere of Hydra that make it the ultimate place for couples. Here you can truly enjoy the one-on-one time with your love. And there are plenty of things to busy yourself with when you tire of the gorgeous beaches.
Why Is Hydra the Best Greek Island for Young Couples?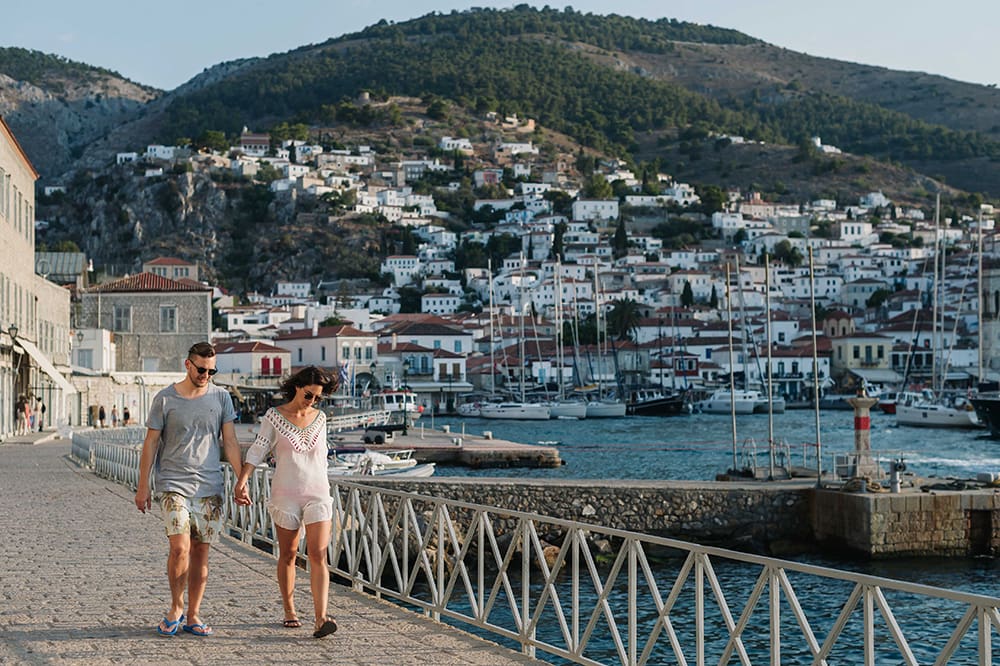 The Hydra Island is one of the prettiest places in Greece, which makes it a great place for couples by default. After all, what can be better than enjoying the beauty with your love?
However, what makes the island a true paradise of couples holiday breaks is the unmatched romantic atmosphere of the place. A great number of artists, writers, and other creative personalities recognized Hydra as a perfect place to draw inspiration from. Until this day residents of Hydra honor the memory of Leonard Cohen, one of the most famous and avid fans of this magnificent retreat.
Cohen spent a lot of time here and some of his own passionate love stories took place here as well. He even wrote two of his most popular songs while on the island (So Long, Marianne and Bird on the Wire). Enjoying the musical masterpieces of this genius is one of the many romantic things that make Hydra perfect for lovers of today.
Another important reason that makes Hydra the best Greek island for young couples is the quietness of the place. This island isn't as popular as Greece's other holiday destinations. And that's the best thing about it because you won't be bothered by crowds and noise. Coming to this island allows the couple a perfect opportunity to focus on each other completely.
The people of the island are very welcoming and there are many fun things you can do when exploring the place. However, anyone coming to Hydra is sure to spend the majority of their time on beaches. There are many of those and you definitely should visit each to make the most out of your trip. However, deciding which is the best will be impossible as all of them are fantastic in their own right.
Top 7 Things to Do on Hydra, the Best Greek Island for Young Couples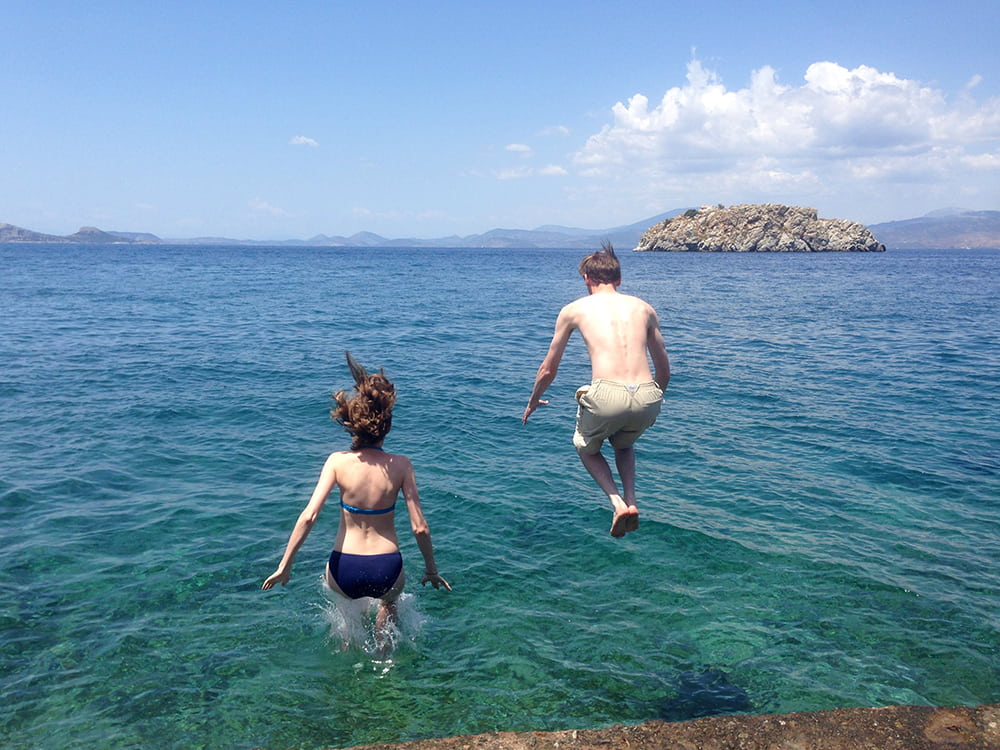 1.     Relax to the fullest on most beautiful beaches
The main beaches of the Hydra Island are:
Mikro Kamini
Saint Nicholas Beach
Bisti Beach
Limnioniza
Vlyhos
Plakes Vlyhou
Avlaki
The beaches of Hydra are mostly pebbles or a mix of pebbles and sand. They also have very little in terms of facilities.
This by no means makes them uncomfortable as there are all essentials you might need. The fact that they are less popular than the white-sand beaches of some other places is the exact reason why Hydra is the best Greek island for young couples. They give you more opportunities to have some privacy and simply enjoy spending time together.
If you and your love like to be close to nature, these beaches will be perfect. There is very little here to distract from its beauty. It's the same for all of Hydra, which is a serene and harmonious place.
Couples who set out on a trip to get some peace to rediscover themselves will love this place. The magnificent beauty and peace of the island make for a great setting for some deep self-contemplation. As there are many activities you can enjoy together, it's an amazing spot for bonding. This means that a visit to Hydra will allow you to experience the best thing about traveling. That's another reason that makes it the best Greek island for young couples.
2.     Ride horses and donkeys
Forget about cars while you are visiting this couples retreat. The best transport to use on the roads of Hydra are horses and donkeys. The latter are mostly used to carry luggage. However, if you are adventurous, you definitely should take a ride with these magnificent creatures. This will give you a chance to really enjoy the sights as donkeys travel at their own pace. And it's never fast.
The best place for a horse ride is Harriet's Hydra Horses. This is where you should go to not only find the best horses on the island. You will also get to follow the best itineraries that will allow you to discover all the most beautiful places on the island.
Some of Harriet's horses love the ocean so much, you can literally go for a swim while riding them.
3.     Go for a hike
Hydra is definitely the best Greek island for young couples who love hiking. You can go virtually anywhere and enjoy yourself immensely. Depending on the length of your stay, you might explore the entire island. There is a multitude of trails for everyone from complete novices to pro hikers.
You can buy topographic maps with marked routes directly on the island. They aren't perfect, but be sure to use one as an aid.
4.     Immerse yourself in history
National Geographic Traveler recognized Hydra as having the highest 'integrity of place' among all Greek islands. This means that this is the place where you can truly experience the Greek way of life. Most importantly, you can see how the life used to be many centuries ago.
The island is full of historic monuments of different periods. You can admire great architecture of mansions, churches, and monasteries. Tour them to learn about the parts of culture and history they represent.
Do you agree that Hydra is the best Greek island for young couples? What are your favorite places there? Do you feel inspired to go there for your next trip?
Please, share what you think of this magnificent place in the comments!