Apartment and condo living offers a multitude of benefits, but there are downsides, including the neighbors who surround the four walls that make up your space. They are guilty of creating excess noise pollution, or they are upset with the music that comes from within your domain.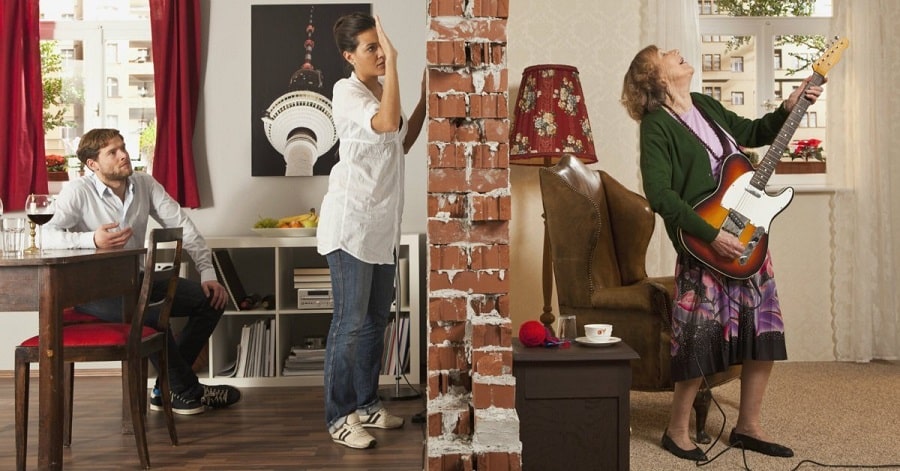 Either way, something needs to be done to allow everyone to live in harmony without the need to have to walk on eggshells inside your own homes.
Preventing Noise Pollution In A Communal Living Situation
When you live in close quarters among other people, such as in an apartment complex or condominium community, it's essential to be respectful of your neighbor's privacy and the level of noise that you produce. Remaining quiet can prove difficult if you are a music fan or if the walls between you are paper thin. In situations like this, you need to figure out how to soundproof your ceilings without a construction contractor as well as the floors, windows, and your door. Doing any type of permanent construction or substantial modifications wouldn't be permitted in the lease guidelines.
Keeping Noise From Transferring Between Rooms Within an Apartment or Condo
Material like foam panels added to the walls will significantly reduce sound on its travels throughout the rooms. If you have a habit of leaving the doors to the rooms open, you may want to consider closing them. That adds a level of protection in reducing the level of sound that is audible. Sealing gaps around the edges of the door with weather proofing strips will keep the noise from passing through so effortlessly.
Thick or softer items are going to absorb sound as it moves around a room. A hard surface or hollow article will reflect the wave back through the room, or it will bounce around to amplify it. To add soft furnishings in this setting aids in absorbing the energy when used in conjunction with the other aspects of soundproofing.
Keep the Noise Pollution on the Outside
Single pane windows are not only ineffective as insulation sources, but they do nothing to protect against noise. Secondary or double-glazed windows will reduce the level of sound being brought in from outdoors immediately. Most rooms in an apartment or condo will have at least one window, but those that offer more will have further external exposure.
Wooden plugs for windows can be unattractive but serve as barriers to decrease the amount of noise coming in. These aren't beneficial during the daytime, however, as they block out the light. Protection is a provision with shutters made out of timber, which is a genuinely popular and design-savvy option. You can keep them open or closed for light preference while keeping your surroundings at a bearable tolerance.
If you have permission to replace the doors, a solid or composite alternative will absorb the energy that passes through. Here are tips for soundproofing a room or an apartment.
Preventative Measures for Ceilings and Walls Soundproofing
The recommendation for soundproofing a ceiling in an apartment or a condo is through the installation of acoustic insulation put into a false ceiling set up under the natural structure. Soundproofing of this type is standard in these types of situations and proves very effective. Base the type of insulation that you use on how much height can be subtracted comfortably from the space. It may be more of a challenge for small spaces.
Another option is to use acoustic insulation panels added to the ceiling available in multiple colors. With this method, you merely apply adhesive material to lock it in place on the ceiling. Alternatively, direct wall insulation used on the existing ceiling alleviates noise transference. Follow https://homeguides.sfgate.com/soundproof-apartment-ceiling-2596.html to learn about soundproofing a ceiling in an apartment.
For the walls in a communal unit, adding furnishings like bookcases will give an additional layer of protection for a dampening effect. Soundproofing foam offers similar protection, though, not attractive. Insulation slabs are far more protective and last more extended term. Any type of construction activity or modification to the unit may not go over too well per the lease. You'll probably need to stick with the more simplistic options.
You'll want to be sure to lay down heavy rugs on laminate or tile flooring for absorption and to do double duty over top of carpets.
Summary
Living in an apartment or condo can be difficult when you're trying to accommodate for all the various noises happening around you. But if you use some non-construction methods to keep their sounds out and yours in, it should be a much more harmonious experience for everyone involved. Once the neighbors see your efforts in maintaining peace, they may jump on the bandwagon and soundproof their places as well. Typically, kindness given is kindness received.