A good workwoman always has an organized toolbox or toolshed. The tools are put away methodically and neatly so that when she needs to grab them, she knows exactly where they are. After all, who has time to rummage through boxes and drawers trying to find that elusive bolt or screwdriver head?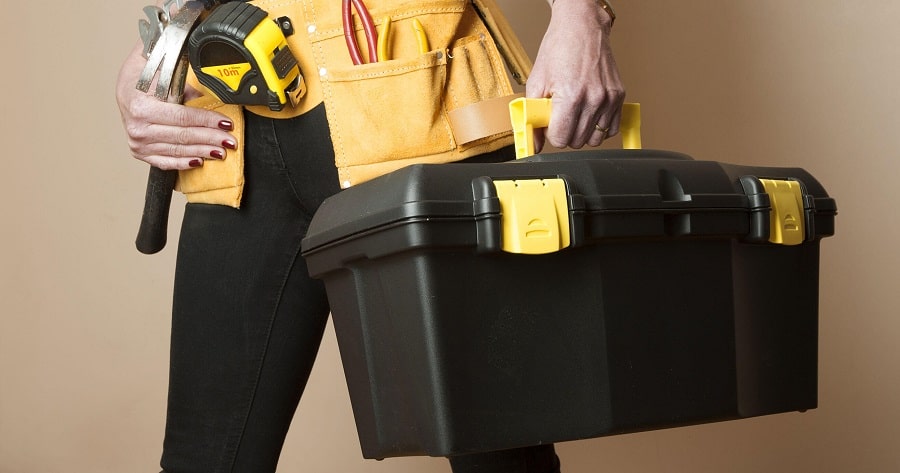 Here, we look at some of the ways in which you can store your tools so that you can find what you want when you want.
Label Old Containers
It is so easy to end up with tubs and drawers full of odds and ends, and the thing is with tools is that quite a lot of them look the same. The last thing you want to be doing is getting to a customer's house and pulling out a drywall screw instead of a flooring screw or vice versa.
Collect old jars and use a glue gun to glue the lids to the underside of a shelf. Label the jars, get into the habit of popping the right bits in the correct jars, and screw them to the lid. Not only are you repurposing old containers (thus saving them from the landfill!), and organizing your stuff, you are also saving some space!
Store Information With Tools
If you have any power tools or machinery, tape a copy of the warranties or receipts and any other relevant information to the box. For example, print out the number of an Industrial Air Compressor & Dryer Repair company and put it with your air compressor, so that when things go wrong, you know whom to call so you can be back in business as soon a possible.
Create a Charging Station
Most handywomen have been there – they have got to a job and realized that at least one of their power tools has gone flat. Save yourself the embarrassment by creating a charging station in your workshop. Dedicate a space on your countertop or utilize an old cabinet. Make sure it is close to a power outlet or mount a power bar for more charging options. Keeping everything together and putting them on charge at the end of the day is a sure way to make sure your tools are ready to go when you are.
Make the Most of Magnets
Many hand tools are made of metal, so harness their magnetic power by fixing a magnetic tool strip on the wall above or next to your main work area to hold saws, wrenches, and screwdrivers. It keeps them out of the way but easy to grab. Just make sure that they can hold enough weight – around 30 pounds per inch should do the trick.
Pegboards
Pegboards are relatively inexpensive but can be so useful in the workshop. Use odds and ends that you have lying around – coat hanger hooks, offcuts of wooden dowelling, and even strong cable ties to support and hang tools off.
A messy workshop can be a stressful and unproductive workshop. Keep it tidy and organized with these tips, and see how much time you save.