B2B eCommerce is projected to reach $1.8 trillion by 2023 accounting for 17% of all B2B sales in the United States. The explanation of such growth is simple: modern entrepreneurs want to purchase products for their business online. Online B2B shopping greatly saves time on endless calls and meetings with suppliers.
If you think it's the right time for you to dive into B2B eCommerce, check out these software solutions for building a robust B2B online shop.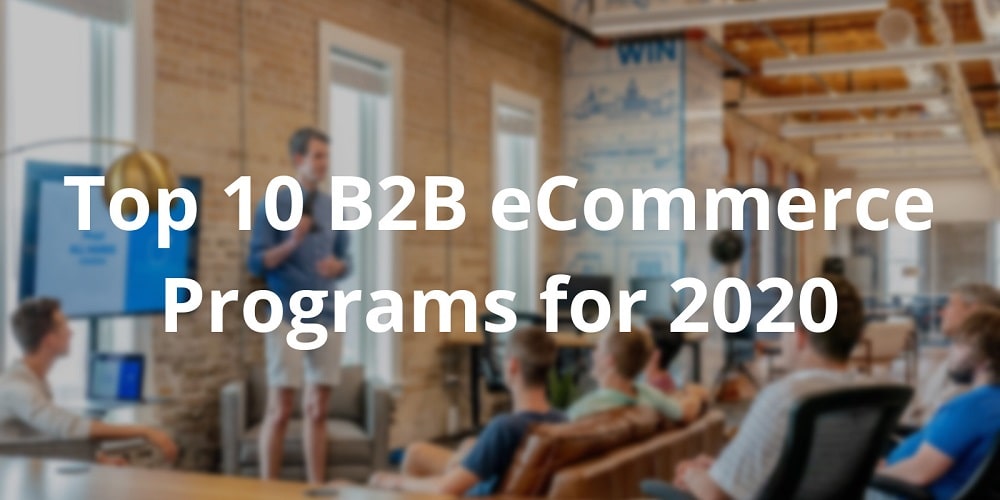 What Features Are a Must for B2B eCommerce Script?
A convenient way of ordering products in bulk.
A true B2B eCommerce software should offer a convenient interface for ordering products in bulk. Just imagine: you need to add 50 TV sets and 20 heating boilers of 3 different types to the cart. If a store doesn't offer a convenient interface for this, you will spend hours just to fill the cart. Nobody likes wasting time, especially businessmen.
Flexible price formation tools.
Companies usually buy a big number of products at once, and they buy regularly. It's important to offer your purchasers quantity discounts and individual discounts based on their levels (tiers). The B2B eCommerce script should support user groups with different discounts and privileges and discounts that depend on how much a purchaser has already spent in your store.
Organizations inside a B2B eCommerce store.
Normally, the purchasing process in companies involves more than one person. You need a feature that allows uniting users in organizations. This way, the owner of the organization could add more users to the organization in the store: managers, marketers, accountants. And they all could work in one account as different users.
Easy price list downloading.
Before ordering, a manager needs to obtain approval for the list of products and prices from the supervisor. So, the manager should be able to quickly download the price list with current prices.
Close storefront for unauthorized users.
You should be able to hide the catalog from prying eyes and check every registered purchaser manually. This will protect you from the nefarious activities of your competitors and enhance the moderation of new purchasers.
Integrations with third-party services.
Modern CRM, ERP, accounting, and analytics services can greatly improve your business performance. Make sure your future B2B eCommerce script has a powerful API and integrates with third-party business services.
Multiple storefronts.
If you're going to sell both to companies and individuals, the multi-store feature is a must for your online store. You should be able to configure your storefronts independently as if you run several different stores.
Easy reordering.
What if a company buys consumables from you on a regular basis? Don't make them form the order every time they shop on your eCommerce site. The company should be able to reorder the same products with the same number of items in just one click.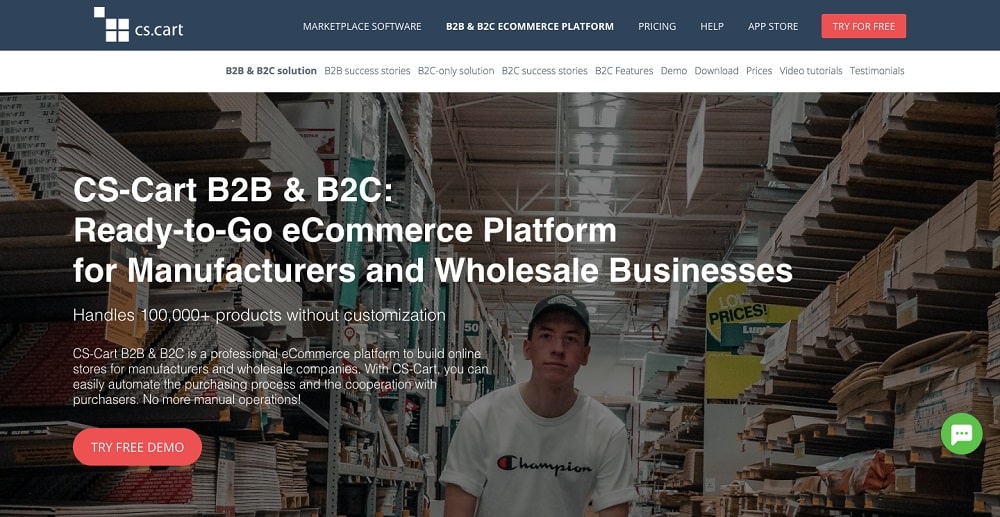 CS-Cart B2B & B2C is a professional B2B eCommerce CMS with lots of B2B-specific features and reliable support. It powers over 35,000 online stores worldwide and can handle 100,000 products without customization.
The key features of CS-Cart B2B & B2C is the multi-store function. You can run a hybrid store (B2B and B2C): just create two or more storefronts and use them separately for B2B and B2C sales. All the storefronts are controlled via one admin panel.
This solution includes all the functions for the above list such as: powerful API for integrating with third-party services, powerful catalog management, multi-customer accounts, admin roles, easy reordering, and more.
CS-Cart is self-hosted: you personally install it on your own or rented server and play with it the way you want: tweak the settings, modify the code, develop more features, and whatnot. Thanks to its self-hosted nature, your CS-Cart store in always under your full control.
Pros:
CS-Cart users appreciate the ease of use and a great price/functionality ratio. They love its clean architecture and open source code.
Cons:
Users say that the default storefront design is a bit out of fashion. Also, there are some complaints about a complicated upgrade process if the store is heavily customized and the server configuration is wrong.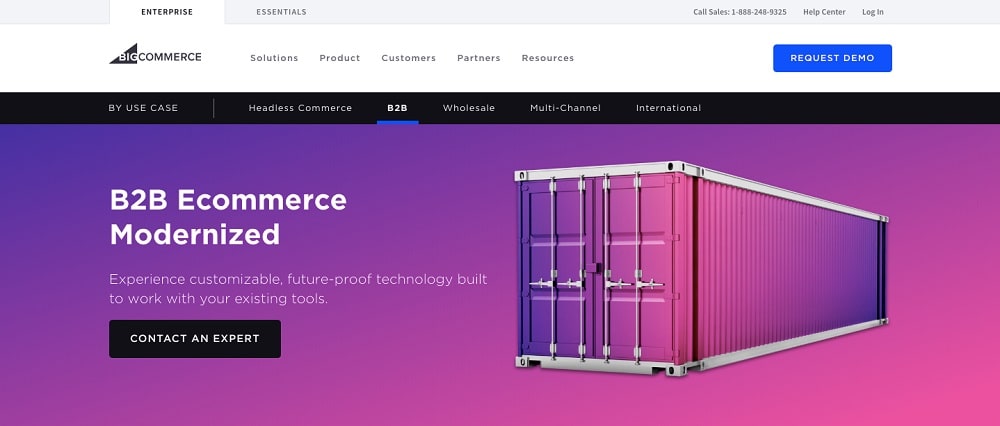 BigCommerce is quite a young platform yet very popular due to its powerful API, rich B2B and B2C functionality, and the ease of use. It's a cloud-based platform, which means it's really easy to start selling on it.
BigCommerce allows you to sell to both B2B and B2C customers through a single storefronts. You only need to set up customer groups right dividing them into B2B and B2C and granting certain privileges. Unfortunately, you can't create multiple storefronts to separate B2B and B2C customers.
You will probably spend some time learning BigCommerce because of the feature complexity. But great documentation should help you with that.
Pros:
Rich functionality, modern design, and powerful API.
Cons:
People say that BigCommerce is an excellent solution only for beginners and small businesses. There are also lots of user complaints about bad customer service.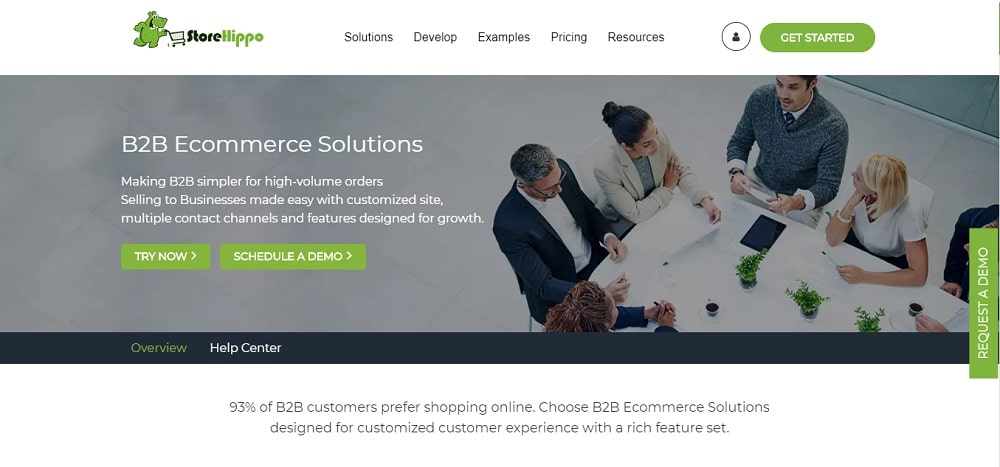 StoreHippo is a full-scale B2B and B2C eCommerce platform. It is cloud-based but the developers say it's fully customizable and scalable. The solution offers multi-store functionality and mobile apps for iOS and Android.
StoreHippo is packed with all the must-have B2C features such as flexible catalog and order management, built-in marketing tools, notifications, mobile apps for customers and admins, analytics tools, integrations with popular shipping and payment options such as PayPal and Authorize.Net.
The platform is natively integrated with their homegrown logistics service ShipKaro. It allows for over 15 shipping integrations and discounted shipping rates.
The developers call StoreHippo a "DIY platform". It does have some great customization opportunities: HTML/CSS editing, customizable navigation, editable email and invoice templates, custom themes, and some more. Unfortunately, it doesn't allow you to modify its code and add custom functions like you can do with a self-hosted solution.
StoreHippo also has a set of B2B-specific features but the list is not as full as you expect from a B2B solution: personal prices, multiple storefronts, audit logs, user roles, bulk-order processing and some other.
Pros:
A great set of versatile features, short learning curve, quick start.
Cons:
Lack of B2B-specific functions, limited development capabilities.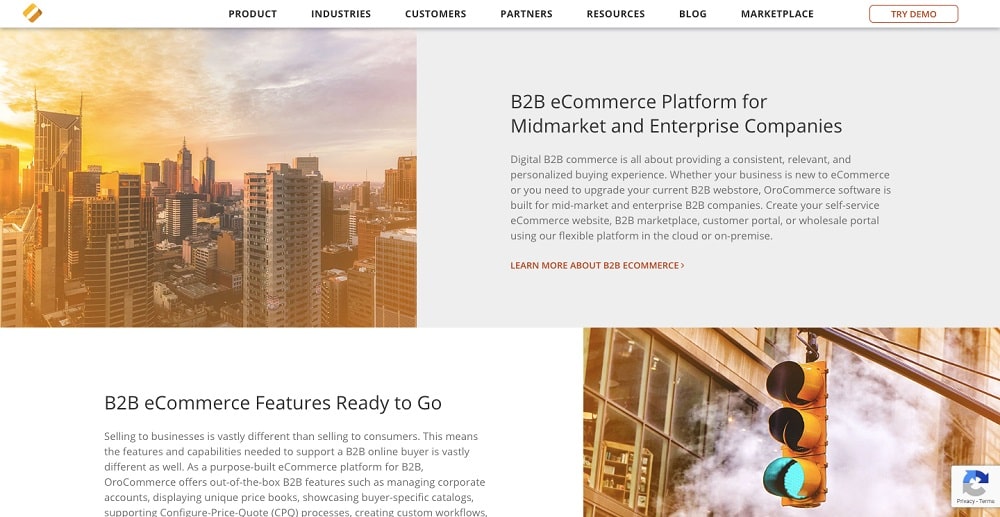 OROCommerce is a wholesale ecommerce platform that works for B2C, B2B, and even B2X business models. It's one of the most complex and flexible B2B solutions on the market.
It has a lot of B2B features including corporate accounts, user roles, multiple price lists, a good API for integrating with business systems, a robust promotion system, buyer-specific catalogs and prices.
OROCommerce has its own built-in CRM system. It's called OROCRM and it's developed in-house. The CRM allows you to organize the customer contacts and arrange the customer interaction workflow. You'll definitely need a CRM in your B2B store, so it's a great built-in feature.
Pros:
Great set of B2B functions, flexibility, and the support of multiple business models (B2C, B2B, and B2X).
Cons:
Users say that you'll spend a lot of time training before getting used to OROCommerce and developers complain about the lack of development documentation.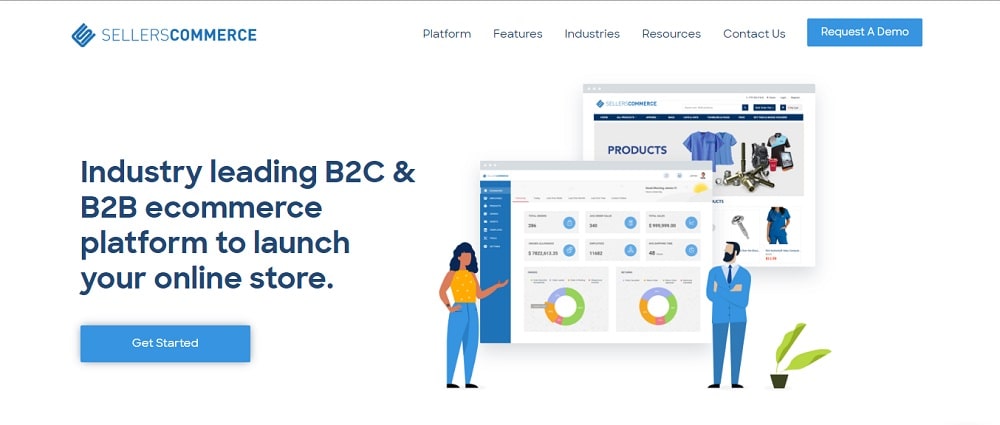 SellersCommerce is an e-Commerce management platform that caters to both B2B and B2C clients. It gives big and small companies a lot of powerful and sophisticated e-commerce tools, so they can simplify their processes and improve their relationships with their customers.
With this B2B ecommerce software you can customize settings to allow for any needed workflow. Customers can buy directly, have a supervisor to place all orders, approve and disapprove orders.
You can also customize what each individual can see and order. These extensive rules can allow for specific colors, sizes, prices, logos, decoration and more for any given product or customer.
Pros:
Customers say the platform is easy to use and reasonably priced.
Cons:
There are some complaints about basic visuals, customization, and limited functionality.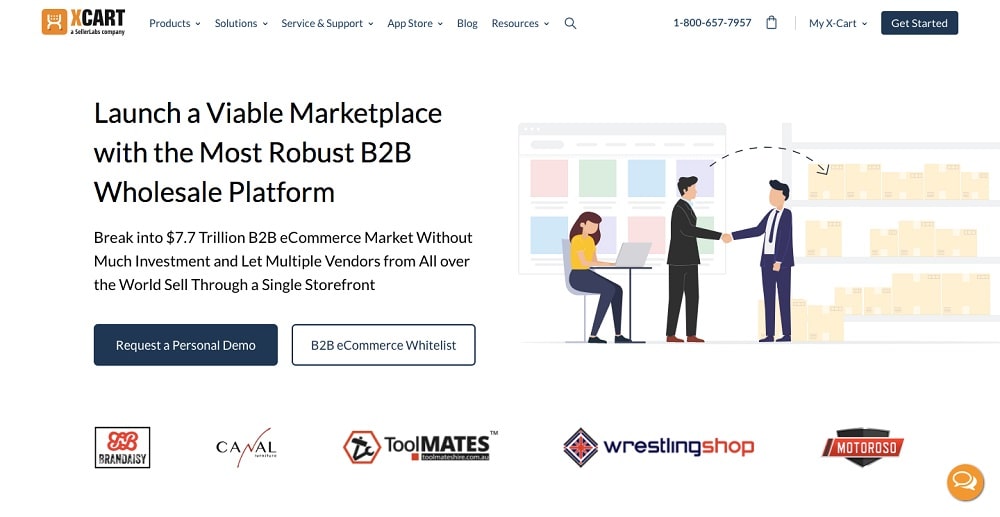 X-Cart is the first PHP-based shopping cart software. They now offer SaaS and a downloadable self-hosted solutions.
X-Cart natively integrates with popular business systems such as nChannel and Segment. Thanks to these integrations you can build an effective B2B ecosystem based on X-Cart.
The solution has robust vendor management system, promotions, a rating system, a payment distribution system, and other must-have features for any eCommerce store. It's suitable for building both B2C and B2B webshops.
Pros:
Self-hosted nature, which allows for a full control over your store, user-friendliness, and customizability.
Cons:
The main con of X-Cart is that it doesn't have enough B2B-specific features and multiple storefronts that could be used independently for B2C and B2B commerce. You'll have to customize the platform to be able to use it for a complex B2B eCommerce shop. Also, users tell, that tech support often can't help with resolving the issues. There are also complaints about the complexity of the software, and the lack of features and good customer service.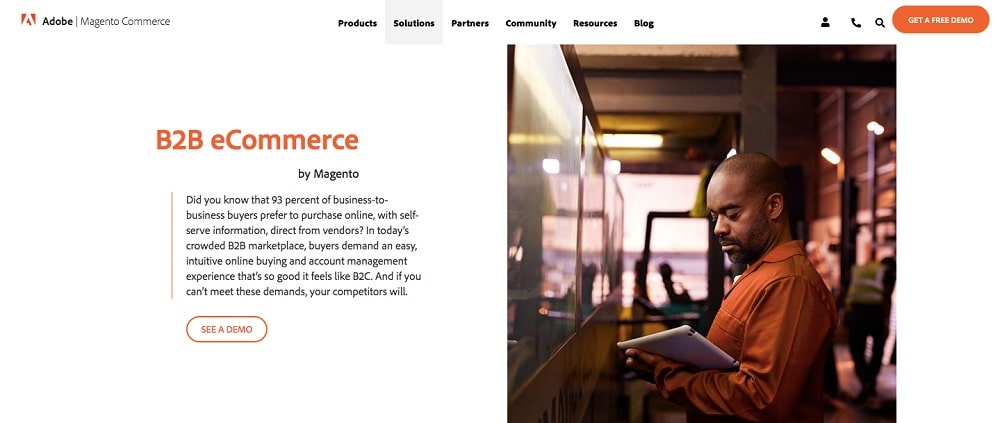 Magento is an open-source eCommerce software that was released in 2007. It has become one of the most popular eCommerce systems in the world, yet one of the most complex.
Magento is a very reliable platform in general. You can customize it the way you want. It has a lot of B2C and B2B functions and you code more (the platform is open-source).
The biggest advantage of Magento is that you can make your Magento-based B2B store extremely flexible and feature-rich. But there's also a con: if you're not a programmer yourself, you will need a tech-savvy team of coders to customize and support your store.
Pros:
Magento is extremely flexible and has a great set of features for B2B and B2C eCommerce.
Cons:
There are user complaints about the interface complexity in Magento. Customers also say that Magento requires much time to configure before it can be used live. Some report that the platform has a long learning curve.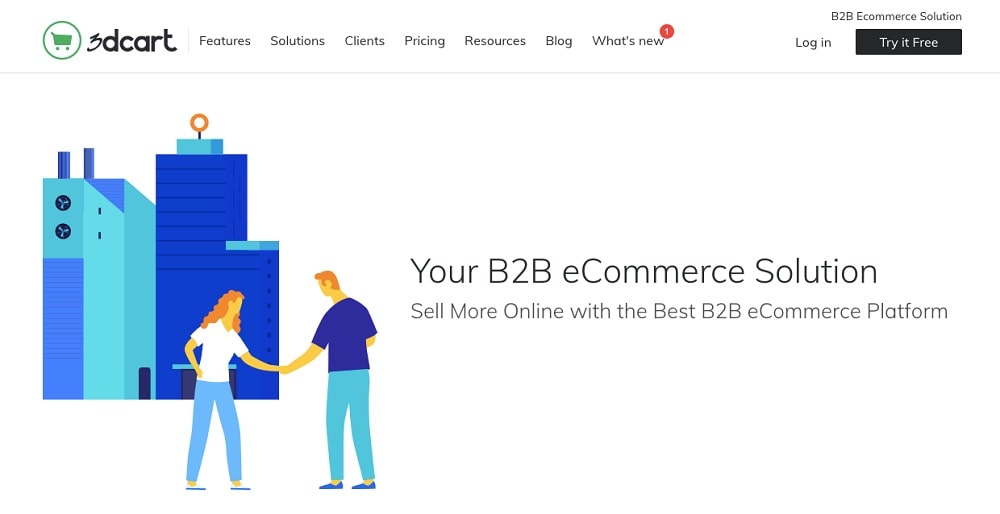 3dcart is a cloud-based eCommerce solution, which means it is easy to deploy and set up but difficult to modify and adapt to the business needs. They offer B2C and B2B eCommerce solutions.
Using 3dcart B2B you can easily launch a B2B shop because it is cloud-based and doesn't require technical skills to be deployed.
The cool thing about 3dcart is that it has almost all the features for B2B customers mentioned in the "must-have" list except for multiple storefronts and advanced price list management features.
Though it has the same restrictions as other SaaS platforms: it can't offer you the same freedom and scalability as downloadable solutions such as CS-Cart and X-Cart.
Pros:
Rich B2B functionality, quick and easy start.
Cons:
There are complaints about 3dcart's customer service and some users say they lost money because of the unqualified 3dcart support staff. Although this platform is feature-rich, bad customer service can ruin it all.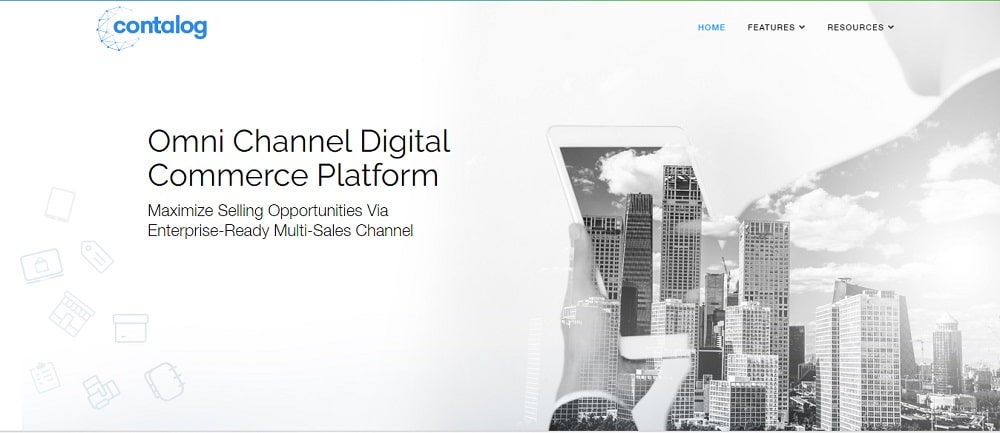 Contalog is an omni-channel eCommerce software for B2C and B2B commerce. It offers centralized inventory and order and product information management across multiple sales channels. These features can help you greatly boost business performance across multiple channels.
It's a SaaS B2B app, so you can access it on any computer you use. With Contalog B2B ecommerce software you can manually add products, upload from a spreadsheet or import from your shopping site. You cannot input by serial number or scan the barcodes.
Contalog B2B ecommerce software integrates with your eCommerce platform so your inventory can be updated automatically as customers buy from you. You can also receive low-inventory notifications from this software.
Pros:
Users appreciate Contalog's inventory management system and user activity monitoring. They also say that the platform is easy to use.
Cons:
Users don't like the absence of a built-in accounting system. Some say the platform is pricey.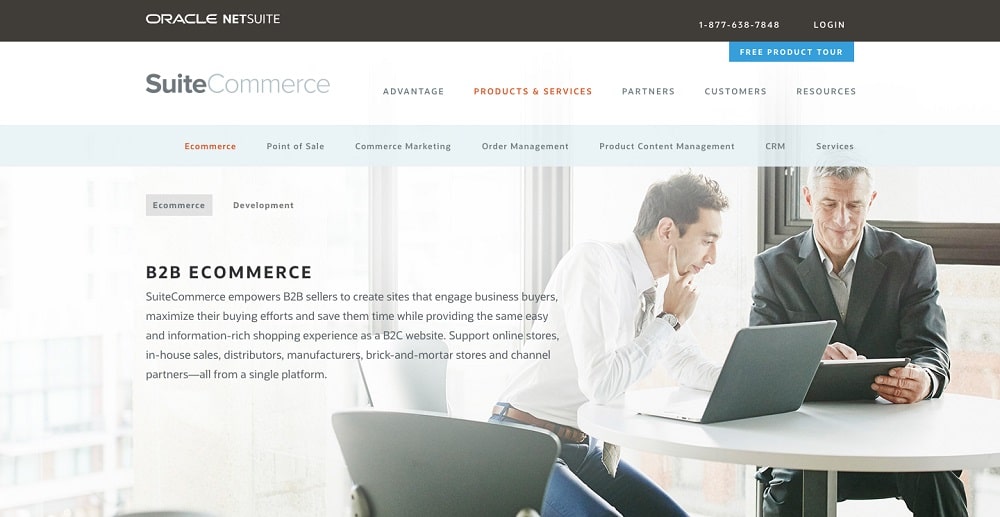 SuiteCommerce by Oracle NetSuite is a B2B eCommerce script for eCommerce companies with multiple sales channels: e-shops, brick-and-mortar stores, warehouses, etc. This is a feature-rich and complex system for large businesses and enterprises. The platform is SaaS.
Using SuiteCommerce you can work on multiple channels. SuiteCommerce is very versatile and has powerful billing tools. It integrates with CRM, ERP, and other business software, supports multiple stores, the quotes functionality, promotions, personal prices, and other must-have B2B functions.
The key feature of SuiteCommerce is its multi-channel nature. It allows you to connect an online store, a warehouse, a brick and mortar shop, distributors, manufacturers and channel partners to a single ecosystem.
Pros:
Versatility, natively integrated ARP and CRM systems, powerful catalog management and billing automation tools.
Cons:
On the downside, users mention poor customer service and technical support, the complexity of the functionality and interface, and a very long learning curve.
What to Do?
If you are new in B2B webshop business, it is very important to chose the right eCommerce software at the beginning of your journey. You should choose one that will help you create a convenient and effective B2B eCommerce ecosystem.
Keep in mind: there's no perfect platform for your business. You will need to customize it more or less so that it suits your business processes and goals. So, before you decide, contact each vendor from this list, request a demo, and make sure you will be able to customize and scale the platform. Start with CS-Cart and just go down the list and you will find your best solution.