After the excesses of Christmas, many of us are starting to think about our finances and budgets for the year ahead. This month is a good time to get a handle on your incomings and outgoings and resolve to make a few changes. It is with this in mind that today we are sharing 4 ways for your household to save money this year.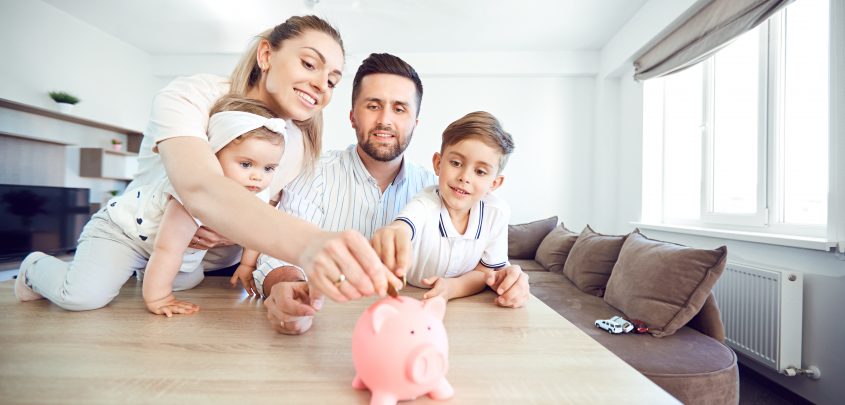 Set Yourself a Savings Target
Setting yourself a savings target can be a powerful way to stay on track. You might have a certain figure that you are determined to reach in your mind, or you might prefer to challenge yourself monthly. You could aim to save a certain amount each month, or you could push yourself to save more month on month. It is a good feeling to track your budgeting and savings this way as it is satisfying to be able to see that your efforts are paying off.
It can help to give that savings pot a purpose. It might be that you designate it as college fund money, or perhaps you can save up for that dream holiday. The benefit of doing this is that it should help to motivate you to try harder or prevent you from straying from the saving path. If you can picture the difference that your hard work is making, you are likely to keep on going.
As with any savings, we would suggest that you do open up a separate account to save in. It makes sense to keep it apart from your living expenses and you should be able to get a slightly better rate of interest this way.
Look Into Reducing Your Monthly Bills
We all have those bills that we have to pay every month, the ones for things that we really do need.
Your mortgage is the payment that you should give your attention to first, as it is normally your largest outgoing. Have you reviewed this recently? Perhaps you are asking yourself how often should you refinance? Maybe you are unsure about whether this is even an option for you.We would suggest that it is worth calling your lender or broker and looking into it this month. There may well be a better option for you available, one that could reduce your monthly payments.
You will then want to spend some time reviewing each of the bills that you need to pay and looking into whether you can reduce those amounts each month, by either switching your provider or by negotiating a better deal with your existing provider.
Ask Yourself 'Do We Really Need It?'
This needs to be your mantra this year. This will make a significant difference to your spending habits. Whenever you are considering buying something, you need to ask yourself 'do we really need it'?
We often buy things out of habit, or perhaps we just love a bargain and cannot resist a sale. We sometimes get into the habit of buying things without really thinking about the costs. Make this the year that you shift that mindset.
Think through any large purchases for at least a day before jumping in, and with smaller purchases that are online, just leave them sitting there in your basket for a day or two whilst you consider them.
Try to plan ahead whenever you are going out with the family so that you can avoid spending needlessly on refreshments. If you know you will be out over lunchtime, take lunch with you, and if you know that your family always likes a snack during the afternoon, take one with you. Whilst we would all love to eat out each weekend, ask yourself, 'do we really need it?'
Shop the Sales
Shopping the sales is a really obvious way of saving money for your family. Most stores have sales regularly throughout the year, so if there isn't one currently ongoing, chances are you won't need to wait very long until the next one comes along and you can buy the stuff you need.
When you're shopping the sales, it's a really good idea to use a percent off calculator which is an easy way of seeing how much you're really saving taking into account things like sales taxes. This enables you to make a much clearer comparison so that you can avoid ever having to pay over the odds for the things you buy.
Take the Food Shopping Challenge
Aside from rent or mortgage payments, it is often our food shopping that makes the largest dent in our budget. For this reason, this is an area worth thinking about and making a few changes.
You can take the food shopping challenge to see if you can switch out some of your favorite brands and buy cheaper alternatives. You can also shop any offers, look for coupons and try a few new recipes and meals each week. You might find that shopping at a different store is cheaper, or moving to online shopping.
It pays to make a meal plan each week and then sticking to it. This should help you to only buy the items that you need for the week when you shop and it should prevent any needless food waste.