If your bedroom décor is feeling a little dated and you're struggling to sleep at night, you may be able to "kill two birds with one stone" by updating your bedroom décor with good sleep in mind. A few updates to your color scheme, lighting could be the answer to your prayers.
Creating optimal conditions for sleep could be as easy as applying these simple design tips. Just reading about them might start to make you feel sleepy… zzz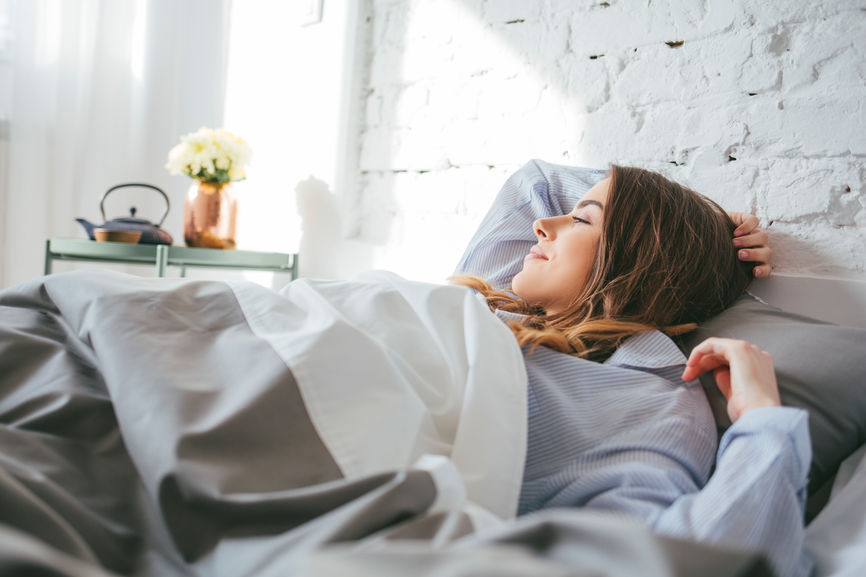 But First, Address Health Factors
All your hard work kitting out your bedroom for Sleeping Beauty level slumber can go out the window if you're not taking the time to investigate any health issues that might be keeping you up at night. Conditions like sinus infections and even restless leg syndrome can impact your sleep without your realizing it. Snoring may not wake you up at night—if you have a sleep partner, they will know the full range of your symphony!—but it can be a symptom of a larger problem that may be at the crux of your sleep disturbance. See an ENT Doctor if you snore, and consult with your GP to rule out other health factors that may be causing sleep disturbance.
Scents of Slumber
Fragrances like sandalwood, jasmine and frankincense have long been held up as the ultimate sleepy scents. Not only do these scents help you relax, but the presence of these fragrances in your room could actually improve the quality of your sleep overnight. Using a scented candle for a couple of hours before you go to bed introduces a subtle fragrance into the room. Just don't forget to blow it out before your eyelids close for the night!
A reed diffuser is another subtle source of sleepy scents, with the added benefit that you won't have nightmares of your bedroom curtains catching fire! If you favor fresh fragrances, consider picking fresh flowers and placing the vase on your bedside table. If you pick a bunch of jasmine, it's worth noting the tiny white flowers smell much more pungent in the evening than they do during daylight hours, and many people find the aroma a little overpowering. Whatever scent you choose, just make sure it's natural, rather than synthetic, and keep your room well ventilated, otherwise you risk impairing your the air quality in your home.
Sleepy Lighting Solutions
Rejuvenating sleep starts with the release of melatonin, the hormone your body produces to signal that the day's hard work is done and it's time for some shut-eye. Even if you aren't aware of the effects, you could be disrupting your body's intricate melatonin cycle with bright bedroom lighting. Whether it's a high-wattage bulb in your bedside lamp or your iPad screen as you play Angry Birds, exposing your eyes to harsh light in the hour before bedtime can significantly impact your melatonin production.
For this reason, it's best to avoid exposure to artificial light sources for an hour before bed. Of course, that's not realistic these days—we can't all go to bed with the birds—but you can mitigate this negative effect through your bedroom lighting choices. String up low-wattage fairy lights and use those instead of your main light at night, or try floor lighting if you have the budget. You could also install a dimmer switch to help you relax into the evening without impacting your melatonin cycle too much.
Dreamy Colour Palate
Colors and tones from the cool, relaxing part of the color spectrum such as deep blue, dark purple and gray, work to calm the mood, even without your knowledge. On the other hand, selecting colors that are energetic and warm like reds, oranges, and yellows create an environment that encourages wakefulness and activity. The effects of colors on sleep remains as mysterious as ever, but it needn't be an exact science for it to be worth a try, right?
Consider repainting your bedroom in a cool shade, or replacing your orange quilt with something in a cool slate or deep blue. Not only will you feel the benefits in your sleep, but your bedroom will benefit from a trendy update in the process.
Be the Darkness Police
When it's time to go to sleep, your bedroom should be totally dark. Even if you think that your room is dark at night, test this tonight. You may be surprised by the amount of light that somehow sneaks in without your permission! Turn off the lights and determine the sources of intrusive light, and make plans to address this. A bean-bag door stopper in front of your bedroom door is a handy way to block the light from the rest of the house. Blackout curtains are a must. If you prefer custom curtains, speak to the company you source your fabric from. They may be able to make your order with blackout backing for an extra cost.
Whether you've always struggled to fall asleep, or you've had a rough patch lately, sometimes making a couple of small updates to your sleep environment will be enough to get you back to normal.