For some people, working with kids is their calling. They know they want to do it from a relatively early part of their careers. For others, it's only much later that they decide that they'd like to start working with children, perhaps after having children of their own, or a working life doing something else.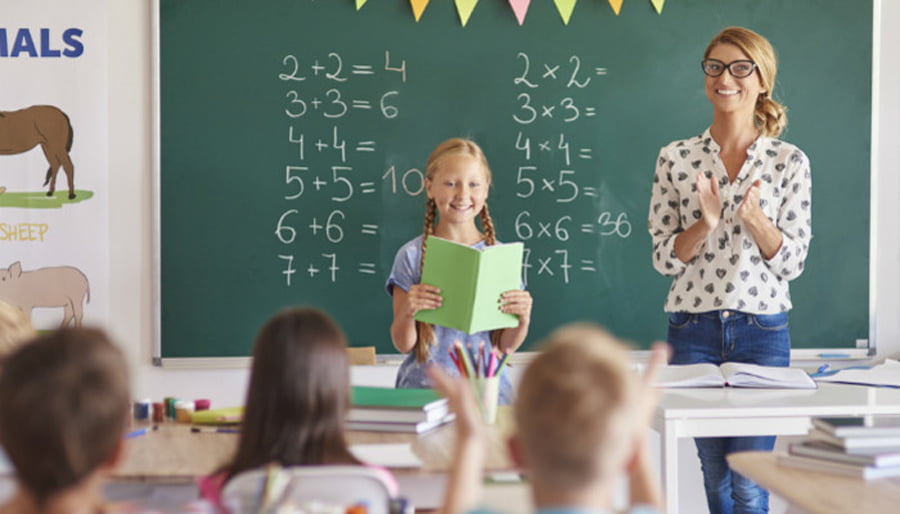 A job that lets you work with children, of any age, can be an intensely rewarding career. So if you're looking to change career direction, here are some things you might want to consider.
Pediatric Nurse
These nurses work in a range of clinics, hospitals, and other healthcare settings, look after children, and provide support and information to their parents and carers. Specialties such as neonatal nursing and pediatric intensive and critical care are also options.
You can often spot pediatric nurses wearing colorful scrubs as part of their jobs. This is to make them seem less scary to kids and more comforting. There's a psychology to the colors that hospitals choose for their scrubs. Learn about the best scrub uniform colors to wear, it's a really interesting subject you've probably never thought about.
If you're already a trained nurse, switching to pediatrics can be relatively simple. You will need your Associate's Degree in Nursing (ADN) or Bachelors Nursing Degree (BSN) alongside your nursing license.
There is a specialist Pediatric Nurse certification assessment to complete too.
If you've never trained as a nurse, you'll have to retrain in order to be able to work in this role. However, it can be an intensely rewarding career.
Child Psychologist
Child psychology is a specialist branch of psychology that deals specifically with children under 18. Psychologists work with children to help them manage their feelings about themselves, their living situations, their bodies or get them through a particular trauma.
The goal is to prevent their circumstances from affecting their emotional and physical development and well-being.
The path to becoming a child psychologist isn't easy, and if you need to retrain from a different career, this can take a long time. At the very least you will need a master's degree, majoring in clinical psychology or child development.
If you are looking to advance further in the field, you may need to study for a Ph.D. or Psy.D which has a bias towards clinical practice.
Teacher
The world needs good teachers. Not only do they instill a love of learning in children, but also guide their intellectual and emotional development too.
Ask anyone, no matter how rich or famous they are, they will be able to tell you about a teacher who believed in them and inspired them.
To be a teacher, you not only need to know your subject area, but you need to want to help children to solve problems and acquire new skills.
Most teachers have at least a bachelor's degree or a master's degree. If you intend to work in the public school system, you need to meet the criteria of the state you want to teach in for their license.
It is possible to study for your teaching degree alongside other commitments or take a conversion course if you have a degree in a non-related subject.
Tutor
Sometimes, children need a little more help with their academic studies. Perhaps they aren't focussing at school or aren't getting the focus they need from teachers to help them reach their potential. Whatever the reason, many parents turn to tutors to provide extra teaching to their children to help them achieve their best grades.
Tutors can work one-to-one or even online with kids in a number of subjects.
This can be a perfect career choice for a lot of parents. You can work for a specialist tutoring company, or choose to work for yourself. The hours can be flexible too. There are no special qualifications needed for tutoring, but you must have all of the necessary police checks and insurances to be able to work with children safely.
Of course, you'll need to know your stuff too and be able to communicate your expertise in a way that children will respond to.
Baby Class Teacher
Baby classes are popular with new parents who want to get out and about with their baby and socialize with other parents, while their kids are encouraged to develop. Some baby classes are based around free play, whereas others are more specialized. There are more types of class than you probably realized. Baby yoga, sensory class, messy play, musical movement, and baby massage are all becoming more popular.
Baby classes can be a lifeline for new parents, many of who find themselves at home with the baby a lot, and not much outside contact. It's a chance for parents to meet others in the same position and spend focused time with their child away from the distractions of home.
If this is something you would like to do as a career, there are a lot of different ways to do it. You can apply for a job with a company that runs classes. They'll be able to tell you what kinds of qualifications they require and the level of training they provide.
Or, many of these types of classes are franchise opportunities. You can pay a certain amount of money to hold the franchise in your area. Then you run the business yourself with support from the main company. Make sure that you do your due diligence on a company to ensure that everything is above board and you will be well supported.
The other option is to set up your own business running classes. The type of insurance, qualifications and licenses you'll need will vary from state to state and by the type of class, you want to run. A free-play baby class will need a different set of skills than a baby massage one. At the very least you should look into studying child development and have your pediatric first-aid certificate.
Childminder
The childcare industry is highly regulated (as you'd want it to be). But in a lot of states, home-based childminders are becoming more popular. When there are no available daycare facilities or because that's their preference, parents can use home-based childminding services for their kids.
In order to be a professional childminder, you would need to ensure that your home was suitable for the ages of children you want to look after and that you had all of the necessary insurance, police checks, and any other requirements in order to run a business from your home. You'll be limited on the number of children you're allowed to look after and you will be inspected regularly to ensure that you're providing a safe and legal service to parents.
If full-time childminding isn't for you, then you can join an agency that provides babysitting services. These are often available to work around your family commitments so may be a good option for you.
Youth Worker
In this role, you'll work with kids who may be experiencing behavioral problems. Youth workers work in educational or leisure settings and help young people (usually 11+ years old) with their social, personal, and educational development.
There are a number of ways to get into youth work. You could start by volunteering your time with an organization. This can allow you to see what really happens in the role before you decide to formally train for it. Not many industries offer that kind of opportunity.
Most professional youth workers have an undergraduate degree that they have achieved in youth work or community studies. You could even study part-time around other commitments at some universities.
Increasingly, youth workers are required to have a postgraduate diploma too alongside any specialist board certifications.
Retraining to Work With Children
As you can see from this article, a profession working with children can often entail needing a high level of education and stringent checks and insurances. That's because people want to be sure that their children are being looked after by qualified and safe individuals. So while it might seem like a lot of hoops to jump through, it's a necessary part of the process.
If you're already working in a similar field, then it might just be a case of taking the necessary certifications. For example, if you're a trained nurse, you would need to take your pediatric certification whereas someone new to the idea, would have to undertake an entire nursing degree too.
The length of time it takes to retrain is likely to be a major factor in your decision.
Takeaways
Working with kids isn't right for everyone. You need a lot of resilience and a different set of skills than you would use in a lot of professions. However, most people who have chosen these types of careers find them intensely rewarding and don't regret them for a moment.
Take stock of where you currently are in your life, what skills you have and how long you can devote to retraining before you make your decision, and then go for it.