The past year has seen staying at home become the new normal, with the focus on digital being greater than ever. For businesses, an effective online presence can be vital for success, helping to attract customers, secure sales and put you ahead of the competition.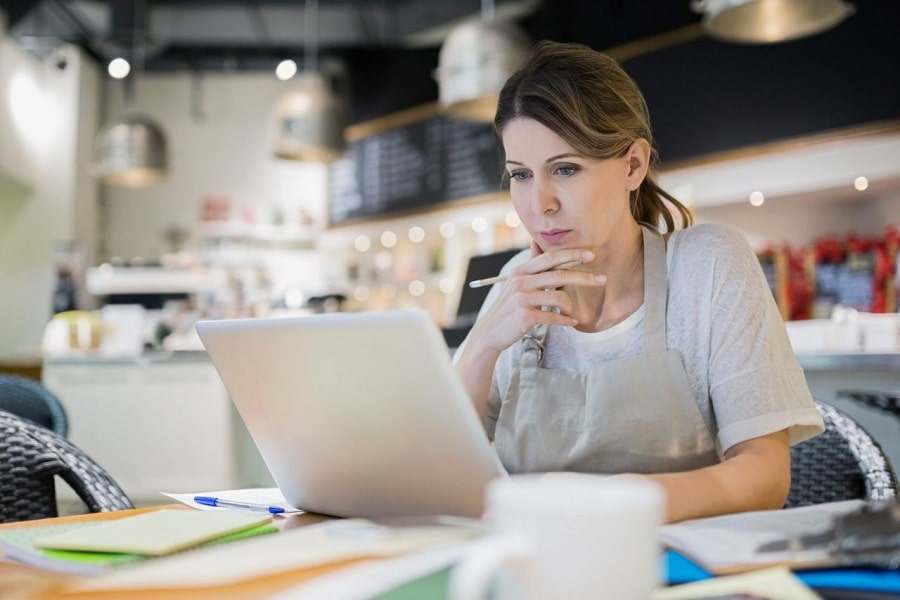 Maintaining a successful web presence will be key to securing the future of your business, helping you make it through the continuing pandemic and beyond. From attracting more visitors to improving your customer experience, there are different things you can do to ensure your website continues to thrive.
So what can you do to take your website to new heights in 2021? Take a look at the following tips.
Embrace the Latest Design Trends
To help your website remain a leader, you need to make sure it stands out for all the right reasons. Embracing the latest website trends can help keep your website relevant, but it also makes it an appealing destination for visitors.
You can get ideas for your website by taking a look at other inspiring website designs and get a feel of what's trending. Your current website might be trying to do too much, so stripping it back and embracing a cleaner, simpler look could have more of an impact on visitors.
It's important to review your web design regularly. You won't need to change your website year after year to keep it fresh, but there could be some trends and design ideas that can be implemented to keep your website current.
Optimize Your Website for Mobile
If you want to appeal to mobile web users, your first thought is probably to create an app. However, apps can be expensive and difficult to maintain in addition to your website. Ensuring your content is accessible via mobile is a much more effective strategy, and it can help you boost your search engine rankings, as well as appeal to a wider audience.
Optimizing your website for mobile is easier than ever, and if you use the right web platform, this can help you create multi-platform content in just a couple of steps.
Spend time analyzing and testing your existing website. If it doesn't hit the right note on mobile, then it's time to make some drastic changes to bring it up to speed.
Ditch the Keyword-Stuffing and Write for Your Audience
The quality of your website content is important. It helps you to connect with your audience in a meaningful way, but it also helps you improve your search rankings. Rankings aren't based on how many keywords shave been stuffed into content, but on the quality of the content. Dwell time and the number of pages visited can be a much closer indication of quality, which search engines reward with higher rankings.
It's important to write content with your audience in mind. To write audience-engaging content, you should focus on language that is easy to read and has a friendly tone. Conducting an audit of your existing content can help you identify areas for changes and improvements, while making sure your content appeals to your audience.
Improve Your SEO
While your website content shouldn't be based on a keyword-rich approach, you should maintain an SEO strategy that can help you make your website more visible across different search engines.
SEO can be tricky to get right, with many businesses failing to do everything they need to ensure successful SEO. But the good news is that there are some fast and simple ways to improve your SEO, including:
Improving your website's page loading speed.
Ensure your images are optimized, with the correct sizing and format, as well as appropriate image names.
Add meta descriptions and Alt + text to your content.
Include outbound links.
Fix broken links and review them regularly.
If you own a small business, you could benefit from the help of SEO specialists to improve your search engine rankings. As something that will need regular review, it's important to factor SEO into your ongoing website strategy.
Add a Blog
A blog can add a lot of value to your website. It provides you with another outlet to publish content, allowing you to share news, views and expertise with your audience. It can also be another way to boost your search engine rankings.
Your business blog provides an opportunity to get creative. It can provide your audience with knowledge about your products and services, becoming a valuable resource for your business. It's important to maintain a regular publishing schedule for your blog to ensure it continues to add value.
Provide Value to Your Visitors
Getting people to your website is one thing, but making sure they stick around long enough is a different challenge altogether. Your website needs to offer value to visitors, with content created with them in mind, and a user experience that will make them want to return.
Your website should be more than just about generating sales, and there are some great lessons you can learn from others around this best practice. The Beachbody company is a fantastic example of a business that provides value to its customers. They sell a service (online and virtual fitness solutions), but they care about their customers reaching their goals, supporting healthy lifestyles that means the content they put together is made with the customer at its heart. Connecting with your customers can help ensure you give them more of what they want, for content that can make a difference to their lives.
Keep Your Content Current
If you want to ensure repeat visits to your website, you need to keep your content fresh. Having an ongoing content strategy can help you plan content to ensure your website stays up to date. From seasonal content to campaign-related activity, planning your content in advance can save you a lot of work, as well as providing new content to your audience whenever they visit.
A content calendar can be one way to manage your upcoming content, giving everyone a clear view of what to expect over the coming weeks and months.
Promote Your Website Across Your Social Channels
Increasing your website visits should be an ongoing objective for your business, a vital KPI that will help you measure your performance. One of the key ways you can boost your page visits is through your social media channels.
An effective social media strategy is one of the ways you can make the most of your digital marketing. Regular posting, engaging content and targeted advertising can all help you increase traffic to your website, while also helping you develop a strong social media following. You should link your social media content back to your website as much as possible, helping to drive organic reach.
Make Sure You're Listed Across Different Directories
Online directories are becoming an increasingly popular tool for people to find the businesses and services they're looking for. Directories like Google My Business, Yelp and Apple Maps can help potential customers find you easily, gaining easy access to your business information and location.
Learn more about how you can use Google My Business to help you attract more customers to your business.
Seek Out Partnerships to Promote Your Website
As well as promoting your website through your own social channels, you could partner with others to help promote your website even further. Collaborations with influencers and other businesses can be effective ways of driving traffic to your website, and help you reach completely new audiences.
One of the most effective ways of driving traffic to your website, while also improving your SEO, is to earn backlinks to your website. You could reach out for collaborations with other websites to include links to your content, and perhaps return the favor too. This can take some legwork, but the results can be worth it to boost your online credentials.
Another way to increase the number of backlinks to your website is to create worthwhile content that people within your industry can share and reference. This is the content worth sharing widely across your social media platforms, in addition to your email communications and newsletters.
Make It Accessible
Finally, to help improve your website's user experience, you need to make it accessible. You should conduct an accessibility review of your website, to ensure it is compliant with different guidance, with guidelines in place to make sure all content is built accessibly going forward.
There are some easy ways to make your website more accessible. Providing your content in different languages, being mindful of colors and visuals and improving your copy can all help your website's accessibility, with many other considerations that can help you provide a fantastic user experience for anyone who visits.
Having an ongoing website strategy can help you get the most from your website, helping to increase views so that you can continue to grow. Review your website and see if any of the above can be applied to take your website to new heights.