It's not easy to deal with rebellious teenage daughter, but as a parent, you have to be ready for this challenge. To do this, you need to understand why teens rebel and why sometimes their attitude gets extreme. You also need to learn how to deal with these difficult issues in a non-confrontational way. This will take patience and artful communication, two of the most important skills of responsible parents. Plan how you'll handle this well in advance as the first acts of rebellion might start before your daughter even reaches her teens. All teenagers rebel and they've been doing this from time immemorial. It's a natural part of growing up, so the best you can hope for is to limit the defiant behavior.
Want to Deal with Rebellious Teenage Daughter? Understand Why She Rebels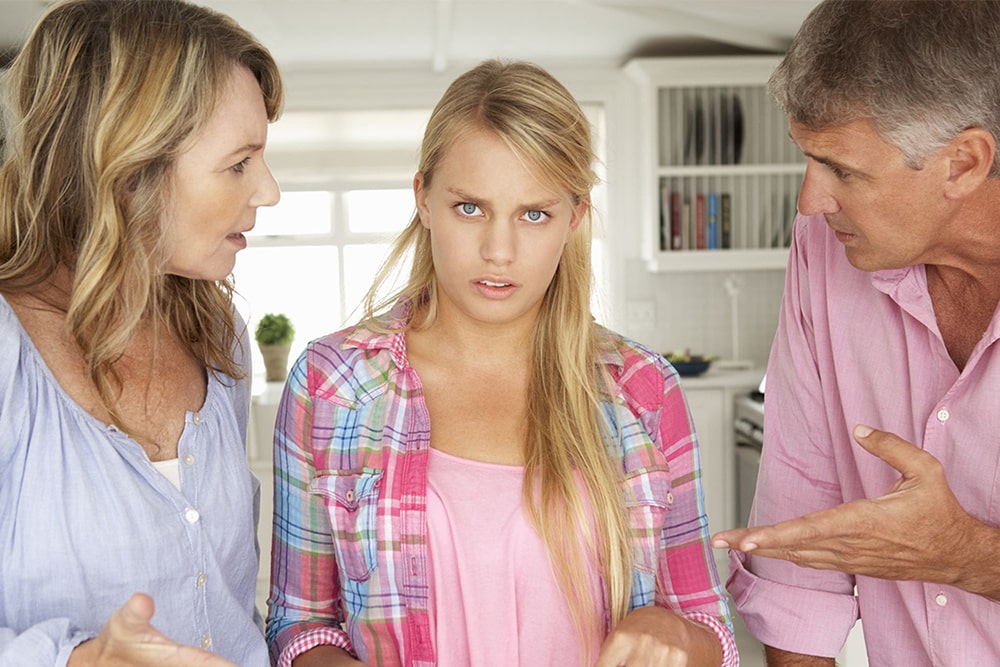 It's a common misconception that teenage rebellion is an act of independence. However, as Dr. Carl E Pickhardt explains in Psychology Today, it's actually a proof of dependence. A truly independent teenager has no need to be defiant as challenges of freedom keep them well occupied. A teen who feels constricted, on the other hand, has no other outlet for their desire to be independent.
From this point of view, teenage rebellion is an extreme call for freedom. It's not as much about gaining independence, however, as it is about breaking the limitations imposed on the teen. This means that the defiance itself is the goal. So, the teenager is often breaking the rules not to achieve some higher goal, but to simply break them thus defying the authority.
Therefore, to deal with rebellious teenage daughter you need to ensure that she doesn't feel constricted. Teens need to learn to make their own decisions and to be independent. When they don't have the opportunities to do this, they rebel. By giving your child these opportunities, you'll show her that there is no need to defy your authority.
The rebellion will still be there, as it's apart of a teenager's natural behavior. However, it will be confined to minor incidents. That should be every parent's main goal as the danger of rebellious behavior is that it can become extreme fast. This is an actual risk to your child's wellbeing and life. It's essential to raise your child to be truly independent to minimize those risks.
You can learn more about the biological reasons for teenage rebellion from WebMD.
Why Is It Imperative to Curb and Control Rebellious Behavior in Teens?
A strong and independent person who is able to make their own decisions understands that those have consequences. This maturity is lacking in teens with attitude problems who are focused on defiance. That's why the decisions they make at this time of their lives can break those very lives.
In the light of this, if you want to deal with rebellious teenage daughter, you need to start from the first days of her life. Your parenting is key to helping her grow into a mature and independent person. And you have to nurture those qualities from birth.
You also need to understand that sometimes an extreme teenage attitude is a symptom of a bigger problem. Troubled teens prone to anger and violence are most likely suffering from some serious issues. Those can be social (problems in school, bullying, etc.) and physiological. If any parenting tricks you use don't work for changing the teen's attitude, you might need professional help.
5 Steps to Take When You Deal with Rebellious Teenage Daughter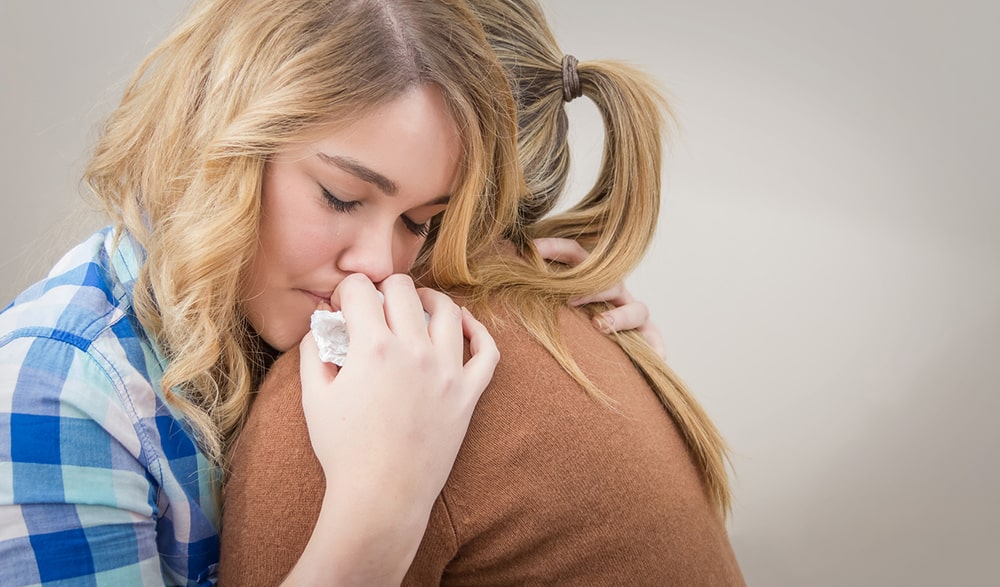 1.     Let her know how much you love her
The most important thing you have to do as a parent is to make sure your child knows that she is loved. She has to know that no matter what, there will always be help and support coming from you.
It's even more important to show your child that you love her exactly as she is. Seeking acceptance and recognition from the others is one of the common reasons that push teens into rebellion. You have to prove to your daughter that you accept and love her no matter what. This way, the risk of her doing something stupid to find acceptance from peers goes down significantly.
2.     Go out somewhere together (regularly)
A family outing can strengthen relationships in many ways because such adventures help you learn more about each other. As your daughter grows and changes, it becomes essential to stay in tune with the person she becomes. Going out regularly will help you bond and develop a relationship of love and trust. These are the bonds that teens are less likely to defy.
By building strong familial bonds, you will create a relationship where the child isn't afraid or embarrassed to speak her mind. Use this as your chance to open communication with a difficult teen.
3.     Talk it out
The best way to deal with rebellious teenage daughter, or any family matter really, is to talk it out. Bring your issues out in the open and discuss them as mature adults you are. And it's essential to treat your child as an adult during these discussions.
No matter how difficult it is for you at the moment, you have to let your child make decisions and respect these decisions. If you don't agree with them, explain your point of view and listen to her explanations in return.
Never dismiss your teen's words with some patronizing words that boil down to 'I'm an adult and I know better'. That's an invitation for defiance. After all, remember yourself in your youth. How did you react to your parents forbidding you something because 'you are still a child and can't understand'? Why do you think your own child will react any different?
Communication must go two ways if you want it to be successful. As your teen is establishing their independence, letting her make mistakes is an important part of growing up. That's why the first step to deal with rebellious teenage daughter was about universal love and acceptance. You will have to prove this when your child makes a mistake and comes back to you for support.
Talking won't resolve everything. But through discussions of these mistakes your child will be able to learn. If you simply dismiss her out of hand, even if your intentions are good, the situation will only breed resentment.
4.     Admit your own mistakes
No parent is infallible, but teens often think that they consider themselves to be. If you want to not only deal with rebellious teenage daughter but to prevent attitude problems, you have to admit your mistakes. Do this verbally and apologize to your child when you are wrong.
The discussions mentioned in the step above will give you perfect chance to do that. After hearing your child's wanting to do something, you might see that your original wish to forbid it might be wrong. Say it, accept it, and work out a plan that satisfies you both.
Your child has to know that you consider them independent enough to respect their decisions. And admitting your own faults to them shows that you consider them an equal. Now think back to how kids rebel in extreme ways when they lack true independence. Recognizing them as an independent adult whose opinion counts for something will solve this problem immediately.
5.     Don't give in. Compromise instead
When you want to deal with rebellious teenage daughter, you need to draw the line between respecting her wishes and indulging her whims. No one short of professional counselor can help you find where that line is, so you might struggle when defining it. You will also make a few mistakes, so be prepared for some nasty arguments. However, you have to do this so you don't lose the discipline in your home.
To keep your relationship with your daughter, you have to make sure that she understands that line too. And once she does, you can move on to negotiating. Finding a compromise that doesn't break the rules of the house but satisfies both parties is the cornerstone of parenting teenagers. There will be a lot of talking in your future, but finding a compromise is the best way to get through the rebellious teenage phase.
The Right Way to Deal with Rebellious Teenage Daughter: Final Thoughts
Dealing with teenage rebellion is all about talking, bonding, and learning how to let your children make their own decisions. It will be extremely difficult to let go when you know that decision is wrong. However, you can't shelter the child forever, and it's best to make those mistakes early and learn from them. As a parent, it's your duty to help your child do that and give them a safe haven.
Do you agree? What do you do when your teenager is out of control?
Please offer your opinions below.