Choosing to sell your home is a big step. For many of us, moving triggers a mixture of emotions and it can be stressful. If you've decided to sell, it's beneficial to take steps to simplify and speed up the process. In this guide, we'll explore some top tips to maximize the chances of a quick home sale.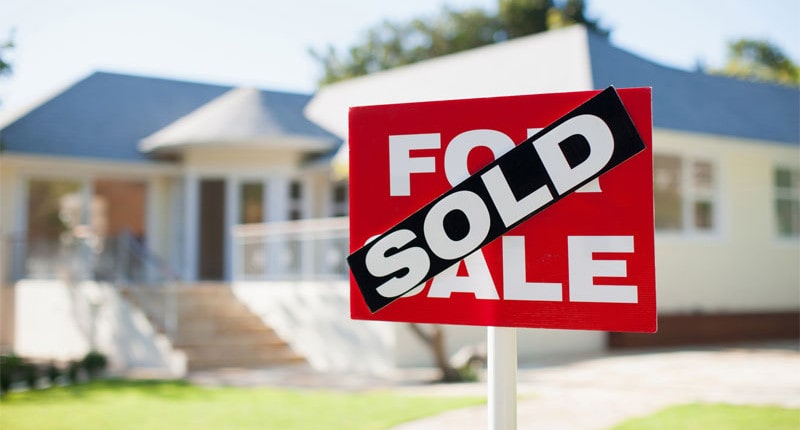 Sprucing up Your Home
When you put a for sale sign up outside your home, you want to attract buyers and create a buzz. Sprucing up your home is an effective means of making it more saleable and encouraging people to come and have a look. You don't have to spend a fortune or embark upon a full-scale interior makeover to make your home look fabulous. Simple things like freshening up the exterior paintwork, giving the front door a coat of paint and adding soft furnishings to living spaces can make your home look more attractive and inviting in an instant. It's an excellent idea to finish off any incomplete DIY jobs and to enhance curb appeal. Many people will form an opinion and make a decision within seconds of arriving at a property and they may be put off by chipped paint on the window frames, overgrown lawns, tired, unloved porches and a front door that has seen better days. Mow the grass, add planters and flowers to breathe new life into porches, replace or repaint the front door and keep the driveway clear. Tidy trash away and put yourself in a buyer's shoes. Take a walk up to the property and think about how you would feel if you were seeing the house for the first time. You want to make a good impression from the outset.
Preparing Your Home for Taking Photographs
Most of us now search online for new properties and we are heavily influenced by pictures and photographs. Good quality images can draw us in and capture our attention, while poor quality photographs have the opposite effect. If you are taking photographs of your home, or you have an agent visiting to take snaps, take some time to get your home ready. Open curtains wide to maximize natural light, eliminate clutter and make sure surfaces are clear, tidy and clean every room and add some finishing touches, such as plants, vases of flowers and soft furnishings to make the home more inviting and alluring. Lighting plays a crucial role, so aim to take photographs on a bright, sunny day.
Choosing How to Sell Your Home
There are various options open to sellers today. While hiring a real estate agent or agency is still very common, it is also possible to sell online or to sell to companies that offer to buy houses for cash. If you've seen adverts for businesses with straplines like we buy houses or sell your house for cash today, you might be wondering if this is an avenue worth exploring. If you need to sell quickly, or you're keen to take advantage of a speedy, stress-free process, it may be beneficial to consider a fast cash offer, however, it is worth noting that the price may be lower than it would be if you sold with an agent. Most sellers hire a real estate agent to oversee the process for them. Agencies take over marketing, connecting with buyers who are likely to be interested in the property and using digital marketing and traditional techniques to try and increase the chances of a sale. You can take advantage of open houses and professional brochures without worrying about having to show people around or handle calls if you entrust your home sale to an agent. Selling online can save you money, but it does involve taking on duties yourself. Some buyers won't mind this, but if you have a hectic schedule, it might not be the best option. Before you decide what to do, weigh up the pros and cons, consider your personal situation and circumstances and think about what would suit you best.
Attracting Prospective Buyers
If your home is up for sale, you want to try and secure an attractive offer as quickly as possible. If you have hired a real estate agent, they will take charge of marketing and you should see online brochures, images and detailed information appear on property websites and local listings. You can also create a buzz by hosting open houses and inviting buyers to have a look around and ask questions. If you have got an event or a viewing coming up, make sure the house looks good. Tidy and clean, let the light in, use room spray or scented candles to add a fresh, pleasant odor and declutter. It's also beneficial to put a sign up outside the property and to include details of the agent and a web address to view the brochure. Some buyers will spot properties while they are out and about. If they see your home and they like the look of it, you want to make it as easy as possible for them to find out more and arrange a viewing.
Using Feedback
Feedback can be incredibly valuable when it comes to selling houses quickly. If you have hosted an open house, or people have been to view the property, ask your agent to pass on comments from prospective buyers. There may be concerns about the price, or people may be highlighting the same issues. Perhaps the kitchen is too cramped, the outside of the house looks run down or buyers feel like the garden needs work. In many cases, it's possible to address problems to increase the chances of getting an offer. This might mean reducing the price slightly if the house has been on the market for a while or doing a bit of DIY, gardening or decorating to make the property a more appealing proposition.
When you make the decision to sell your home, it's natural to hope for a quick, easy, stress-free sale. Sadly, this doesn't always happen. Before you put a for sale sign up, spruce up your home, add curb appeal and put yourself in a buyer's shoes. Research selling options, compare quotes and ask for agency recommendations. Prepare your home for photographs and viewings and make sure you take feedback on board.